Don't Adjust, Appeal It!
In Audit
August 3, 2020
Comments Off

on Don't Adjust, Appeal It!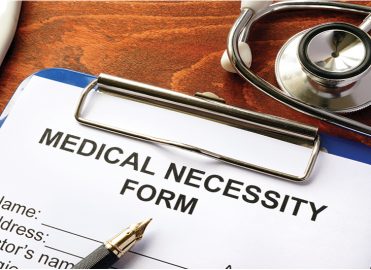 When warranted, don't take "DENIED" for an answer.
In the ever-changing world of medicine, it's more important than ever for medical coding and billing professionals to strive to achieve optimum reimbursement for physician practices in a compliant manner. AAPC defines healthcare compliance as "a general term describing the observance of conventions, guidelines, and state and federal laws."
Occasionally, services provided are denied payment for various reasons, including but not limited to, lack of medical necessity. What do you do when a claim is denied and your follow-up evaluation determines that the service was, in fact, appropriate and necessary? Don't adjust it, appeal it! Apply the knowledge and skills obtained from your training and years of expertise, and the advice in this article, to get the claim paid.
What Is Medical Necessity?
Medicare defines medical necessity as "services or items reasonable and necessary for the diagnosis or treatment of an illness or injury or to improve the functioning of a malformed body member." Medical necessity is essential and may be obtained from the physician's medical progress report and other pertinent documents within the patient's chart.
What to Do When a Claim Is Denied
The initial step of the appeals process includes a thorough review and comprehension of the payment denial reason. Once you understand the payer's reason for denying the claim, review the claim to determine whether the denial is justified.
Is the coding (including modifiers) correct, and does it reflect a complete picture of the services rendered to the patient? Accurate coding is necessary to outline the services that the patient received, making the role of the medical coder of the utmost importance. Utilize the tools provided by your place of employment for accurate coding, checks and balances, and/or delivery methods. You should also review the claim for billing errors, such as an incorrect address or beneficiary number, because these can also have an impact on claim processing.
If you believe the claim is accurate and should be paid, plan your response and prepare to defend your point. Supporting documentation is vital and just may be the determining factor to win your case. Make sure the information presented is factual, specific, and concise.
Filing for an Appeal
You should issue an appeal promptly and professionally. It's not advantageous to include snide remarks that may be insulting and offensive to the payer's reviewing resolution team. Those methods are ineffective, unprofessional, and could delay reprocessing.
Compile your appeal letter and all supporting documentation and submit the information to the insurance company in the requested format, including all patient identifying information. In most instances, the appeal packet can be downloaded from/uploaded to the payer's website. Payer websites are valuable tools and resources to gain knowledge of each individual insurance company's policies and procedural guidelines. Within a timely manner, check to make sure the payer received your appeal packet and is reviewing it for claim reprocessing.
What Happens if the Appeal is Denied?
The goal is to receive a decision reversal and full payment from your Level 1 appeal. If the first review is unfavorable, and you are sure that medical necessity has been met and guidelines have been followed, institute a Level 2 appeal. The Level 2 appeal should be more detailed and, depending on the payer's policy, it may be reviewed by an independent panel unaffiliated with the insurance plan.
As always, remain professional. The professionalism exhibited is a representation of you, as well as your employer and AAPC membership.
Latest posts by Antie Mayfield
(see all)