Providers and Compliance Personnel: The New Dream Team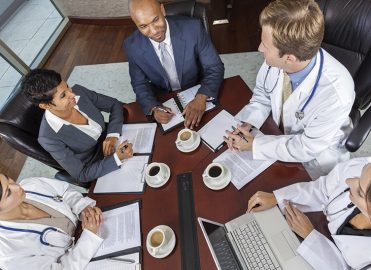 Open the lines of communication to achieve clinical documentation improvement.
Ask your providers if they are happy with your facility's selected electronic health records (EHRs). Better do this at a distance.
Their negative responses will likely be widely based. The opinions I hear are often age-based, as well. Providers who did not use computers, mobile phones, and apps in their medical training respond with, "I do not need to use EHRs to take good care of my patients," or "They slow me down," or "They create errors" (my most worrisome issue), or "Who thought of this?" (my favorite).
Providers who did use this technology while training have concerns as well, just different concerns. For example, from them I hear, "Why aren't there better short keys and hot commands?" or "Why aren't there better dropdown menus?" or "This has not been designed for my specialty and practice."
All of these are accurate and must be understood as we team build.
What Is Team Building and Why Do We Need It?
Successful team building will create multiple profits for providers and facilities. This will be reflected as reduced compliance loss (whether it be as simple as a reduction in delays and denials or avoidance of audit failures and their associated fines) and improved documentation that more accurately reflects issues such as severity of illness (SOI) and case mix index (CMI).
As the techniques of documentation become better understood and then practiced, economic benefits occur. Quicker documentation leads to more patients being seen in a day, more billable services, more booked diagnostic testing, and more procedures that benefit a patient's healthcare.
Patient experience is improved as patients have greater access to providers, receive more direct eye contact with their provider, receive more of their allotted time on the exam, and do not as often hear the providers' frustration with EHRs.
In working with providers and facilities, it is important to involve administration. Not just because they are economic stewards, but also to develop the concept that delays, denials, and audits do not have to be viewed as simply "the cost of doing business."
Reduce Queries
The key to increasing production from the coding and billing departments is to reduce the information chase required by coders. The importance of fundamental documentation rules must be taught to providers. They were not taught this in their training, often at all, but especially not to the level of understanding needed to be in tune with the multiple intricacies of compliance.
We must reduce the coder's need for queries, reduce delays in query response times, and, when responses are received, reduce the number of responses that do not answer the original query question.
Reducing the need to send queries is accomplished when providers understand the documentation requirements for each evaluation and management (E/M) code level and the importance of documentation wording.
We do not need to have providers be as proficient with ICD-10-CM as coders. But they do need to understand that their documentation can make a patient appear less ill, not fully describe an illness, and reduce their coders' speed and accuracy. Here is where the true delays in claim submission occur.
Create Provider Buy-In
Creating provider buy-in will be integral to reducing delays, reducing denials, and lessening audit exposure. This buy-in is best achieved when providers are given the answer to the question "What's in it for me?" The provider's initial opinion is that this documentation is largely a facility issue — a predominant feeling among employed providers.
Keep Score
Providers need to realize they are leaving behind an electronic footprint, or scorecard. The healthcare outcome of their patients, as well as the money spent on their care, are both valuable data points for insurers. Through a better understanding of both E/M and ICD-10-CM coding guideliness, providers help themselves by describing a true severity of illness score and defending medical necessity.
These scorecards add together. A group of primary care providers' grades becomes that department's grade. The emergency department's providers' grades become that department's grade, and so on. Adding the scores for each department, we get a combined medical staff grade, which becomes the facility's grade, which ultimately becomes the facility administrator's grade.
Poor documentation travels full circle and affects all parts of the revenue cycle. SOI, CMI, and medical necessity are not well shown to payers or auditors and, as a result, patient access and volume are reduced, with the loss that entails.
Focus on Value
An aging population, increasing technology, and defensive medicine all place an increased cost on payers. Internally addressing these challenges, payers are focusing on value.
Data left behind, quality metrics, and cost of care are researched and stored by payers. This becomes the definition of value.
When payer data suggests the care can be improved from either quality metrics, economic costs, or both, payers are willing to act. Large employers are paying travel costs for their insured to geographically bypass a closer provider or facility to gain better value. Leaders in this trend have been Walmart and Amazon, reporting savings of millions of dollars per year.
For example, a community with competing hospitals could be seen to have different levels of value based on their scorecards. This perceived value can lead to insurers recommending their members to use an alternative or more valued facility. The perceived lesser-valued facility subsequently realizes reduced admissions and ancillary services income, and its future economic health becomes at risk.
Facilities with smaller margins (often the smaller facility) are at the greatest risk of being negatively impacted. Numbers can vary by study, but up to 80 rural hospitals closed in 20-plus states between January 2010 and January 2018. These figures often do not include critical access hospitals (CAH) that perhaps did not entirely close, but rather reorganized. Reorganizing as a freestanding emergency department, a rehab facility, or a nursing home has the same result of local job loss and reduced patient access to services.
Commonly, the CAH is a very large employer of its community. This reorganization has a dramatic impact on the economic health of those communities as jobs are reduced. Billing, marketing, and administrative services may become centralized.
Patient access becomes affected as access to services moves geographically further away. An older patient may not be comfortable driving to the larger community, may not have the economics for the trip, and family may not be able to lose work time to be the driver.
Protection of the CAH is important, and this was recognized by lawmakers early on with a public law in 1997. However, this needs to be a joint effort, with the CAH also contributing. They do this with E/M and ICD-10 education of their providers. Auditors are not at the bedside. They can only read, grade, and make decisions on what they see documented.
Compliance, metrics (both quality and economic), EHRs, and audits are here to stay. Value will be the driving force and will be defined by provider and facility scorecards. The successful administrations, and subsequently successful providers and facilities, will be the ones who recognize the importance of helping their providers learn and correctly use the rules of documentation.
---
Authors:
James Dunnick, MD, is a board-certified cardiologist. Dr. Dunnick has published and presented nationally on both clinical and compliance topics. As the CEO and founder of SESEDN LLC and The Dunnick Group LLC, he currently works with providers and facilities. He may be reached at jdmd62@gmail.com.
Robert Dunnick, MBA, has his undergraduate degree in business management and marketing from Tulane University. His MBA is from Indiana Wesleyan with a focus on hospitals and healthcare management. Dunnick has experience in private practice buyouts and mergers, EMR, and practice management. He has presented on economic enhancement and revenue cycle protection topics at national meetings.
---
Resources:
Friedberg, Chen, […], and Tutty. "Factors Affecting Physician Professional Satisfaction and Their Implications for Patient Care, Health Systems, and Health Policy." Rand Health Quarterly Winter 2014.
Physician Satisfaction with EHRs: It's Even Worse Than You Think
AMA Survey: Physician satisfaction with EHR systems has plummeted
Payers Enter New Value-Based Care Agreements with Providers
Amazon Joins Trend of Sending Workers Away for Health Care
State-by-stage breakdown of 83 rural hospital closures
The rural hospital closure crisis: 15 key findings and trends
Latest posts by Guest Contributor
(see all)