ICD's Continued Evolution and Impending Transition to ICD-11: Part 2
In Coding
July 31, 2020
Comments Off

on ICD's Continued Evolution and Impending Transition to ICD-11: Part 2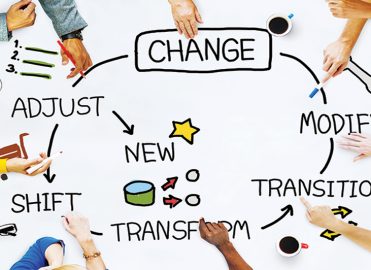 Part 2: Learn the key to developing a plan for ICD-11 implementation.
Starting Jan. 1, 2022, countries around the world can begin reporting health data using the 11th revision of the International Classification of Diseases (ICD-11), according to the timeline set by the World Health Organization (WHO). It is up to each country to decide when to adopt ICD-11. 2023 is the earliest projected date for implementation in the United States.
Last month, we talked about the history and evolution of ICD and how it provides a universal language that allows health professionals around the world to share information. In this second part of the three-part series, we'll go over some distinguishing characteristics of the novel ICD-11 and compare it to previous versions. In doing so, you will gain a better understanding of what to expect as we approach the transition to ICD-11 and how these revisions could impact your medical coding.
ICD Utilization
ICD is the foundation for identifying and analyzing health statistics worldwide, which, in turn, forms the basis for practically every decision made in healthcare today. Understanding health statistics — what people get sick from and what eventually kills them — is at the core of mapping disease trends and epidemics. This data also influences the provision of health services, funding allocation, investment in research and development, and more.
Moreover, ICD codes can have enormous financial importance, as they are used to determine resource allocation. In countries where ICD codes are the basis for health insurance billing, such as the United States, ICD is closely tied to healthcare finances. Every country subscribing to the ICD system utilizes it in varying degrees, from full endorsement of the entire system to partial code use or employment for morbidity or mortality only.
Time for Change
ICD has evolved over the past 150 years from an International List of Causes of Death to a comprehensive classification system used for mortality, morbidity, case-mix, quality measurement, and patient safety. The ICD system is designed to promote international comparability in the collection, processing, categorization, and presentation of health statistics and general health information. However, data quality is directly related to the fitness of the classification system, and the use of ICD-10 — adopted by WHO in 1990 and implemented in the U.S. for mortality in 1999 — has become increasingly problematic because of its outdated content. As time goes by, it will only become less fit for precise and meaningful classification. The final update for ICD-10 was released in Oct. 2019. The WHO now no longer maintains it. Thus, the time has come to evaluate transitioning to ICD-11 in the United States and around the world.
Additionally, the many parallel, but inconsistent, ICD modifications used worldwide limit international data comparability, development of guidelines, and linkage to knowledge bases. This results in a lack of uniformity in translated terms. There is a clear need for an internationally standardized system that accurately reflects contemporary medical practice and generates the best and most useful data possible. Standardization is the key that unlocks global health data analysis.
ICD-11: A Closer Look
The 11th revision of ICD is long overdue, especially given that ICD-10 is now more than 25 years old. Following international collaboration and review of all existing classifications, categorizations, and codes, the 72nd World Health Assembly voted unanimously on May 25, 2019, to adopt ICD-11. This newest edition, over a decade in the making, reflects the significant progress in science and medicine over the past 30 years and revolutionizes the way conditions are classified and coded in the clinical setting.
The classification system underwent a major redesign. (See "ICD-11: What's new" below.) It is now structured as a database that includes up to 13 dimensions, with changes ranging from making it more IT-friendly and better able to support data collection on morbidity, to lowering cost. It will also have a new name: ICD-11 for Mortality and Morbidity Statistics (ICD-11-MMS). To bring ICD into the 21st century, updates include a completely digital design; easy integration with electronic health applications and information systems; improved ability to address multiple topics, such as capturing quality and safety healthcare data; and a more user-friendly format. ICD-11's structure is defined in linearizations that incorporate properties and attributes with a focus on mortality, morbidity, the degree of primary care, research, and public health.
These advancements have made ICD-11 more intricate and comprehensive than its predecessors. It contains over 55,000 codes and is capable of linking with other ICD classifications, such as the International Classification of Functioning, Disability, and Health (ICF), the International Classification of Primary Care (ICPC), and the SNOMED CT and Orphanet terminology systems.
In addition to being able to produce digital documentation on a granular level, ICD-11, for the first time, "will enable dual coding of traditional medicine diagnoses alongside mainstream medicine and now also permits the generation of a functioning score based on the WHO Disability Assessment Schedule (WHODAS)," according to the WHO Implementation or Transition Guide.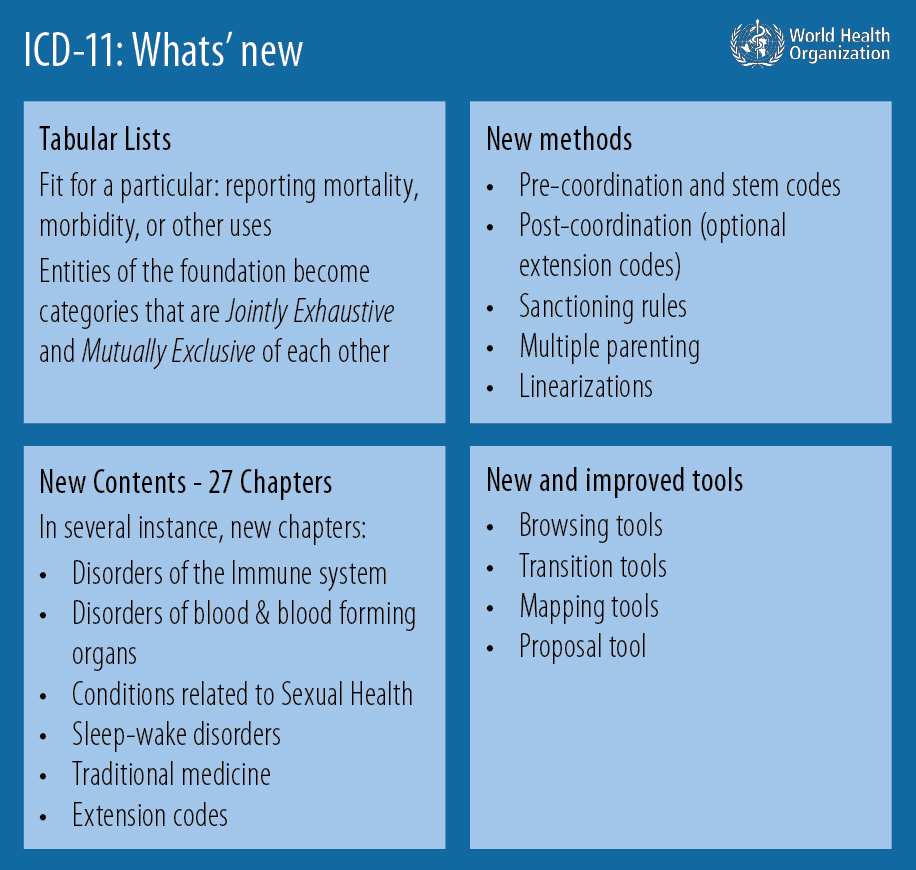 Small Code, Big Impact
The new codes look different than those in ICD-10 and have a simplified structure. There is also a big difference in the number of existing pre-coordinated codes, with 14,622 codes in ICD-11 versus the 71,932 codes in ICD-10-CM. However, with post-coordination, the number of codes possible is much larger.
ICD-11 introduces two noteworthy features — extensions and clustering — which enable two kinds of post-coordination and the addition of specific detail to coded entities. Both features have the potential to improve ICD-11 code data.
Extensions are non-diagnostic codes that add flexibility to the classification. They cannot be used alone, but rather are intended to be added to a stem code, replacing ICD-10 adjunct codes. Extension codes are appended to describe laterality, acuity, severity, and other dimensions of injury and external causes.
Cluster coding — combining two or more codes to describe a documented clinical concept — is how ICD-11 explicitly marks codes that are post-coordinated to describe one condition. When a diagnostic statement is broken down into its component parts for simplicity, there needs to be a way to link them in the coded record; clustering is the feature that enables linking. It creates the ability to link core diagnostic concepts (i.e., stem code concepts), when desired, and/or add clinical concepts captured in extension codes to primary stem code concepts. Cluster coding refers to a convention where a "with" operator, either a forward slash (/) or ampersand (&), is used to link ICD-11 codes together to create a diagnostic "sentence."
Example:
Diagnosis: Duodenal ulcer with acute hemorrhage
Cluster: DA63/ME24.90&XA9780
Condition (stem code) – DA63 Duodenal ulcer
Specific anatomy (extension code) – XA9780 Duodenum
Has manifestation (stem code) – ME24.90 Acute gastrointestinal bleeding, not elsewhere classified
ICD-11 has been built in such a way that updates will be easier than in the past, hopefully eliminating the need for ICD-12. Moreover, its creators suggest that there will be no need for national modifications of ICD-11 due to its flexibility and capability to produce digital documentation on a granular level.
Two examples of how ICD codes have evolved over time:
1. Essential hypertension, unspecified:
ICD-9: 401.9 Unspecified essential hypertension
ICD-10: I10 Essential (primary) hypertension
ICD-11: BA00 Essential hypertension
2. Diabetes mellitus, type II, with left diabetic cataract:
ICD-9: 250.50 Diabetes with ophthalmic manifestations, type II or unspecified type, not stated as uncontrolled, and 366.41 Diabetic cataract
ICD-10: E11.36 Type II diabetes mellitus with diabetic cataract
ICD-11: 5A11/9B10.21&XK8G Type 2 diabetes mellitus/Diabetic cataract, Left
More to Come
Stay tuned for the last article of this three-part series. We'll examine the advantages of ICD-11, as well as the major concepts developed and included in the code set, moving toward ICD-11, and implementation considerations.
Be sure to read Part 1: "The Rules Are Changing: ICD's Continued Evolution and the Impending Transition to ICD-11" in the July 2020 issue of Healthcare Business Monthly and Part 3 "Rules Are Changing: The Impending Transition to ICD-11" in the September 2020 issue.
---
Resources:
ICD-11 Implementation or Transition Guide
Update on ICD-11: The WHO Launch and Implications for U.S. Implementation
Latest posts by Stacy Chaplain
(see all)