Taking the Online CPC® Exam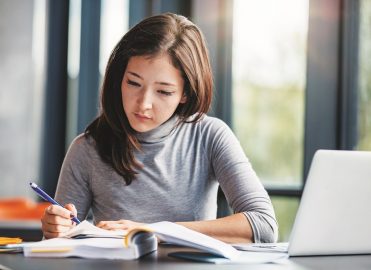 Wondering if the online CPC® exam is right for you?
If you're trying to decide whether to take the Certified Professional Coder® (CPC®) exam in person or online, the following information can help. There are added requirements for scheduling your exam online, so be sure to read through our full list of FAQs below before you decide.
About the Exam
What are the requirements for taking the online CPC® exam? You must meet the following requirements to take an online exam:
Your computer must pass the minimum system requirements
You will be required to use an external webcam that can be placed to show:

Your face
Your hands
Your keyboard
The area surrounding your keyboard (about 10 inches)
What books can I use for the online CPC® exam? You will only be allowed three coding books on your desk (one of each type listed below). Online proctors will do a thorough review of your books before you begin the exam. It is highly recommended that you use current year books on your exam. Note: Printed guidelines will not be allowed during the online exam.
2019 or 2020 AMA CPT version only
2019 or 2020 Your choice of ICD-10-CM
2019 or 2020 Your choice of HCPCS
What can I have in the room with me during the exam? Along with the three coding manuals above, you may also have a drink on your desk and a whiteboard, dry-erase marker, and eraser. You will be required to show your clean whiteboard (front and back) to your proctor before the exam and after the exam.
How many attempts will I get for an online CPC® exam? Members taking online exams will receive one attempt at a lower cost than the standard two attempts in person.
For members with open exam vouchers, the voucher can be transferred to online.
Example 1: You make a new purchase for an online exam — you will get one online attempt.
Example 2: You have already purchased two live exam vouchers or have unlimited vouchers — if you choose to convert to online, you will be in an exception group and will get two online attempts.
Example 3: You have already purchased two live exam vouchers or have unlimited vouchers — if you have already used one exam attempt and you choose to convert to online, you will have one online attempt.
How will the test be administered? A blackboard will be utilized to take the exam, with our partner Examity proctoring the exam online.
How do you prevent people from cheating (using Google, cellphone, etc.)? The integrity and security of our exams continue to be our focus. With the combination of AI and a very low ratio of one proctor per two examinees, we have closer monitoring than with live exams.
Important Note! Any member who violates our code of ethics by cheating will lose their credential(s) and will not have the opportunity to sit for any future AAPC exams.
How do I schedule my exam? Scheduling will happen directly through Examity after the online exam voucher has been applied to your AAPC account.
Can I see my scheduled online exam and exam results in the My AAPC app? Not at this time. While we work to enhance the app with information from the new online exam, please use the member area under My AAPC > Exams to see your scheduled exam details and results.
What is the online exam cancellation and rescheduling policy? If you cancel or reschedule your exam date/time prior to 24 hours before the start of your exam, there will be no fee. If you cancel or reschedule within 24 hours or less, Examity will charge a fee for each occurrence.
What is the no-show policy for online exams? If you do not show up to your scheduled exam OR you do not meet the requirements to take the exam, Examity will charge a $30 fee for each occurrence and your exam may not be rescheduled until paid.
Taking the Exam
Will the exam still be 5 hours and 40 minutes? The exam has been split into two parts with a maximum time limit of 2 hours and 45 minutes per part. The two exam parts can be scheduled on the same day at different times or on different days if you prefer.
If I have extra time from Part l of the exam will I be able to use it on Part ll? No. Extra time does not carry over. The two exam parts are considered separate tests, and each will have a time limit of 2 hours and 45 minutes.
Can I skip questions and come back to them? You can skip questions or move back and forth between questions within each part of the exam (part I or part II). However, once you submit that part, you will not be allowed to go back to it.
What type of questions will be on the exam? The online exam follows the same criteria as the in-person CPC® exam. See the breakdown of areas and number of questions here.
Exam Results
Will I receive my exam results immediately? Exam results will be available within five business days of completing the second part of the exam. Results will show in the member area under My AAPC > Exams in the exam details.
Will areas of study be available when I get my online exam results? Not at this time. Once both parts of the exam are completed, you will receive a Pass/Fail and an overall score. If you would like areas of study, please contact our support team.
General Questions
Are online exams offered for credentials other than CPC®? The CPC® credential is the only one offered at this time. After evaluating the success of the CPC® exam, we will notify members if others become available.
Is this option also available in other countries? Yes, this option is available worldwide.
Will ADA accommodations be made for the online CPC® exam? Not at this time. ADA accommodations will be provided at physical locations. We are working toward this and will let members know as online options become available.
I'm signed up for a test date in the summer. Should I pre-register for the online exam just in case my exam is cancelled? We do not see a reason to switch at this time. If your exam is cancelled, we will allow a transfer to an online exam. Examinees with dates that have been cancelled will be top priority for online exams.
Will online exams be a permanent offering? Due to COVID-19 and many of our test sites being closed, AAPC took our most highly sought-after credential and created an online solution that allowed those impacted to receive their credential. We will closely monitor the results and success of the online exam to determine how to move forward after the COVID-19 crisis is over.
I heard AAPC cancelled all exams until further notice. Is that correct? Exams were only cancelled through April 30. Each location is now assessed on a case-by-case basis depending on the restrictions in each state and each facility. We are contacting all exam sites to determine their ability to proctor.
Will our local chapters still be administering exams once COVID-19 restrictions are lifted? Yes! As soon as states and facilities begin to allow groups to gather, local chapters will be needed more than ever to host exams to meet demand, particularly for those members whose exams were cancelled.
Latest posts by admin aapc
(see all)
49 Responses to "Taking the Online CPC® Exam"