HEALTHCON Regional 2020 Daily Wrap-Up: Day 1
In AAPC News
August 12, 2020
Comments Off

on HEALTHCON Regional 2020 Daily Wrap-Up: Day 1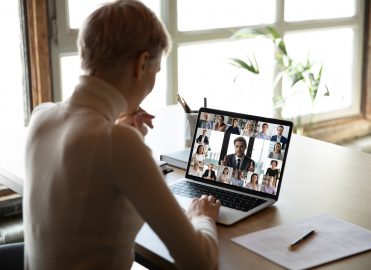 Learning to adapt is the key to success and the way to thrive in an ever-changing world. With a pandemic continuing to ravage many parts of the country, AAPC decided to change course and transform its 2020 Regional conference into a virtual experience to ensure the health and safety of attendees, speakers, AAPC employees, AAPC exhibitors, and the general public.
Instead of heading to Denver to attend sessions in person and mingle face to face with fellow attendees, members are, once again, able to enjoy all the learning and networking AAPC conferences typically offer, all from the comfort of home. Given the success of HEALTHCON this past April, AAPC is confident that attendees will walk away with the same great education, invaluable connections, and continuing education units (CEUs) they would've received at the in-person venue. Today marks the first day of the two-day virtual conference.
Conference Welcome
The president of the National Advisory Board, Michael Miscoe, JD, CPC, CASCC, CUC, CCPC, CPCO, CPMA, CEMA, AAPC Fellow, kicked off the conference with an overview of the COVID-19 pandemic, discussion of its direct and indirect impacts, and its repercussions on the U.S. economy. He went on to discuss everything AAPC is doing in response to the public health emergency (PHE), from converting HEALTHCON and Regional conferences to a virtual platform to online proctoring of CPC exams and extending 2019/2020 courses. Recognizing the economic impact experienced by many members, AAPC is doing everything possible to make sure that they can finish their education and training, take their exams, and get out into the workplace.
Healthcare has become the largest U.S. employer, explained Miscoe, and it's one of those environments where change is just a fact of life — "Codes change every year. Medical policies change. Things that used to be aren't anymore." He states that technology will continue to change the practice of medicine, and, in turn, roles will change. To ensure your longevity in this business, embrace these changes. Those who do will be valuable and in good shape going forward. "AAPC is working very hard to not only understand and predict where these changes are going to occur but make sure that we have educational programs to alert members of where this is going so that you can position yourself to be ahead of the curve," said Miscoe.
He gave a rundown of the many other things AAPC is doing, including developing new credentials for emerging roles, rolling out new certificate courses, and upgrading AAPC Coder, rebranded as Codify by AAPC.
"Part of AAPC's evolution has seen increased diversification of our membership," Miscoe explained. "What was once certification for outpatient physician office coders in the U.S. has evolved to a number of healthcare business disciplines, both outpatient and inpatient, as well as clinical roles." He closed out the session empowering attendees and reminding them that we're all students, and there's always something more to learn. "What you invest in yourself, pays back 1000-fold over the course of your career."
A New Way of Thinking
In the second general session, Raemarie Jimenez, CPC, CDEO, CIC, CPB, CPMA, CPPM, CPC-I, CANPC, CRHC, spoke about the upcoming changes to evaluation and management (E/M) documentation guidelines going into effect Jan. 1, 2021, and what changes to expect in years to come. She reviewed case examples and walked attendees through how these guideline changes will impact overall code selection. Jimenez kept her audience engaged throughout the lecture with multiple-choice polling questions that attendees answered in real-time.
Something for Everyone
Attendees spent the remainder of the day in breakout sessions on a wide variety of subjects — everything from developing and implementing an audit program to providing expert testimony to obstetrical coding.
Sharon J Oliver, CPC, CDEO, CPMA, CRC, Approved-Instructor, talked about peripheral vascular disorders. She went into great detail explaining the coding dynamics behind a range of peripheral vascular CPT® codes. One attendee stated she enjoyed this engaging and informative lecture asserting, "Oliver captured the audience with her Southern charm and humor as she explained peripheral vascular diagnoses and procedure codes in terms of their related anatomy."
Some attendees listened to Christopher Chandler, MHA, MBA, CPC, CGSC, simplify general surgery coding by reviewing various coding guidelines as well as the procedures, diagnosis, and coding for breast procedures, hernia repairs, and abdominal procedures, to name a few. Chandler was informative and engaging. Attendees greatly appreciated how he used real-life coding scenarios to illustrate the different surgical and coding scenarios.
In "Coding for Common Procedures in a Primary Care Setting," Nate Felt, CPC, dove into the common procedures — fracture care, injection, lesion removal, repairs, etc. — seen in the primary care setting. He reviewed these procedures from a clinical perspective and went over coding concerns, as well. Attendees walked away from his presentation, armed with the tools needed to help providers document and report the correct codes for the procedures performed.
Meanwhile, Marianne Durling, MHA, RHIA, CPC, CCS, CIC, CDIP, CPCO, CPC-I, spoke on emerging payment models in healthcare and their impact on hospital coding and billing. She reviewed value-based care, population health, ACO's, and quality metrics and trending, as well as the impact these have on RCM, CDI, and compliance. Durling emphasized that all these areas must work together for improved patient outcomes and appropriate reimbursement.
The remaining sessions of the day covered the gamut: coding preventative care services, leadership and communication, outpatient CDI strategies, NICU and pediatric coding, and much more. 
Rave Reviews
Here's what a few attendees had to say as we wrapped up day one of HEALTHCON Regional 2020:
"I received some really good information today, my brain has been fed."
"This is my first conference and I'm learning so much…Very happy for the experience and glad to be here."
"Great first day. So much information. Speakers have been amazing."
"Codify (by AAPC) is amazing. I cannot wait to have coders try the enhancements. Great job, AAPC."
"This is my first virtual conference and I didn't think I would be able to stay engaged. I was wrong and I'm so glad! I am looking forward to tomorrow's sessions!"
"See" you tomorrow!
Latest posts by Stacy Chaplain
(see all)