Guidelines for Clinical Documentation Improvement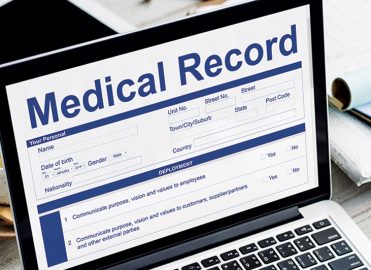 Touro University California is teaching medical students the importance of new health record policies.
Next Jan. 1, 2021, health record documentation in the outpatient/office setting faces unprecedented changes. Per the 2020 Medicare Physician Fee Schedule final rule in the Federal Register and the Centers for Medicare & Medicaid Services' (CMS') Patients Over Paperwork (PoP) Initiative, medical provider payment will no longer be linked to documenting the history/medical interview and/or examination findings for evaluation and management (E/M) services paid under Medicare Part B. These changes threaten to dilute the importance of gathering the patient's story and experience with disease/health.
On the surface, these changes seem to unravel the wise words of Sir William Osler, who reportedly pronounced over 100 years ago, "Listen to the patient; he is telling you the diagnosis."
Rather than undermine the needs and concerns of patients, new and emerging rules promise to make health record documentation better than ever.
Best Practices in 2021
We cannot afford to utilize health records with inaccurate or inadequate information. While CMS' PoP is designed to reduce provider clerical/administrative burden, it does not relieve the over-arching criterion to justify medical necessity. Accurate information is needed to care for patients and maintain a database that can be mined to uncover patterns of disease and evidence of effective treatment.
The following Touro University California documentation guidelines, supported by institutional review board-approved research and engagement with current medical student training, are offered as a best-practice approach to health record documentation training as we approach and engage 2021:
Health records must contain accurate information.
Patients should answer all history questions in preparation for every medical encounter.
Ancillary medical staff members should assist patients in authoring the history component of a medical encounter note in the health record.
Medical providers should first read the patient authored history, then ask additional questions.
Medical providers and ancillary medical staff members should view the blocking of a patient-authored history as a HIPAA violation.
Patients should routinely read their entire health record note (history, exam, medical decision making) after every medical encounter.
Medical students, as well as all healthcare professionals, should be trained to view health record documentation through the lens of core competencies:

Systems-based practice
Practice-based learning and improvement
Professionalism
Interpersonal and communication skills
Patient care
These documentation guidelines are based on training delivered in the spring of 2020 at Touro University California – College of Osteopathic Medicine. A full report can be accessed at www.tu.edu and www.PatientAdvocacyInitiatives.org.
A Case for the Prehistory
Accommodating new documentation policies and adhering to guidelines demanding higher standards requires a teamwork approach with patients, providers, and ancillary medical staff members.
Published clinical research found the use of a patient-authored history improved the data gathering process and eliminated the need for provider documentation after the encounter.
Patients should have the opportunity to author the first draft of the history in the health record. This can be done with modification to patient portals or simply accomplished by having the patient complete a prehistory. A prehistory (preHx) is a replica of the approximate 30 medical interview questions structured and defined by CMS' 1995/1997 Documentation Guidelines for Evaluation and Management Services.
Reading the patient's full history, generated by a preHx, takes an average of 30 seconds. Asking a few deeper questions and documenting the patient's responses requires only a few additional minutes of the provider's time.
Published clinical research has found the use of a preHx effectively engages patients to express their medical narratives and boosts satisfaction to higher levels. Using a preHx, patients feel better heard, understood, and empowered. For the medical provider, a patient's use of a preHx reduces clerical and administrative burden, enabling completion of documentation by the end of the encounter.
PreHx implementation also reduces inappropriate use of electronic health record (EHR) auto-population features such as templates, copy and paste, and copy forward. While templates can be effective, they often introduce history and exam content into the EHR that was never discussed or performed.
About the PreHx
Since 2015, nonprofit organization Patient Advocacy Initiatives has offered free three-page preHx forms at www.PatientAdvocacyInitiatives.org. Since 2017, the nonprofit has offered a free digital version at www.PreHx.com. The digital version guides individuals through all of the questions with the intent of empowering patients to co-author what is written about them in health records. At Touro University California, research efforts seek to foster the patient-provider relationship while improving the accuracy of health record databases. The nonprofit has vowed to never read, sell, or share information that individuals enter into their preHx.
Who's Responsible for the PreHx?
Ancillary medical staff members, such as medical assistants and nurses, should assist patients in authoring their histories. Per the Federal Register for CY2019, staff members can document all aspects of the history in health records. This is an expansion from 1997 documentation guidelines, which restricted ancillary staff members to documenting only the review of systems (ROS) and past, family, and social history (PFSH). New policies do not expect ancillary medical staff members to conduct a medical interview/history at the level of competence of a qualified healthcare professional. Such implications would extend staff member responsibilities beyond training and expose liability.
Staff members should feel comfortable helping patients represent their medical narrative in accordance with federal law and rules. Staff members will need to amend compliance manuals, construct a corrective action plan, and ensure that patient-generated health data, such as a patient-authored preHx, can be effectively represented in the health record at the time of the encounter.
Ultimately, it is our view that patient portals to EHRs should all include an option to complete a preHx, or similar, in preparation for a medical encounter. Our recommended preHx, which is free of charge, includes all of the approximate 30 questions structured and defined by CMS' 1995/1997 documentation guidelines. Patients should answer all the history questions to fully express their healthcare concerns, needs, and experiences.
Who May Access the Health Record and Amend With a PreHx?
Patients should be given the opportunity to read their health record, especially after each encounter. In accordance with the HIPAA Privacy Rule [45 CFR, § 164.524], providers are allotted 30 days, with an additional 30-day extension, to consider whether a patient can view their health record. If the provider denies access, then written notification must be sent to the patient explaining why.
Patients are granted the right to amend their health record per the HIPAA Privacy Rule [45 CFR, § 164.526]. In addition, authorization for patients to author the history was clarified by the Federal Register for CY2019. Blocking a patient's request to amend the health record with a preHx is a HIPAA violation. To comply with federal law, the provider must either accept the written request to amend the health record or, within 90 days, send written notification to the patient explaining why the request is unacceptable.
Training Future Physicians How to Document
Failure to gather the patient's story will lead to a poor understanding of the individual and the creation of a worthless health record database. Core competency systems-based practice demands us to ask:
"Why?" Why are current policies in place, and why is CMS creating new rules?
Core competencies professionalism, interpersonal and communication skills, patient care, and practice-based learning and improvement ask:
"How?" How do CMS policies serve the primacy of patient needs and concerns? How can healthcare professionals and patients partner to accommodate emerging federal policies? How can we implement corrective action plans to ensure health record accuracy while fostering the patient-provider relationship?
Answering these questions, with support of research-based evidence, will meaningfully guide medical students to and through 2021.
---
Co-authors
Mary Wood, CPC, CPC-I, CRC, is an AAPC National Advisory Board member, lead physician documentation educator for Kaiser Permanente North California, and a CPC® instructor.
Susan St. Pierre, DO, is a family doctor and assistant professor of Primary Care at Touro University California.
Glenn Davis, MS, is an associate professor in administration and curriculum director at Touro University California.
---
Resources:
Cornell Law School. 45 CFR § 164.526 – Amendment of protected health information; retrieved from www.law.cornell.edu/cfr/text/45/164.526
Centers for Medicare & Medicaid Services; Medicare Physician Fee Schedule final rule. Nov. 23, 2018, Federal Register; www.federalregister.gov
Latest posts by Dr. Michael Warner
(see all)