Add-On Payments Encourage Uptake of New Technology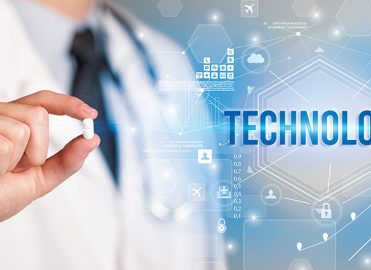 Maximize your facility's reimbursement for novel drugs and medical devices, including new antimicrobials.
The development of innovative, high-cost drugs and devices is often accompanied by an increased price to provide those treatments to patients. Here lies the dilemma: If a procedure or drug is not yet in use, how can the Centers for Medicare & Medicaid Services (CMS) predict what it may cost in the future? They can't.
Securing adequate payment for new drugs and medical devices used in hospitals can be a struggle. CMS recognizes the burden that hospitals face when adopting new, and often costly, medically advanced technologies and therapies. Over the years, CMS has created and deployed specific payment policies that help to ensure hospitals do not incur significant reimbursement shortfalls when adopting innovative new drugs and medical devices. One such policy is the new technology add-on payment (NTAP).
Hospitals Receive "Lump Sum" Payments
Inpatient hospital reimbursement rates are a result of complex mathematical calculations, but to put it simply: Hospitals receive one lump sum — known as the Medical Severity Diagnosis Related Group (MS-DRG) payment — for the entire inpatient stay.
There are over 900 MS-DRGs to which a patient's stay can be assigned. These MS-DRG assignments are based on many factors, which may include the reason the patient was treated, co-morbid conditions, procedures performed, drugs administered, and medical devices used during the inpatient hospital stay.
The current inpatient MS-DRG payment system relies on retrospective claims data to establish MS-DRG payments for the fiscal year. Each MS-DRG has a base payment that represents all of the items and services provided during the patient's entire stay, including drugs and devices used. Once the MS-DRG assignment and base payment are identified, additional factors are used to adjust the base payment such as the hospital's geographical location and type (rural hospital, critical care hospital, teaching hospital, etc.). In some cases, high-cost stays may also qualify for an additional outlier payment.
What Is NTAP?
NTAP is an additional payment made to the hospital for inpatient stays, on top of the lump sum reimbursement rate (see "Hospitals Receive 'Lump Sum' Payments"). This additional payment is provided to offset some of the costs of new drugs and devices when certain criteria are met. For most drugs and devices, this offset, or NTAP, is limited to 65 percent of the medication or device cost — an increase from 50 percent in 2019. A given technology's NTAP designation lasts no more than three years for a specific indication.
Meet 3 Criteria to Qualify for NTAP
To qualify for NTAP, the drug or device must meet the following criteria:
Newness: The drug or device must be new, and it cannot be "substantially similar" to existing technologies. Medications and devices are considered new until claims data reflecting the use of that therapy become available.
Cost: Reimbursement for the cost of the drug or device must be inadequate under the existing MS-DRG. This cost criterion is demonstrated in a complex formula.
Clinical improvement: The use of the drug or device must significantly improve clinical outcomes as compared to currently available treatments. Clinical data must be applicable to the Medicare patient population. If the therapy has received a breakthrough designation by the Food and Drug Administration (FDA), this criterion will be met.
Getting NTAP approval is no easy feat, but once granted, hospitals can seek additional payment for inpatient hospitalizations by submitting claims using the specific ICD-10 diagnosis (CM) and/or procedure (PCS) codes that represent the eligible patient case.
Updated NTAP Criteria Expands Access to Novel Antimicrobials
In several recent communications, CMS has acknowledged the grave danger associated with antimicrobial resistance. In a STAT news article, CMS Administrator Seema Verma stated, "The same bacteria that once terrorized hospital wards are back with a vengeance. Antibiotic drug resistance is like a hydra — cut off the head of one infection using a drug and another emerges in its place with newly acquired defenses. To keep Americans safe, we need to be vigilant in our care and focused on transforming Medicare to bring payment policies in line with public health needs."
During the 2020 rulemaking cycle, CMS specifically addressed the disadvantage that new antimicrobials face in being considered for NTAP, stating that clinical trial design constraints and misaligned incentives limit the use of payment for new antibiotics in hospitals. To reduce access barriers to NTAP, CMS altered the NTAP eligibility requirements for certain antimicrobials classified as a qualified infectious disease product (QIDP).
Starting in the fiscal year (FY) 2021 application cycle, CMS will consider QIDPs as new and not substantially similar to existing technology. This means QIDPs will not need to meet the substantial clinical improvement requirement to be eligible for NTAP. Add-on payments for QIDPs will also increase to 75 percent of the cost of the product or the additional cost of the case, whichever is lower. Other therapies granted NTAP are paid at 65 percent of the product's cost.
CMS Proposes to Approve 6 QIDP Applicants
As expected, CMS received several NTAP applications for QIDPs, which were discussed in the Inpatient Prospective Payment System (IPPS) FY 2021 proposed rule. CMS proposes to approve NTAP for all six QIDP NTAP applications.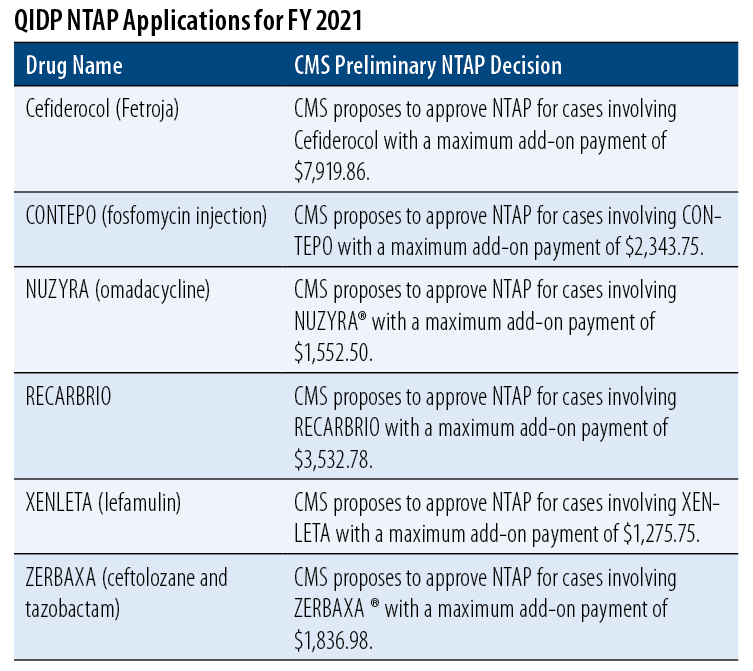 If finalized, antimicrobial products designated as QIDPs and approved by July 1 under FDA's Limited Population Pathway for Antibacterial and Antifungal Drugs (LPAD), that otherwise meet the NTAP criteria, will begin receiving the NTAP effective for discharges the quarter after the date of FDA marketing authorization, instead of waiting until the next fiscal year.
---
Resources:
www.statnews.com/2019/11/06/antimicrobial-resistance-cms-expanded-pathway
Medicare Learning Network. "Increasing Access to Innovative Antibiotics for Hospital Inpatients Using New Technology Add-On Payments: Frequently Asked Questions." Jan. 21, 2020, MLN Matters Number: SE20004. www.cms.gov/files/document/se20004.pdf
CMS. "CMS Builds on Commitment to Transform Healthcare Through Competition and Innovation," May 11, 2020. www.cms.gov/newsroom/press-releases/cms-builds-commitment-transform-healthcare-through-competition-and-innovation
Latest posts by Alyssa Foster
(see all)