Go Blue for Prostate Cancer Awareness Month
September 1, 2020
Comments Off

on Go Blue for Prostate Cancer Awareness Month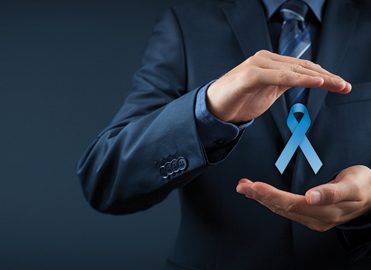 September is dedicated to empowering men to take a more proactive role in protecting their health.
Prostate cancer is the second most common cancer in men, both in the United States and worldwide, and the second leading cause of cancer death among American males. It's typically an older man's cancer, with approximately 60 percent of diagnoses in men over 65. In 2020, nearly 191,930 men in the United States will receive a diagnosis of prostate cancer, with an estimated 33,330 deaths from this disease by year's end. That's one new case diagnosed every three minutes and another fatality from prostate cancer every 16 minutes.
Early detection is key to living prostate cancer-free, which is why the Urology Care Foundation and the American Urological Association (AUA) are gearing up for September — Prostate Cancer Awareness Month — to raise awareness about the disease and encourage men to talk to their doctors and know their risk. This month is an opportunity to put a spotlight on prostate cancer, give men hope, make a difference, and save lives.
What Is Prostate Cancer?
Prostate cancer is a malignant tumor that arises when the cells in the prostate — a walnut-shaped gland that sits at the base of the bladder in men — grow and multiply when they should not. The uncontrolled overgrowth of cells can invade surrounding tissue and spread to other parts of the body. If the cancer is caught at its earliest stages, most men will not experience any symptoms. Some men, however, may report frequent or burning urination, difficulty initiating the urinary stream, erectile dysfunction, and/or pain or stiffness in the lower back, hips, or upper thighs, especially as the disease progresses.
Usually, prostate cancer grows slowly and is initially confined to the prostate gland, where it typically does not cause serious harm. However, while some types of prostate cancer are slow-growing and necessitate minimal or even no treatment, other types are aggressive and can spread quickly.
Though the exact cause of prostate cancer remains unclear, certain factors make it more likely. Aside from increasing age, major risk factors for the disease include family history and race. Roughly one out of every nine men in the U.S. will be diagnosed with prostate cancer during their lifetime; however, the odds increase to one in five if they have a family history and one in six if they are African American.
Early Detection Is Key to Living Prostate Cancer-Free
Since the disease normally progresses slowly, early prostate cancer often causes no symptoms. By the time symptoms appear, the cancer cells may have begun to spread, which is why screening is so important. Finding prostate cancer when it is still confined to the prostate gland offers the best chance of successful treatment.
Screening — testing for a disease, even if no symptoms are present — has made it possible to detect cancer in its early stages before it has spread. Surprisingly, there is controversy about the risks and benefits of prostate cancer screening. The doctors and researchers who recommend screening argue that cases of prostate cancer found very early can be cured more quickly, with less chance of relapse or spread. Those who recommend against routine screening point to the slow-moving nature of prostate cancer and the side effects of medical and surgical treatment, which can be considerable.
Given the complexities surrounding the decision to screen, it's imperative each man talk with his doctor about whether prostate cancer screening is right for him. Patients and clinicians should consider the balance of benefits and harms based on the man's overall health, level of risk, comorbid medical conditions, and life expectancy, as well as his general health preferences and values regarding the pros and cons of screening and treatment-specific outcomes.
As cancers go, prostate cancer has one of the better prognoses: the five-year survival rate for most men with local or regional prostate cancer is nearly 100 percent. The overall 10-year survival rate is 98 percent, and the 15-year survival rate is 96 percent. However, for prostate cancer that has spread to bones, organs, or distant lymph nodes, the five-year survival rate drops to 31 percent.
Prostate Cancer Screening Options
There are two primary means of screening for prostate cancer:
Digital rectal exam (DRE) is an exam of the rectum. The healthcare provider inserts a gloved, lubricated finger into the lower part of the rectum to feel the prostate for abnormalities in shape or thickness that may be cancer.
Prostate-specific antigen (PSA) test measures the level of PSA in the blood. PSA is a protein made primarily by the prostate that may be found in an increased amount in the blood of men who have prostate cancer. The higher the PSA level in the blood, the more likely a prostate problem is present.

Other conditions that affect the prostate, such as enlargement, infection, certain medications, and medical procedures, also elevate PSA levels.
Normal PSA ranges can vary according to factors unique to each man, such as age and race, which is why the PSA test is not the only tool used to screen for signs of prostate cancer.
PSA testing is frequently done in conjunction with DRE. If the result of either screening test is abnormal, the doctor will most likely order a prostate biopsy to assist in diagnosis. For information on how to code for prostate cancer screening, see the article "Start With Screening vs. Diagnostic for Proper PSA Test Coding" starting on page 14.
Screening Recommendations
Early detection and advances in treatment are saving lives. According to the U.S. Preventive Services Task Force (USPSTF) recommendations, men ages 55-69 should talk with their healthcare providers to help them decide if prostate cancer screening is right for them. For men at average risk for prostate cancer, the American Cancer Society recommends this discussion take place at age 50. Men at a higher risk for developing the disease should consider having this talk as early as 40-45 years of age. For men aged 70 years and older, the USPSTF recommends against PSA-based screening for prostate cancer.
Go Blue!
September — Prostate Cancer Awareness Month — is a time when communities nationwide come together to increase awareness of prostate cancer and the importance of prostate health and screenings. Health experts and advocates committed to encouraging men to take a more proactive role in protecting their health are working hard this month to educate about risk factors and symptoms of prostate cancer, provide easily accessible prostate cancer screenings, and advocate for further research on prostate health issues and prostate cancer.
Empowering men with educational tools and resources helps them make informed decisions about prostate cancer screening, care, and treatment. So, go blue — the symbolic color for prostate cancer awareness — and help spread the word.
---
Resources:
USPSTF Prostate Screening Recommendations: www.uspreventiveservicestaskforce.org/uspstf/recommendation/prostate-cancer-screening
American Cancer Society Recommendations: www.cancer.org/cancer/prostate-cancer/detection-diagnosis-staging/acs-recommendations.html
Latest posts by Stacy Chaplain
(see all)