What You Need to Know Before Submitting Your Resume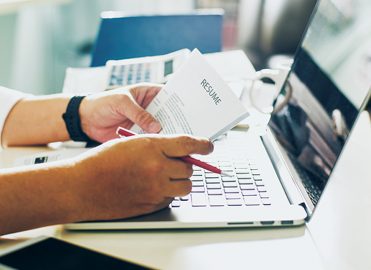 Know how to fine-tune your resume to get it past ATS software and into the hands of decision-makers.
Congratulations! You're AAPC certified. Now it's time to get that dream job. But first you have to finalize your resume. Did you know there is a preferred format you should use when creating your resume? To get your foot in the door these days, you need to know about applicant tracking systems (ATS).
A surprising 40 percent of employers (over 90 percent of Fortune 500 companies) use an ATS, and 80 percent of job resumes are rejected before they are ever seen by the company's human resources (HR) representative. Simply put, before your resume lands in human hands, it must meet the requirements of the company's ATS.
The ATS is a type of HR software that creates a database of submitted job applications and resumes and serves as an electronic gatekeeper for HR representatives. It assists employers in the hiring process by collecting, scanning, sorting, complying, and even ranking applicants' resumes to help determine the right candidate to fill the position.
Inner Workings of ATS
A company's ATS is the first line of filters used to screen applicants. The software has the ability to eliminate a resume based on responses to what are called "knockout questions" during the application process. This type of questioning is asked early in the application process to eliminate applicants who are unable or unwilling to perform key job functions and/or lack required qualifications for the job. Examples of knockout questions are: Are you able to work weekends? Do you have a valid driver's license? Are you legally authorized to work in the United States?
How do you know if a company uses an ATS? It is in the URL when you go to apply online. For instance, AAPC uses BambooHR. Here is a posting for a recent open position.
https://aapchr.bamboohr.com/jobs/view.php?id=235
Avoid Your Resume Being Trashed
Awareness of ATS nuances allows you to structure your resume to meet tracking system requirements. This will ensure it is at least viewed by an individual within the hiring organization. The ATS has built-in artificial intelligence that takes applicants' resumes and extracts key concepts that are ultimately passed on to the recruiter. It will toss out the least qualified applicants and only keep the applicants who have the greatest probability of being a good fit for the posted position.
How to Optimize Your Resume
Here are some tips for optimizing your resume for an ATS:
Keywords: ATS software analyzes resumes and parses for keywords found in the job postings. It can automatically create a score based on the resume/job description keyword match resulting in ranked applicants. It is important to consider the frequency and placement of keywords, especially when describing experience, duties, and skills. This will require work on your part as a resume may need to be crafted for each position you apply for to make it align with each job posting.

Keywords are usually seven letters or more, except for acronyms associated with the business.
Keywords do not contain adjectives or adverbs.

Headers: Some ATS have difficulty extracting and reading the information included in the header. This is often your name, address, phone number, and email address. Therefore, it is advisable to avoid using headers when preparing your resume.
Images, charts, and graphics: While pleasing to the eye and perhaps a novel way to display your success, ATS software frequently misinterprets images, charts, and graphics.
Bullets: Applicants often highlight information using bullets when constructing their resumes. Just as with images, charts, and graphics, ATS may misinterpret the information following an elaborate bullet. The best bullet options are circles (open or solid) or squares.
Fonts: Avoid using serif fonts, such as Cambria and Times New Roman, as some ATS may have difficulty reading them. Sans serif fonts include Helvetica, Arial, and Gill Sans.
Tailor Your Resume to Achieve Desired Results
ATS software is intended to make life easier for job seekers and HR recruiters. To maximize your chances of landing an interview, you must be confident that the ATS can read your resume. When composing your resume, keep in mind your two audiences: the ATS pre-screening your resume and the HR representative performing the final review of ATS-ranked applicant data.
Now that you are aware of the features of ATS, you can prepare your resume accordingly by understanding the role of knockout questions and incorporating keywords from the job posting into your resume. Also, optimize your resume by considering the role cosmetic features play, such as headers, images, and fonts.
Latest posts by Julia Croly
(see all)
AAPC's annual salary survey gives a good understanding of the earning potential within the medical coding profession.
See what actually is going on in the healthcare business job market.