Improve Your Practice During COVID-19
In COVID-19
October 1, 2020
Comments Off

on Improve Your Practice During COVID-19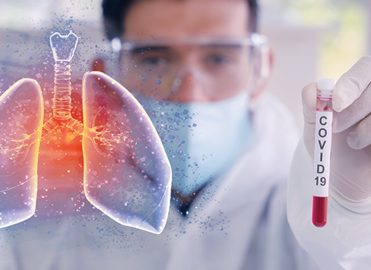 Seeing it from the patient's point of view will give you new perspective.
My journey with COVID-19 began with an emergency flight from Arizona to Pittsburgh in June. My father, who was living in an assisted living facility, had suffered a stroke. During my travels, I followed the Centers for Disease Control and Prevention (CDC) guidelines: N95 mask, sanitizing, distancing, 20 seconds of hand washing, and I wear glasses. The airline I was flying also followed all guidelines.
Due to heavy concerns for my parent's safety, I consulted with my physician (via a secure online portal) who thought it best that, even though I showed no signs of the virus, I should proceed with the nasal swab COVID-19 test. This test was done three days after my flight, and three days later I was devastated to learn my test results were positive. I followed protocol and all the friends and family I was around prior to me testing positive for COVID-19 tested negative, and I still contracted the virus.
Quarantined
I immediately started my 14-day quarantine. My initial reaction was shock: I was running a few miles a day, walking, hiking up to eight miles, biking, kayaking, and keeping active in outdoor isolation. I physically felt wonderful, yet as soon as I heard the results, I felt instant emotional stress. Many questions ran through my mind: Was I going to wake up tomorrow unable to breathe? Would my health take a downward spiral? Had I spread this to unknown people? Would my family and friends ever want to be around me again?
I asked my physician if I could continue exercising. The explanation given was that even though I was currently asymptomatic, I had the virus and my body would need to fight it, so it was not wise to add extra stress, but walking would be acceptable. I live in a remote area, so at least I could go outside. I did landscape projects and walked, and I felt great all 14 days.
Ostracized
When my quarantine was done, I found some people to be uncomfortable in my presence. I observed three reactive concepts with this virus: one of fear, one of denial, and one of acceptance.
The patient with fear is scared and afraid to go out; the patient with denial ignores guidelines and does what they want; and the person who accepts also respects the guidelines and proceeds with caution. Recognition of these concepts will help your office staff recognize whether a patient needs counseling, additional education, or empathy.
Followed Protocol
After finishing my quarantine, I had a routine checkup with my physician. I came into the office to find seating was spaced out, and sign-in was electronic with the "pen" cleaned after each patient use. Only one patient was called into the office suite at a time, and all medical equipment was wiped down after use. The staff was courteous and kind; the physician took plenty of time answering all my questions; and each patient discharged from their exam room was instructed to exit the building opposite the entrance.
Unfortunately, my father's health continued to decline, so the next dilemma I faced was being permitted to safely enter the assisted living facility where he lived. I again reached out to my physician via the online portal and consulted his medical opinion, as well as the assisted living facility administrator's. The recommendation was that I have a COVID-19 retest.
Back I went to the drive-thru testing center for another uncomfortable nasal swab. Sadly, the result of my test did not come back before my father died. I was negative for COVID-19.
After my father's funeral, I made a trip to Colorado with my son to spend some time away and then I decided to fly back to Pittsburgh.
My next dilemma was whether I should be around my mom after flying. I was told by the state that since I had tested positive, I would have antibodies, but for how long was uncertain. Did I have the antibodies? Could I get COVID-19 again? I followed all the same rules for safety on the flight home and then I consulted my physician via online portal. The verdict was that the antibody test would determine if it was truly safe to be around my mother.
Disappointed Donor
I decided to donate convalescent plasma to help COVID-19 patients. There are many companies providing this service, so I chose the company closest to my home.
I arrived at the appointment on time, even though it was difficult finding the office because of a lack of signage. There was no one at the front desk when I arrived. When someone finally came to the front desk, they asked my name and why I was there. Then, they took me back to a room for the interview, asked me some questions, took some blood from my finger, and told me to read two pages of information and answer questions on the computer. When I was finished, I was instructed to go into the drawl site.
When I went into the drawl room, I was placed on the convalescent plasma bed and an office staff member proceeded to prep my arm. She had beautiful 3-inch nails that I found intimidating for an IV start. Upon more questioning, it was found that I had not completed my pre-procedure paperwork or signed a consent form. I returned to the interview room to complete the unfinished questions and sign my consent. Going back to my assigned bed, they started the procedure, told me to squeeze a ball, and said it would take about 40 minutes. Staff was floating around, doing some educational work on a computer, and another tech was looking at her cell phone.
About 20 minutes into the procedure, my machine started to alarm and the staff person on the cell phone immediately shut it off. My arm was covered with a towel so I could not visibly see the status of the IV. The machine alarmed approximately four times with the same result of the staff person shutting it off and walking away. My tech returned to the room to be informed that my machine was alarming, but that the status of my IV was not checked. My arm was hot and burning, and I expressed as much to the tech. Upon inspection, the tech said that I had a hematoma forming and she aborted the procedure.
I was told to read the paper I had been given earlier for how to treat the bruising. I was also informed that I could not donate for a certain amount of time since I had a partial plasma drawl. After the bandaging, I was told there were snacks and water out front.
I later found from my partial donation that I do have the antibodies. I will continue to donate to help those in need.
Practice Management Tips
As a medical practice management consultant, I can say that the first medical office I visited was very professional, clean, compliant, and patient-friendly. The staff never made me feel uncomfortable and the doctor assured me that I had followed the guidelines and was very compliant. The access to my physician has been priceless and has kept my stress level down.
The second office I visited should take note of these practice management tips:
If using pens for patient sign-in, have separate "clean" and "used" pen containers. For electronic sign-in indicate "sanitized" on monitor.
Space seating accordingly while keeping the office as normal as possible.
Keep your office as normal as possible.
Have TV or music on, but have the staff control the remote.
Onboard patients separately, direct them to the exam room, and discharge patients opposite from entry.
Most importantly, ensure a direct line of communication with immediate responses to COVID-19 questions and concerns. Online portals or a dedicated phone line are excellent choices.
Make certain your office is well marked and the patient understands where the service will be performed.
Have a good working process in place and be certain that all staff members understand and can perform each process.
Greet each patient when they enter your facility.
Communication and education are key to a successful patient experience, especially when the procedure is new to the patient. Explain each process the patient will experience for the service they are scheduled to have.
Have a good team concept (when a staff member is out of the room, a coworker covers and takes interest and initiative with the patient).
When problems arise, take ownership. Educate the patient as to what happened and how to properly treat the issue as well as all "do's" and "don'ts."
Follow up with a call the next day to check on the patient's condition.
As our doctors, nurses, and clinicians battle this deadly virus, these improvements are what we, as office staff, can do to help the practice be the best it can be during this critical time and beyond.
Latest posts by Marcy Garuccio
(see all)