Provider Relief Fund to Dole Out Add-On Payments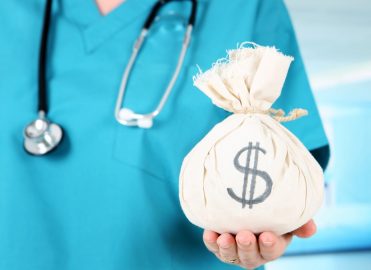 Billions more available to beleaguered providers.
Add-on payments are available for healthcare providers "on the frontlines" of the coronavirus (COVID-19) pandemic. The Department of Health and Human Services (HHS) announced Oct. 1 an additional $20 billion under a Phase 3 General Distribution allocation of the Provider Relief Fund (PRF).
Who Qualifies for Add-On Payments?
The round will consider providers that have already received PRF payments and previously ineligible providers, such as those that began operating in 2020, HHS says in a press release.
Providers that already have received PRF funding, but not up to the 2 percent of annual revenue from patient care mark, can apply to make up the difference. And agencies that previously gave back PRF funding can now apply for more.
Providers that already received 2 percent can apply to receive an unspecified PRF "add-on" payment to account for revenue losses and expenses attributable to COVID-19, HHS explains in the press release.
Take Steps to Collect
The HHS Health Resources and Services Administration (HRSA) will collect applications for Round 3 funds until Nov. 6. Then HRSA will calculate an equitable add-on payment, taking into account a provider's change in operating revenues from patient care; a provider's change in operating expenses from patient care, including expenses incurred related to coronavirus; and PRF payments already received.
"We've worked with all of the resources we have across HHS to ensure that America's heroic healthcare providers know they can apply for support," HHS Secretary Alex Azar says in the release. HHS has already issued more than $100 billion in prior PRF distributions. "Still, HHS recognizes that many providers continue to struggle financially from COVID-19's impact," the agency says.
PRF Reporting Change Puts Funds at Risk
This new funding round ignores a major factor impacting the relief provided. Attorneys with law firm McGuireWoods, in an online analysis, say that recently issued PRF reporting guidelines "include new guidance for calculating lost revenues attributable to … COVID-19 that appears to differ from HHS' previously published [Frequently Asked Questions] that many providers used in applying for earlier Provider Relief Fund distributions."
While HHS previously said providers could use "any reasonable method" to calculate lost revenues — including comparing budgeted revenues to actual revenues under COVID-19 — now it defines lost revenues as "negative change in year-over-year net operating income from patient related sources," the McGuireWoods attorneys highlight. The new definition negatively impacts agencies that expected growth from 2019 to 2020.
The PRF reporting guidance continues to create confusion, say attorneys Alexis Finkelberg Bortniker, Monica Chmielewski, Thuong (Amy) Nguyen, and Anil Shankar with law firm Foley & Lardner in an online analysis. "As calendar year 2020 moves into the fourth quarter, many providers continue to weigh whether or not they are able to retain PRF payments received," the attorneys say.
National Association for Home Care & Hospice (NAHC) President William Dombi hopes HHS will remedy this major issue. "HHS must address the problems created by its recent change on the standards for what 'lost revenues' are covered by the fund," he stresses. The obstacle to retaining funds needs to be resolved soon, Dombi says.
HHS: Apply For Round 3 Funds Fast
For agencies that expect to be able to keep PRF funds, these are the documents they'll need for the Round 3 PRF funding, notes law firm Brach Eichler:
Most recent federal income tax return for 2017, 2018, or 2019, unless exempt;
A revenue worksheet provided by HHS; and
Operating revenues and expenses from patient care.
HHS urges providers to apply ASAP. "Do not wait until the last day or week of the application period," HHS says in the release. "Applying early will help to expedite HHS's review process and payment calculations, and ultimately accelerate the distribution of all payments."
More information, including eligibility details and applications instructions, is available on the HHS website.
UPDATE: On Oct. 22, HHS expanded the pool of eligible Phase 3 applicants. For a detailed description of all eligible Phase 3 General Distribution provider types, visit the PRF website.
Latest posts by Rebecca Johnson
(see all)