Factor in Uncommon Diabetes Complications for Risk Adjustment
In CMS
November 1, 2020
Comments Off

on Factor in Uncommon Diabetes Complications for Risk Adjustment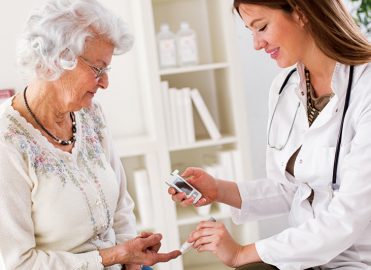 Make sure you're not missing any diagnoses that will better portray patient risk to your payer.
Diabetes causes elevated blood glucose levels. According to the Centers for Disease Control and Prevention, 34.2 million Americans — just over one in 10 — have diabetes. It is a systemic disease that damages blood vessels and nerves throughout the body over time. The damage may lead to complications like heart disease, stroke, kidney disease, eye problems, and dental diseases. However, you may not often see all the potential complications related to diabetes in the provider's documentation. Because of this lack of documentation, risk adjustment factor (RAF) scores are likely undervalued and, consequently, physician reimbursement is insufficient.
What's a Coder to Do?
The "with" ICD-10-CM guideline covers most of the common complications of diabetes. This guideline gives the medical coder a certain level of autonomy when assigning codes. Coders may assign a diabetes complication code without the provider's documentation indicating the relationship between uncontrolled diabetes and the other disease. However, for the rest of the complications, coding professionals need provider documentation linking both conditions.
Link Diabetes Complications
Educate physicians on the importance of documenting all complications of diabetes a patient may have. Here are some examples of possible complications of uncontrolled diabetes:
| | |
| --- | --- |
| Diabetes Complications | Codes |
| Coronary artery disease (CAD) | E11.59 and I25.10 |
| Heart failure | E11.59 and I50.9 |
| Cardiomyopathy | E11.59 and I43 |
People with untreated diabetes typically develop cardiovascular disease at a younger age than people without diabetes. Adults with diabetes are nearly twice as likely to die from CAD or stroke as people without the disease.
Dermatitis is listed under the term "diabetes" in ICD-10-CM and can be coded as a diabetes complication without provider documentation explicitly linking the two conditions. However, acanthosis nigricans (a skin condition most common in people with type 2 diabetes) is not often documented by providers. The Mayo Clinic describes acanthosis nigricans as a "skin condition that causes a dark discoloration in body folds and creases." For diabetes with acanthosis nigricans, use codes E11.628 and L83.
| | |
| --- | --- |
| Diabetes Complications | Codes |
| Gingivitis | E11.630 and K05.10 |
| Periodontitis | E11.630 and K05.30 |
| Xerostomia (dry mouth) | E11.638 and K11.7 |
Glucose is present in the saliva. When diabetes is not controlled, high glucose levels in the saliva help bacteria grow, which may cause oral health problems.
According to the American Academy of Family Physicians, lipid abnormalities are commonly associated with poorly controlled diabetes, especially hypertriglyceridemia. Use codes E11.69 and E78.1 to code these two conditions.
Factor in Hierarchical Condition Categories (HCCs)
Diabetes is in CMS-HCCs 17, 18, and 19. CMS-HCC 19 has a score of 0.105, whereas CMS-HCC 18 has a score of 0.302. So, assuming that the organization's monthly payment for the patient is $1,000, a diabetes complication code may add an extra $197 every month to manage the patient's conditions.*
Hyperglycemia in type 2 diabetes (E11.65) is also in CMS-HCC 18, and sometimes it is overlooked by clinicians. Hyperglycemia is the technical term for high blood sugar levels. For a patient with diabetes, the targeted pre-prandial capillary glucose level is between 80 and 130 mg/dL and below 180 mg/dL after meals. Other terms that support code E11.65 are "poorly controlled diabetes" and "out of control diabetes."
* Scores are based on 2020 Alternative Payment Condition Count Model Relative Factors for Continuing Enrollees, for a Community-Nondual-Aged enrollee with a based score of 1.0. The RAF calculation does not include other factors that may affect the final result such as disease interactions and normalization factors.
---
Resources:
National Institute of Diabetes and Digestive and Kidney Diseases Health Information Center. (2016, December 01). What is Diabetes? Retrieved July 27, 2020, from www.niddk.nih.gov/health-information/diabetes/overview/what-is-diabetes
Centers for Disease Control and Prevention. (n.d.). National Diabetes Statistics Report 2020 (Rep.). Retrieved July 27, 2020, from Centers for Disease Control and Prevention website: www.cdc.gov/diabetes/pdfs/data/statistics/national-diabetes-statistics-report.pdf
Hoffmann, A. The prevalence and clinical significance of acanthosis nigricans in diabetic and non-diabetic women of mixed ancestry. Retrieved July 27, 2020, from https://medpharm.tandfonline.com/doi/full/10.1080/16089677.2015.1056473
Litonjua P, Piñero-Piloña A, Aviles-Santa L, Raskin P. Prevalence of acanthosis nigricans in newly-diagnosed type 2 diabetes. Endocr Pract. 2004;10(2):101-106. doi:10.4158/EP.10.2.101 retrieved from https://pubmed.ncbi.nlm.nih.gov/15256325/
National Institute of Diabetes and Digestive and Kidney Diseases Health Information Center. (2014, September 01). Diabetes, Gum Disease, & Other Dental Problems. Retrieved July 27, 2020
American Academy of Family Physicians. (1999, March 15). Hyperlipidemia in Patients with Type 2 Diabetes. Retrieved July 27, 2020
American Diabetes Association. Standards of Medical Care in Diabetes — 2020 Abridged for Primary Care Providers. (2019). Clinical Diabetes, 38(1), 10-38. doi:10.2337/cd20-as01, Retrieved from: https://clinical.diabetesjournals.org/content/diaclin/37/1/11.full.pdf
Latest posts by Gabriel Aponte
(see all)