Operation Warp Speed: Redefining What's Inconceivable
In COVID-19
November 2, 2020
Comments Off

on Operation Warp Speed: Redefining What's Inconceivable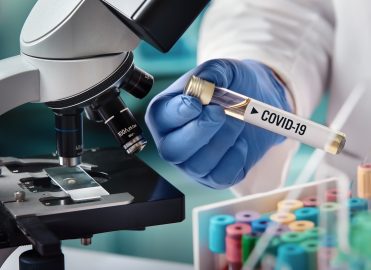 Operation Warp Speed (OWS) — a partnership of the Department of Health and Human Services (HHS), the Department of Defense (DOD), and the private sector — aims to ramp up the development, manufacturing, and distribution of COVID-19 vaccines, therapeutics, and diagnostics (collectively known as countermeasures). The program has pumped billions of dollars into numerous pharmaceutical companies in hopes of developing one or more safe and effective coronavirus vaccines. Here's an assessment of the work so far.
What's OWS's Central Goal?
The initiative has ambitious objectives: to deliver tens of millions of doses of a SARS-CoV-2 vaccine — with demonstrated safety and efficacy and approved or authorized by the Food and Drug Administration (FDA) for use in the U.S. population — by the end of 2020 and to have as many as 300 million doses of such vaccines available as early as January 2021 and deployed by mid-2021.
The pace and scope of such a vaccine effort are unprecedented. The program believes that by investing in and coordinating countermeasure development, OWS will enable a vaccine to be delivered to patients more rapidly while adhering to standards for safety and efficacy. In a May 15 announcement, HHS explains how OWS plans to accomplish this lofty goal.
All-In on Vaccines
OWS has already spent about $10 billion to help vaccine makers develop their candidates and build out production capacity. If all goes well, the fast-tracking of vaccine development, which normally takes 10-15 years, will have been condensed down to about a year. To date, the fastest a vaccine was ever developed is four years.
The first step OWS took towards accomplishing this goal was to select the most promising countermeasure candidates and provide government support. This coordinated effort included aligning protocols for the demonstration of safety and efficacy to allow the trials to proceed more rapidly and shifting oversight of trial protocols from the pharmaceutical companies to the federal government.
So, how can the government accelerate development and delivery while maintaining product quality? By enabling the expeditious, parallel execution of the necessary steps toward approval/authorization of safe products by the FDA. Rather than eliminating steps from traditional development timelines, phases will proceed simultaneously.
Vaccine makers are already producing hundreds of thousands of doses that OWS is stockpiling. Large-scale manufacturing occurring well before the demonstration of vaccine efficacy and safety, as happens normally, increases the financial risk, but not the product risk, according to HHS. The idea is that if studies demonstrate that a vaccine is protective, these measures will allow for immediate use.
Hedging Their Bets
When it comes to therapeutics, OWS has had a far more modest impact. One major investment the initiative has made is in manufacturing. Regeneron received $450 million to build up manufacturing for its monoclonal antibody treatment, which is still in clinical trials. OWS has also provided support for the late-stage development and large-scale manufacturing of similar antibody medications that AstraZeneca and Eli Lilly are currently investigating. The hope is that the antibody cocktails will be able to be used for both the treatment and prevention of COVID-19.
On Oct. 22, the FDA approved the antiviral drug Veklury (remdesivir) for use in adult and pediatric patients 12 years of age and older (weighing at least about 88 pounds) for the treatment of COVID-19 requiring hospitalization. The FDA has since issued emergency use authorizations for the investigational monoclonal antibody therapies bamlanivimab and REGN-COV2 (casirivimab and imdevimab).
OWS Takes a Gamble on Materials
Manufacturing hundreds of millions of vaccine doses already poses an enormous challenge in and of itself, and the effort has set off a parallel scramble to allow for faster production and dissemination of an eventual vaccine as well as therapeutics. The federal government is making investments in the necessary manufacturing and distribution capacities to avoid a comparatively low-tech bottleneck: potential shortages of materials and resources — such as cold-chain storage, pharmaceutical-grade glass vials, and syringes — that may be needed to transport and administer the vaccines and treatments once they've been approved for use.
These investments to expand the supplies of specialized materials and resources are being made much earlier than usual. Rather than scaling up manufacturing capacity after approval/authorization, as is the case with traditional development timelines, OWS is supporting companies financially and technically to initiate process development and expand manufacturing while their vaccines are in preclinical or very early clinical stages.
The federal government has doled out several major contracts to companies rushing to ramp up manufacturing and distribution capabilities for potential vaccines and therapeutics. OWS will use the augmented manufacturing capacity for the successful candidates, if possible, regardless of which companies developed the capacity.
Making Some Headway
The initiative aims to have multiple vaccine options available for the American people. OWS sought to build a diverse project portfolio that includes vaccine candidates based on each of the four platform technologies that they believe are the most likely to yield a safe and effective vaccine against COVID-19. The program started with a pool of more than 100 vaccine candidates in development and progressively narrowed it down to the most promising contenders. Pharmaceutical companies that have received support from OWS include Johnson & Johnson, Moderna, AstraZeneca, Novavax, Pfizer, and Sanofi/GlaxoSmithKline (GSK).
In the United States, there are currently eight vaccine candidates that have moved into clinical trials with human participants, including five that have moved into the crucial Phase 3 development phase. Of the 10 COVID-19 vaccines under investigation in large-scale Phase 3 clinical trials worldwide, five are recipients of OWS funding. OWS has given these five pharmaceutical companies more than $8 billion combined in development and manufacturing support. In return, the federal government will own hundreds of millions of doses of the various vaccine candidates.
The sixth recipient of OWS funding, Sanofi/GSK's investigational adjuvanted vaccine, initiated Phase 1/2 trials on Sept. 3. Sanofi has agreed to provide 100 million doses of its experimental vaccine for approximately $2 billion as part of the initiative.
Will These Products Be Affordable?
The Centers for Medicare & Medicaid Services (CMS) is taking steps that will allow for the provision of free or low-cost COVID-19 countermeasures to the American people as they become available. The agency released an Interim Final Rule with Comment Period (IFC) on Oct. 28 establishing that any vaccine that receives FDA authorization will be covered under Medicare as a preventive vaccine at no cost to beneficiaries. The IFC also implements provisions of the CARES Act that ensure swift coverage of qualifying coronavirus preventive services, which includes COVID-19 immunizations, by most private health insurance plans without cost sharing from both in and out-of-network providers during the course of the public health emergency (PHE).
In addition, the rule:
Creates flexibilities for states maintaining Medicaid enrollment during the COVID‑19 PHE
Establishes enhanced hospital payments when they treat Medicare patients with COVID-19 treatments
Takes steps to ensure price transparency for COVID-19 tests
For more information, see the IFC Fact Sheet on CMS's website.
By Working Together, We Will Prevail
OSW has developed a plan for delivering safe and effective products to Americans as quickly and reliably as possible. Experts from HHS are spearheading vaccine development, while experts from the DoD are partnering with the Centers for Disease Control and Prevention (CDC) and other parts of HHS to coordinate supply, production, and distribution of vaccines.
The HHS–DOD partnership is laying the groundwork for vaccine distribution. One big announcement came in August when they revealed that McKesson Corporation, one of the largest U.S. pharmaceutical wholesalers, will be a central distributor of future COVID-19 vaccines and related supplies. Then, in mid-September, the HHS and DOD released two documents that outline the government's strategy for COVID-19 vaccine delivery: a strategic distribution overview and an interim playbook.
The race to develop a safe and effective COVID-19 vaccine is well underway, and only time will tell whether we will succeed in this unprecedented endeavor.
---
"We will succeed because of the unparalleled expertise of HHS science, DoD planning and logistics capability, American industry ingenuity, and academia innovation."

Gen. Gus Perna, OWS Chief Operating Officer
"Trust in the science. We have executed vaccine development with rigor. The leading scientists in the world and the quality of the nation's pharmaceutical base, with oversight of the FDA's gold standard, lend credibility to this unprecedented effort."

Paul Ostrowski, OWS Director for Supply, Production and Distribution
---
Here are some links where you can find additional information:
Latest posts by Stacy Chaplain
(see all)