Clinical Validation: The Next Big Challenge in Inpatient Coding
December 1, 2020
Comments Off

on Clinical Validation: The Next Big Challenge in Inpatient Coding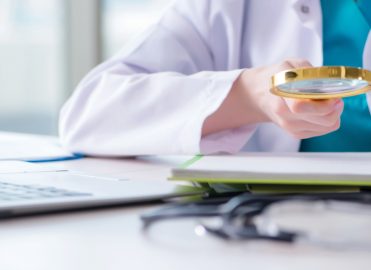 Denials resolution is a natural step up the career ladder for medical coders.
As inpatient coders, we often are asked to absorb other duties by default due to changes in processes, to further streamline processes, or to free up another department. Changes at my workplace due to the public health emergency for COVID-19 created an opportunity for me to take on a new challenge: I was asked to review and appeal diagnosis-related group (DRG) and clinical validation denials. I quickly learned that clinical validation denials are not for the weary. But if you're an inpatient coder who loves a challenge, overturning these denials is very rewarding.
Differentiate Clinical Validation and DRG Denials
First, you must understand what clinical validation is and how clinical validation denials differ from DRG denials.
DRG validation is the more common process of reviewing physician documentation and determining whether the correct codes and sequencing were applied to the billing of the claim. The review focuses on physician documentation and code assignment in accordance with the ICD-10-CM Official Guidelines for Coding and Reporting.
As coders, we can only code based on the provider's documentation, not on whether a code meets clinical validation. The Official Guidelines specifically address this in Section I.A.19:
The assignment of a diagnosis code is based on the provider's diagnostic statement that the condition exists. The provider's statement that the patient has a particular condition is sufficient. Code assignment is not based on clinical criteria used by the provider to establish the diagnosis.
The American Hospital Association (AHA) Coding Clinic (Fourth Quarter 2016, pages 147-149) further clarifies this guideline, noting in part that "while the physician may use a particular clinical definition or set of clinical criteria to establish a diagnosis, the code is based on his/her documentation, not on a particular clinical definition or criteria … it is in his personal clinical judgment as long as it is documented, regardless of how the diagnosis was arrived at. Coders should not be disregarding physician documentation and deciding on their own, based on clinical criteria, abnormal test results, etc., whether or not a condition should be coded."
The ability to recognize ambiguous documentation and understand the criteria the provider used to determine a diagnosis are very useful skills, however.
Clinical validation is the clinical review of a claim to assess whether the patient really has the conditions that were documented. This process is performed by a clinician retrospectively (after claims submission). Clinical indicators support the diagnoses applied to the patient. Examples of clinical indicators include test results, imaging studies, treatment(s), the patient's response to the treatment(s), and patient assessments and plans of care. Claims denial occurs when the clinical indications in the record do not support the reported diagnoses and procedures.
Be Prepared for a Debate
The volume of clinical validation denials seems to be steadily increasing. This could be because some payers have their own clinical criteria. One payer may deny a diagnosis as not clinically supported based on the same clinical indicators documented in the chart that another payer may allow. In fact, some payers may change their criteria when contract terms do not restrict them. This allows them to slant things in their favor — making it difficult, although not impossible, to overturn.
A good example of this is when the payer uses Sepsis-3 criteria and the provider/facility follows Sepsis-2 criteria. Sepsis-3 criteria are neither accepted nor approved by the Centers for Medicare & Medicaid Services, nor widely used by most providers. This is why it's very important to review contract terms when it's time to negotiate or renew contracts.
Another reason for the increase in clinical validation denials could be due to the reviewers looking for something in particular and completely overlooking other supporting clinical indicators.
Rules for Reporting Additional Diagnoses
While we cannot code based on clinical validation, we should not code a diagnosis simply because it's documented by the physician. It must still meet the definition for reporting as an additional diagnosis.
Section III Reporting Additional Diagnoses
General Rules for Other (Additional) Diagnoses
For reporting purposes, the definition of "other diagnoses" is interpreted as additional conditions that affect patient care in terms of requiring:
Clinical evaluation; or
therapeutic treatment; or
diagnostic procedures; or
extended length of hospital stay; or
increased nursing care and/or monitoring.
The Uniform Hospital Discharge Data Set (UHDDS) item #11-b defines "other diagnoses" as "all conditions that coexist at the time of admission, that develop subsequently, or that affect the treatment received and/or the length of stay."
I would like to specifically emphasize in this guideline the use of the word "or." I have seen denials where the wording of the denial tried to imply "and" — as if it requires several or all to meet the guideline definition, which is not the case. This is another good reason to know and refresh yourself on the Official Guidelines.
Also consider the guideline at Section II.H: Uncertain Diagnosis:
"If the diagnosis documented at the time of discharge is qualified as 'probable,' 'suspected,' 'likely,' or 'questionable,' 'possible,' or 'still to be ruled out,' compatible with,' 'consistent with,' or other similar terms indicating uncertainty, code the condition as if it existed or was established."
Clinical validation becomes a gray area for reviewers when the clinical criteria are based on multiple factors combined with the provider's clinical judgment.
Preventive Measures
As an inpatient coder, there are several things you can do to hedge off clinical validation denials or help resolve denied diagnoses. For example:
Query. Ask the clinician to clarify unclear, conflicting, or vague documentation. While "possible," "probable," "suspected," etc., are permissible for inpatient coding, they are uncertain words that potentially open the door for clinical validation denials and DRG downgrades. Note that clinical validation queries are different than "regular" physician queries. With clinical validation queries, the provider can amend the note to omit a "rule out" diagnosis or add clinical indicators supporting it. Thus, potentially preventing the clinical validation denial and subsequent review/appeal.
Work together. Consult with providers and clinical documentation improvement (CDI), revenue integrity, and contracting departments to establish specific criteria used for particular diagnoses that are highly reviewed by auditors.
Review contracts. Look for loopholes, specifically for differences in criteria used to review claims.
Establish specific criteria. Determine the criteria for particular diagnoses, such as creating sepsis criteria, using Kidney Disease Improving Global Outcomes (KIDGO) criteria for acute kidney failure/injury, and using American Society for Parenteral and Enteral Nutrition (ASPEN) criteria for malnutrition — and make sure providers use them consistently.
Watch for underpayments. When the DRG is changed upon review by the health insurance auditor to a lower-paying DRG, it isn't typically identified as a DRG downgrade — that is something you must watch for and identify.
Perform second-level reviews. Perform clinical reviews on specific highly targeted cases such as short length of stays, cases with only one complication or comorbidity, or major complication or comorbidity such as sepsis, acute kidney failure, acute respiratory failure, congestive heart failure, exacerbation, and other diagnoses that are commonly targeted and denied. Then, based on the results of your review, determine what action, if any, is required (e.g., query).
Clinical validation is yet another reason for continued emphasis with our providers on the importance of clear, concise clinical documentation. Even in querying the provider, the diagnosis could still be denied for lack of supporting clinical evidence.
Can Coders Validate Clinical Content?
There is a statement that I've seen included many times in the denial letters stating that "clinical validation is beyond the skills of a certified coder and can only be performed by a clinician or a clinician with approved coding credentials."
This is a misunderstanding of the wording in the 2013 Recovery Audit Contractor (RAC) statement of work published in the Federal Register. According to a 2019 article published by Erica Remer, MD, FACEP, CCDS, a clinical documentation and ICD-10 consultant, "This has been misinterpreted as applying to the personnel at institutions, but it is a rule for the RAC, not us. CDI teams have used this statement of work as support for being the only ones qualified to do clinical validation as opposed to coders, but this is not accurate."
I was glad to see this clarification. A Certified Inpatient Coder (CIC™) can be ideal to review these types of denials, as we are usually very detail-oriented and already have at least a general understanding of clinical concepts, having participated in education alongside CDI nurses.
It's the same notion (myth) that only nurses can be coding documentation improvement specialists (CDIS). Even the Association of Clinical Documentation Integrity Specialists, among other entities, notes that coders make good CDIS. We bring a different perspective to the table. Working together with CDI nurses furthers our understanding of these clinical concepts.
Clinical validation requires someone who can think outside of the box and who has at least some understanding of the clinical aspects of the diagnosis and disease processes. It helps if you love learning, researching, and studying the concepts of clinical validation. Experience working on other types of appeals is helpful, too. You should also be comfortable asking for help when there is something you don't understand or just want to clarify. Having a CDIS to reach out to and learn from is also a key to success.
I personally enjoy working on these denials because they are challenging, forcing me to continue to learn and grow as a coder, as well as giving me a different way to look at the chart when I'm coding than I had before.
---
Resources:
www.acphospitalist.org
ICD-10-CM/ICD-10-PCS guidelines from: www.cms.gov/medicare/icd-10/2021-icd-10-pcs and www.cms.gov/medicare/icd-10/2021-icd-10-cm
Annals of Internal Medicine: www.acpjournals.org/toc/aim/172/3 pages 210-211
www.federalregister.gov/index/2013
Coding Clinic: www.codingclinicadvisor.com
www.fortherecordmag.com/archives/0919p14.shtml
Latest posts by Kimberly Farley
(see all)