Become a Coach or Mentor to a New Coder
By Julia Croly
December 1, 2020
Comments Off

on Become a Coach or Mentor to a New Coder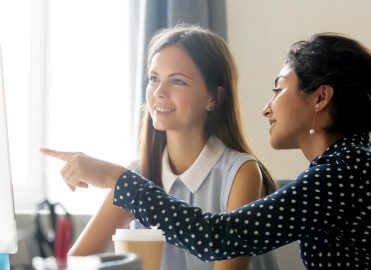 Use your skills and knowledge as an experienced medical coder to coach or mentor up-and-coming coders.
Do you remember your first coding job? Odds are you were nervous and a bit unsure of yourself when you started. Putting your new skills into practice, while also learning the ins and outs of your place of employment, was probably daunting. If you had a coach or mentor to turn to when you had questions or needed guidance, you know that person was invaluable.
Now, as a veteran medical coder or other position of authority, your knowledge and experience can help new coders on their way to success by assuming the role of coach or mentor. A closer look at these roles will help you determine which is right for you.
The Differences Between Coaching and Mentoring
People sometimes use the terms "coach" and "mentor" interchangeably because both roles utilize the same teaching skills and take a similar approach. There are differences between the two roles, however:
Coaching is a short-term, task-based process usually performed by a manager. Great coaches are experts in guiding their colleagues through the process of change as they tackle short-term goals or objectives. They are results-oriented and focused on helping others to overcome episodic roadblocks. They may have received formal training in the area they are coaching or developed the essential skillset on their own.
Mentoring involves a longer-term relationship with more open-ended goals. Mentors may or may not work with their mentees but are always experts in their field. Stellar mentors possess a willingness to develop an ongoing relationship with their mentees to share their knowledge and expertise. The goal of a mentor is to help the mentee reach their full potential.
The table below explains these roles further.
| | | |
| --- | --- | --- |
| Feature or Skill | Mentoring | Coaching |
| Relationship | Ongoing | Periodic |
| Expertise | Experts in their industry | Experts in getting people where they need to be quickly |
| Focus | Career and personal development | Specific development and issues |
| Duration | Long term; takes a broader view of the mentee's goals | Short term; focuses on timely goals |
| Structure | Often informal; takes place as needed | More structured; meetings are scheduled on a regular basis |
| Agenda | Agenda is set by the mentee | Agenda is set by the coach and focused on achieving specific, immediate goals |
| Outcome | Fluid; may change over time | Specific and measurable |
Coaching Tips and Strategies
Because coaching focuses on improving a colleague's performance in a certain area or developing a certain skill, a coach must formulate a structured program to meet their objectives within a set time period.
Once you have identified a coaching opportunity, it is time to plan your coaching program. Use the following strategies to stay on track:
Devise clear goals that include benchmarks and deadlines.
Be prepared to help with time management.
Frame feedback in a positive manner.
Follow up on feedback to keep your coachee accountable.
Listen more; speak less.
Celebrate accomplishments to boost self-confidence.
Mentoring Tips and Strategies
Mentoring does not have to be a formal process. A mentoring agenda is open and continues to evolve over the long term. Mentoring seeks to build wisdom — the ability to apply skills, knowledge, and experience to new situations and processes — rather than mold a mentee in a certain image.
Use the following skills as a mentoring guide:
Outline goals in detail.
Model good behavior.
Encourage creative problem solving and risk taking.
Anticipate periodic tension between mentor and mentee and be prepared to address it.
Offer three positive statements for every one criticism.
Set confidence as a ubiquitous goal.
How to Get Involved
If you are a manager or team leader and have not done so previously, consider coaching where you see a need. Coaching a colleague who needs help will not only improve their competency, but also team morale, and it can be personally rewarding for you.
Becoming a mentor can be accomplished through many avenues. Those who want a mentor typically reach out to their local chapter first, so let your chapter officers know that you are available for mentorship. You can also foster a mentor/mentee relationship through AAPC's medical coding mentor program. In October 2019, AAPC partnered with a third-party mentoring software platform, MentorCity, to provide free online mentoring matching for AAPC members. The program currently has 865 members.
Life Lessons
A coach or mentor can change the direction of a new coder's life. Their teaching and guidance can propel a green coder to achieve sustainable success that lasts a lifetime. But more coaching and mentoring is needed. So, pass on your knowledge and success by giving it a try!
Latest posts by Julia Croly
(see all)