Health Care Reform Provision Implementation Begins
By admin aapc
In Billing
April 5, 2010
Comments Off

on Health Care Reform Provision Implementation Begins
The Centers for Medicare & Medicaid Services (CMS) has begun to implement certain provisions in the health care reform bills President Obama signed into law in March. Medicare fee-for-service provisions in the bills have varying effective dates, but several require immediate attention.

Patient Protection and Affordable Care Act (PPACA)
In Part I of Subtitle B – Improving Medicare for Patients and Providers of the PPACA (HR 3590):
Section 3102: Extends a floor on geographic adjustments to the work portion of the Medicare Physician Fee Schedule (MPFS) through the end of 2010, with the effect of increasing practitioner fees in rural areas.
Section 3103: Extends the process allowing exceptions to limitations on medically necessary therapy until Dec. 31.
Section 3104: Extends a provision that directly reimburses qualified rural hospitals for the technical component of certain clinical laboratory services through the end of 2010.
Section 3105: Extends bonus payments made by Medicare for ground and air ambulance services in rural and other areas through the end of 2010, retroactive Jan. 1.
Section 3106: Extends Sections 114(c) and (d) of the Medicare, Medicaid and SCHIP Extension Act of 2007 for two years.
Section 3107: Increases the payment rate for psychiatric services by 5 percent for two years through the end of 2010.
Section 3111: Restores payment for dual-energy X-ray absorptiometry (DXA) services furnished during 2010 and 2011 to 70 percent of the Medicare rate paid in 2006.
In Part II of Subtitle B:
Section 3121: Extends the existing outpatient "hold harmless" provision through the end of 2010, and would allow Sole Community Hospitals with more than 100 beds to also be eligible to receive this adjustment through the end of fiscal year (FY) 2010.
Section 3122: Reinstates the policy included in the Medicare Modernization Act of 2003 (MMA) that provides reasonable cost reimbursement for laboratory services provided by certain small rural hospitals from July 1, 2010 to July 1, 2011.
In Part III of Subtitle B:
Section 3131: Among other things, establishes a 10 percent cap on the amount of reimbursement a home health provider can receive from outlier payments and would reinstate an add-on payment for rural home health providers from April 1 through 2015.
Section 3135: Increases the practice expense units for imaging services from a presumed utilization rate of 50 percent to 65 percent for 2010 through 2012; 70 percent in 2013; and 75 percent thereafter. Low-tech imaging, such as ultrasound, X-rays and EKGs, are excluded from this adjustment. This provision also adjusts the technical component discount on single session imaging studies on contiguous body parts from 25 percent to 50 percent.
Section 3136: Eliminates the option for Medicare to purchase power-driven wheelchairs with a lump-sum payment at the time the chair is supplied.
Section 3137: Extends reclassifications under section 508 of the MMA through the end of FY 2010.
Section 3131: Requires application of budget neutrality associated with the effect of the imputed rural and rural floor to be applied on a national, rather than state-specific, basis through a uniform, national adjustment to the area wage index starting Oct. 1.
There are many more provisions of interest in this bill, such as:
Title VI, Subtitle A, Section 6001: Prohibits physician-owned hospitals that do not have a provider agreement prior to Aug. 1 to participate in Medicare.
Read the complete section-by-section analysis of the PPACA as passed and signed into law on March 23.
Health Care and Education Reconciliation Act
The Health Care and Education Reconciliation Act (HR 4872), signed into law by President Obama March 30, includes many interesting and timely provisions that will effect Medicare providers and suppliers as well. For example:
Section 1106: Changes the date after which physician ownership of hospitals to which they self refer is prohibited to Dec. 31.
Section 1107: Changes the effective date of imaging cuts to Jan. 1, 2011 (from Jan. 1, 2010 in Senate-passed bill). This provision takes into account the CMS imaging rule that went into effect Jan. 1, but sets the assumed utilization rate at 75 percent for the practice expense portion of advanced diagnostic imaging services.
Section 1108: Accelerates phase-in of Medicare physician practice expense adjustment for areas with below-average expense payment rates. The national blend this year would be increased from 1/4 to 1/2.
Read the complete section-by-section analysis of this bill as passed.
Latest posts by admin aapc
(see all)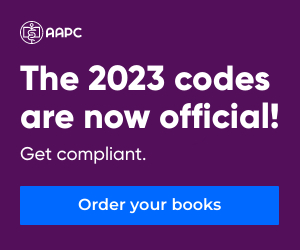 No Responses to "Health Care Reform Provision Implementation Begins"