Coding Diabetes Requires Precision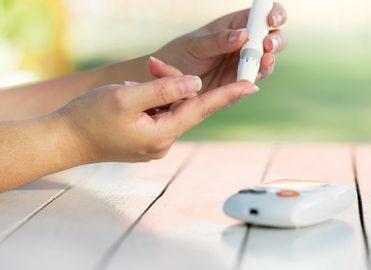 Look to the ICD-10-CM guidelines for accurate selection and sequencing of diagnosis codes for diabetes.
Diabetes mellitus (DM) is a chronic disease that affects the body's ability to turn food into energy. Most of the food you eat is broken down into sugar (glucose) and released into the blood to be used as the body's main source of energy. This elevation in blood sugar signals the pancreas to release insulin, a hormone that acts like a key to enable the glucose to enter the body's cells so it can be used as an energy source.
Lack of insulin or inability of glucose to enter the cells causes sugar to build up in the blood, which, over time, can lead to complications. A review of the two main types of DM and the conditions that result if the disease isn't managed well will lead you to proper diagnosis coding.
Types of Diabetes Explained
Type 1 diabetes (previously called insulin-dependent or juvenile diabetes) is typically diagnosed in children, teens, and young adults, but it can develop at any age. The pancreas in patients with type 1 diabetes either doesn't make enough, or any, insulin. Thus, treatment involves insulin administration.
In patients with type 2 diabetes, problems begin when the cells in their body start to not respond to insulin as well as they should. This is called insulin resistance, which causes high blood sugar levels (hyperglycemia). The pancreas responds by making more insulin to try and manage the hyperglycemia, but eventually, the pancreas can't keep up and blood sugar levels rise. Left uncontrolled, the disease progresses into prediabetes and, eventually, type 2 diabetes. This is the most common type of diabetes and is initially treated with lifestyle modification including a healthy diet and exercise. If these measures are not effective, treatment generally starts with an oral hypoglycemic agent. If better control is needed, injectable medications or insulin may be initiated to help manage blood sugar levels and avoid complications.
Complications of Chronic Hyperglycemia
Poorly controlled diabetes results in high blood glucose levels. The longer someone has diabetes, and the less controlled their blood sugar is, the higher their risk of serious health complications, including:
Cardiovascular disease
Kidney damage (nephropathy)
Eye damage (retinopathy)
Nerve damage (neuropathy)
Skin conditions
Foot damage
Hearing impairment
Alzheimer's disease
Depression
Follow Coding Guidelines
The ICD-10-CM coding guidelines established by the National Center for Health Care (NCHC) and the Centers for Medicare & Medicaid Services (CMS) for ICD-10-CM assist healthcare professionals and medical coders in selecting the appropriate diagnosis codes to report for a specific patient encounter.
A patient may have many diagnoses; however, only those specific to the encounter, in addition to any chronic or coexisting diagnoses that may affect the patient's care, should be reported. The reason for the encounter should guide proper sequencing of diabetes codes, as well as those for any complications or manifestations.
Comorbidities and Medications
Chapter 4 Endocrine, Nutritional, and Metabolic Diseases of the ICD-10-CM code book contains codes for DM. These are combination codes that include the type of DM and associated complications, which are organized by body system affected. The guidelines state that if the type of diabetes is not documented, the default is type 2.
The guidelines also instruct to use additional codes to identify long-term control with insulin (Z79.4) or oral hypoglycemic drugs (Z79.84). You would not assign these codes for short-term use of insulin or oral medications to bring down a patient's blood sugar during a specific encounter. And if the documentation indicates the patient uses both oral hypoglycemic agents and insulin for long-term control, report only the code for long-term (current) use of insulin.
Diabetes and Pregnancy
Report encounters related to pregnancy and diabetes using codes in Chapter 15 Pregnancy, Childbirth, and the Puerperium. If a pregnant woman has pre-existing diabetes that complicates the pregnancy, Chapter 15 guidelines instruct us to assign a code from O24 first, followed by the appropriate diabetes code(s) from Chapter 4 (E08–E13). Report codes Z79.4 or Z79.84 if applicable.
Gestational (pregnancy-induced) diabetes may develop in women who did not have DM prior to pregnancy. Codes for gestational diabetes are in subcategory O24.4. These codes include treatment modality — diet alone, oral hypoglycemic drugs, insulin — so you do not need to use an additional code to specify medication management. Do not assign any other codes from category O24 with the O24.4 subcategory codes.
Insulin Pump Malfunction
If the medical record indicates the patient experienced insulin pump malfunction, report a code from subcategory T85.6 Mechanical complication of other specified internal and external prosthetic devices, implants and grafts. The first-listed code specifies the type of pump malfunction. The principal code is followed by a code from T38.3X- to indicate whether the malfunction resulted in over- or underdosing of insulin.
Secondary Diabetes
Secondary diabetes — DM that results as a consequence of another medical condition — is addressed in Chapter 4 guidelines. These codes, found under categories E08, E09, and E13, should be listed first, followed by the long-term therapy codes for insulin or oral hypoglycemic agents.
Follow the instructions in the Tabular List of ICD-10-CM for proper sequencing of these diagnosis codes. For example, if a patient has secondary diabetes as a result of Cushing's syndrome and no other manifestations, report code E24.9 Cushing's syndrome, unspecified, followed by E08.9 Diabetes mellitus due to underlying condition without manifestations. If a patient is diagnosed with secondary diabetes due to the adverse effects of steroids, report codes E09.9 Drug or chemical induced diabetes without complications and T38.0X5A Adverse effect of glucocorticoids and synthetic analogues, initial encounter.
Causal Relationships of DM
A causal relationship is assumed between entries linked in the Alphabetic Index with the word "with," which implies associated with or due to. Provider documentation does not have to state the conditions are related for you to assign these codes. However, if the provider specifically documents that the two conditions are unrelated, the codes linking the two cannot be assigned.
The code set contains an extensive list of codes that use "with" to link diabetes and associated underlying conditions. If you look in the Alphabetic Index under E11.9 Diabetes/type 2/with, you'll find codes that describe type 2 diabetes with amyotrophy (E11.44), arthropathy NEC (E11.618), autonomic (poly) neuropathy (E11.43), cataract (E11.36), Charcot's joints (E11.610), chronic kidney disease (E11.22), etc.
For example, if a patient has type 2 diabetes and chronic kidney disease (CKD), and the provider has not stated they are unrelated, it would be appropriate to report code E11.22 Type 2 diabetes mellitus with diabetic chronic kidney disease.
Don't Forget to Check the Tabular List
Always use the Tabular List to confirm the appropriateness of codes listed in the Alphabetic Index. Parenthetical notes in the Index will help guide you in properly coding the patient's condition. One such note under E11.22, for example, says to use an additional code to identify the stage of CKD (N18.1–N18.6); assign the code for the stage of CKD documented by the provider.
Below N18, there is a note to code first any associated:
Diabetic chronic kidney disease (E08.22, E09.22, E10.22, E11.22, E13.22)
Hypertensive chronic kidney disease (I12.-, I13.-) (If the patient also has hypertension, you will need a combination code for hypertension that includes the stage of CKD).
There is also a note to use an additional code to identify kidney transplant status (Z94.0), if applicable. The note under N18.6 End-stage renal disease directs you to use an additional code to identify dialysis status (Z99.2), as well.
Practice With Clinical Scenarios
Case 1
A patient comes in for her regular 3-month follow-up for type 2 DM. She also has mild hypertension and complications from diabetes including stage 4 CKD. She states that she stubbed her right toe two weeks ago, and several days later, she discovered an area on her toe that concerns her. She has a history of diabetic foot ulcers and doesn't want this to turn into one. The patient also mentions that lately her ability to feel things on her lower extremities is diminished. She continues to smoke despite her doctors encouraging her to quit.
After a full exam, the doctor determines the area on the right toe is a small ulcer with skin breakdown but no exposed subcutaneous tissue. The provider suspects that she may have diabetic peripheral neuropathy, which would cause her to not feel or notice the toe ulcer right away; further testing is needed to confirm.
The assessment includes the following diagnoses:
Ulcer toe, right foot 1 cm; limited to skin breakdown, does not probe to bone
DM type 2
Hypertension
CKD; stage 4
Reduced (loss of) sensation – possible diabetic peripheral neuropathy
Continued smoker, cigarettes, approx. 1.5 pack a day
Diagnosis codes are:
E11.621 Type 2 diabetes mellitus with foot ulcer
L97.511 Non-pressure chronic ulcer of other part of right foot limited to breakdown of skin
E11.22 Type 2 diabetes mellitus with diabetic chronic kidney disease
I12.9 Hypertensive chronic kidney disease with stage 1 through stage 4 chronic kidney disease, or unspecified chronic kidney disease
N18.4 Chronic kidney disease, stage 4 (severe)
F17.210 Nicotine dependence, cigarettes, uncomplicated
R20.8 Other disturbances of skin sensation
Case 2
A 67-year-old patient with type 1 DM presents to the endocrinologist as a new patient to establish care. The patient was transitioned to an insulin pump in 1998. His sugars are currently uncontrolled; A1C is 8.6. He reports elevated morning blood sugar readings ranging from 175 to 190. He knows he needs to decrease his glucose levels to improve his A1C and plans to do so with exercise and insulin dose modification.
Past medical history: hypertension, myocardial infarct at age 50, coronary artery disease (CAD), diabetic nephropathy, and a right great toe amputation in 2001 due to osteomyelitis. History of smoking; quit nearly 16 years ago. The patient denies cardiovascular concerns or breathing issues. Physical exam is unremarkable. The doctor adjusted the insulin dose and recommended the patient be scheduled for a consultation with a registered dietician. Patient to follow up in one month; he will call prior to that if any concerns arise.
The assessment includes the following diagnoses:
1. DM type 1, uncontrolled
2. Insulin pump
3. Hypertension
4. Past myocardial infarct
5. Right great toe amputation
6. Osteomyelitis
7. Former smoker
Diagnosis codes are:
E10.21 Type 1 diabetes mellitus with diabetic nephropathy
I10 Essential (primary) hypertension
I25.10 Atherosclerotic heart disease of native coronary artery without angina pectoris
I25.2 Old myocardial infarction
Z96.41 Presence of insulin pump (external) (internal)
Z79.4 Long term (current) use of insulin
Z89.411 Acquired absence of right great toe
Z87.891 Personal history of nicotine dependence
Whether you are an experienced coder or new to coding diabetes, it's important to take your time as you read through provider documentation. Look for key words to help you determine the type of diabetes, presence of complications, and treatment regimen, so you can assign the correct ICD-10-CM codes.
Latest posts by Eileen Grassi
(see all)
10 Responses to "Coding Diabetes Requires Precision"