Clarifying Inpatient vs. Outpatient
By admin aapc
In CMS
June 1, 2009
Comments Off

on Clarifying Inpatient vs. Outpatient
A recent review conducted by Trailblazer, the A/B Medicare Administrative Contractor (MAC) for jurisdiction four (J4), shows hospitals are ultimately confused as to where to draw the line between inpatient and outpatient status. Even more recent editorial changes to the Medicare Claims Processing Manual may help hospitals clarify the terms "observation" and "admission."
Trailblazer's sample of 250 claims on Type of Bill (TOB) 11X with diagnosis-related group (DRG) 247 and service dates between January and September 2008 had a 98.8 percent error rate. Reviewers found hospitals typically claimed routine inpatient admission following a postoperative outpatient procedure without documentation to support clinical complications present on admission and did so because they were confused on how to bill the outpatient service as observation.
Trailblazer's report contains the following advice regarding inpatient versus outpatient services:
Outpatient observation is still an alternative to inpatient admission.

An order simply documented as "admit" will be treated as an inpatient admission. A clearly worded order such as "inpatient admission" or "place patient in outpatient observation" will ensure appropriate patient care and prevent hospital billing errors.

Medicare coverage for observation services is limited to no more than 48 hours unless the A/B MAC grants an exception.

An outpatient observation patient may be progressed to inpatient status when it is determined the patient's condition requires an inpatient level of care.

An inpatient admission cannot be converted to outpatient observation.

Documentation must support the level of care provided (inpatient admission versus outpatient observation).

Ensure the documentation addresses problems identified in the history and physical, treatment initiated, patient's response to treatment, major changes in the patient's condition and action taken, status of unresolved problems, discharge planning and follow-up.
Trailblazer's report, released May 19, is available on their Web site.
Just days later, the Centers for Medicare & Medicaid Services (CMS) provided clarification regarding observation services in Transmittal 1745, Change Request 6492, entitled "July 2009 Update of the Hospital Outpatient Prospective Payment System (OPPS)."
Editorial changes to the Medicare Claims Processing Manual, Pub. 100-02, chapter 6, section 20.6 and Pub. 100-04, chapter 4, section 290, clarify that a hospital begins billing for observation services, reported with HCPCS Level II code G0378 Hospital observation service, per hour, at the clock time documented in the patient's medical record, which coincides with the time observation services are initiated in accordance with a physician's order for observation services.
CMS has also removed references to "admission" and "observation status" in relation to outpatient observation services and direct referrals for observation services to avoid confusion. The term "admission" is typically used to denote an inpatient admission and inpatient hospital services. For payment purposes, there is no payment status called "observation;" observation care is an outpatient service, ordered by a physician and reported with a HCPCS Level II code.
Whereas this Medicare policy coincides with Trailblazer's guidance, wording in the Medicare Claims Processing Manual, chapter 1, section 50.3.2, "Policy and Billing Instructions for Condition Code 44," contradicts the insurer's policy on converting an inpatient admission to outpatient observation.
"In cases where a hospital utilization review committee determines that an inpatient admission does not meet the hospital's inpatient criteria, the hospital may change the beneficiary's status from inpatient to outpatient and submit an outpatient claim (bill type 13x or 85x) for medically necessary Medicare Part B services furnished to the beneficiary, provided all of the following conditions are met:
The change in patient status from inpatient to outpatient is made prior to discharge or release, while the beneficiary is still a patient of the hospital;

The hospital has not submitted a claim to Medicare for the inpatient admission;

A physician concurs with the utilization review committee's decision; and

The physician's concurrence with the utilization review committee's decision is documented in the patient's medical record.
When the hospital has determined that it may submit an outpatient claim according to the conditions described above, the entire episode of care should be billed as an outpatient episode of care."
Latest posts by admin aapc
(see all)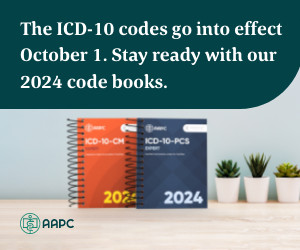 No Responses to "Clarifying Inpatient vs. Outpatient"