Simplify the Revenue Cycle Management Process: Part 1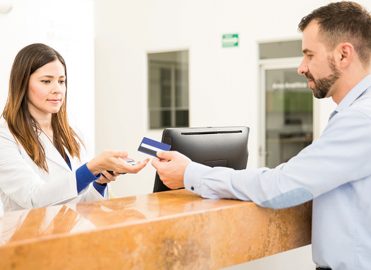 Part one: Understand each step of the revenue cycle and how to minimize errors that lead to lost revenue.
A medical practice, whether private or corporate, large or small, at its foundation is a business. You cannot keep the lights on and the doors open simply based on quality care and excellent customer service. A critical component of successfully managing a medical practice is consistent and effective management of the revenue cycle.
In this three-part series, we will break apart the components of the revenue cycle process. We will also analyze the top key performance indicators (KPIs) that you should be monitoring routinely. By analyzing the key components of the revenue cycle as well as KPIs, we hope to help you identify potentials gaps in workflow, thereby allowing a targeted approach to training and education.
In part one of this series, we will focus on the first three components of the revenue cycle: patient scheduling and registration, insurance eligibility and benefits verification, and copay/deductible collection.
What Is Revenue Cycle Management?
The Healthcare Financial Management Association (HFMA) defines the healthcare revenue cycle as "all administrative and clinical functions that contribute to the capture, management, and collection of patient service revenue." These administrative and clinical functions work synchronously to carry out the revenue cycle. Even for practices or health systems with sophisticated practice management software, the revenue cycle process can be complex and involves information being threaded through multiple areas.
Years ago, when I was hired to manage a large, multispecialty practice, I was handed a set of KPIs that would make any practice administrator cringe. I was tasked with "fixing" the accounts receivable (AR). After much research, I deduced that few people understood the full revenue cycle and its impact on the process. They felt it was the billing department's responsibility to handle all revenue-related issues. Not so!
The revenue cycle process begins when the patient schedules an appointment and ends when all payments from both insurance and patient are collected.
Step 1: Patient Scheduling and Registration
According to a report published by Change Healthcare, 23.9 percent of claim denials are due to errors during front-end revenue cycle processes such as registration and eligibility. That means that nearly one-fourth of all claim denials can be prevented upfront.
At the beginning of the revenue cycle process, either a scheduler or front-end staff builds and/or maintains the patient account. This is a crucial building block of the claims process. It may seem like a fundamental task, but a simple misspelling of a patient's name or an incorrect date of birth can halt the claims process until the information is corrected, thereby extending the days in AR.
Patient demographic information should be verified at each encounter to ensure accuracy. This minimizes the chances that errors, such as an inaccurate insurance member ID number, prevent a claim from being processed. Verification also eliminates potential mistakes later in the revenue cycle process — for example, when sending patient statements to either a physical or email address.
During the registration process, the front office staff commences with questions that will ultimately be very important to the revenue cycle such as:
What insurance does the patient have?
Is the practice in-network contractually with the patient's insurance?
Does the insurance require a referral or prior authorization?
If a referral or authorization is already on file, how many visits remain, and will the office need a new referral?
Does the patient have a maximum number of visits allowed each year under their benefits plan?
Who is the guarantor on the account?
Who is the primary insurance holder?
Is a current consent of treatment and notice of Health Insurance Portability and Accountability Act (HIPAA) privacy practices on file?
Since the enactment of the Affordable Care Act in March 2010, the options of health plans and benefit packages offered to patients significantly increased the complexity of the work for front-end staff. For this reason, it has become increasingly important for the front office and registration staff to have, at minimum, basic knowledge of insurance contracts and an understanding of how to interpret patient benefit plans and apply them to services.
Step 2: Insurance Eligibility and Benefit Verification
Verifying insurance eligibility is a crucial step in the revenue cycle process and should take place monthly. Both eligibility and benefit verification are automated through most practice management software or clearinghouse vendors. If not automated, this information can be obtained by accessing the payer's website or by calling their customer service line. Most insurances will provide full benefit information via fax within minutes of the request. With so many options for obtaining eligibility and benefit information, and given the impact of the knowledge it provides, there is no good reason not to do it.
While insurance-savvy patients exist, many are unaware or misinformed about how insurance works and are unfamiliar with the differences between premiums, copays, deductibles, coinsurances, and out-of-pocket maximums. Front-end staff should be well-versed and have a solid understanding of the idiosyncrasies of the various insurance plans with which the practice participates.
The patient's insurance eligibility status is directly linked to claim denials and delay of payment for healthcare services. If the patient does not have active coverage, the claim will be either rejected or denied. This creates a delay in the revenue cycle process and subsequently increases the total days in accounts receivable.
Step 3: Collecting Payment
Verifying eligibility tells you if the patient has active coverage, and confirming benefits provides specific coverage information for services. Knowledge of details, such as the patient's copay and deductible and coinsurance percentages for diagnostic or laboratory services, will help you estimate the patient's total financial responsibility at the time of service.
When patients are informed of their estimated out-of-pocket costs prior to appointments, they are much more likely to come prepared to pay or make a payment plan. Experience has taught me that upfront price transparency, not only with the potential amount the patient may be responsible for but also with services provided by the medical practice, lends to higher patient collections, debt reduction, fewer days in AR, and higher patient satisfaction.
HFMA recently published the report "Strategies for a High-Performance Revenue Cycle" from the Patient Friendly Billing® project. Data from more than 5,000 non-government short-term acute hospitals were analyzed. The organizations were rated on financial and patient satisfaction using criteria including, but not limited to, days in AR, patient willingness to recommend the organization, and operating margin. While there were differences among the high performers, several commonalities were noted.
High performers in the revenue cycle:
Have an organizational culture that elevates the importance of the revenue cycle process.
Master areas important to their circumstances. High performers may not necessarily focus on the same revenue cycle areas as others and, instead, use a targeted approach to elements that make their revenue cycle successful.
Accelerate improvements by setting goals, taking action, and executing strategies.
Gain Insight Into Claim Rejections
The Centers for Medicare & Medicaid Services (CMS) reports a historical baseline for the number of Medicare fee-for-service claims categorized as "front-end rejections" at 10 percent. Surprisingly, many rejected claims are never corrected and resubmitted for reimbursement.
Note: A claim rejection is different from a claim denial. A rejected claim is one that never made it to the insurance company for processing.
According to Greenway Clearinghouse Services, one of the top five reasons for claim rejections is patient eligibility. Trizetto Clearinghouse reports that a ZIP code not matching the state reported is one of its top reasons for claim rejections. Kareo reports subscriber/ID mismatch and subscriber/ID not found are among its top nine reasons for rejected claims.
These are all examples of front-end revenue cycle errors, emphasizing the need for front-end staff to be detail-oriented, accurate, and possess an understanding of their critical contribution to the revenue cycle process.
Revenue cycle management is a critical component to ensuring a healthy and profitable organization. It doesn't stop just with these three steps. In part two of this series, we will focus on the next two components of the revenue cycle: patient services and treatment and claims submission. We will address the clinical staff's contribution to the revenue cycle process, as well as billing and coding staff contributions.
---
Resources:
https://www.hfma.org/content/dam/hfma/document/article/PDF/5184.pdf
https://www.healthstream.com/resources/blog/blog/2019/04/08/what-is-revenue-cycle-in-healthcare
https://www.xifin.com/resources/blog/201711/what%E2%80%99s-best-way-avoid-front-end-denials-clean-claims
https://capturebilling.com/medical-claim-denials-and-rejections-in-medical-billing/
https://www.greenwayhealth.com/sites/default/files/files/2018-03/GCS_Webinar_slides.pdf
https://helpme.kareo.com/01_Kareo_PM/Claim_Rejections
Latest posts by Jessica Whitney
(see all)