OIG to Recover $2.4B in First Half of FY2009
By admin aapc
In CMS
June 12, 2009
Comments Off

on OIG to Recover $2.4B in First Half of FY2009
The Department of Health and Human Services (HHS) Office of Inspector General (OIG) submitted its semiannual report to Congress, reporting an expected $2.4 billion in recoveries the first half of the fiscal year. Recoveries were made from providers, drug companies, other agencies, and even four states.

In a June 8 press release, the OIG's anticipated recoveries for the period of October 2008 through March 2009 include $274.8 million in audit-related receivables and $2.2 billion in investigative-related receivables, which includes nearly $552 million in non-HHS receivables resulting from OIG work (e.g., the states' share of Medicaid restitution). Additional savings from implemented recommendations are calculated annually and reported in the final fiscal report.
The OIG reported exclusions of 1,415 individuals and organizations for fraud or abuse involving federal health care programs and/or their beneficiaries; 293 criminal actions against individuals or organizations who engaged in crimes against HHS programs; and 243 civil actions, which include False Claims Act and unjust enrichment suits, Civil Monetary Penalties Law settlements, and administrative recoveries related to provider self-disclosure matters.
Other actions the OIG took include the following:
Eli Lilly and Company (Lilly) agreed to plead guilty and pay approximately $1.4 billion to the federal government and participating states for promoting its antipsychotic drug Zyprexa for uses not approved by the Food and Drug Administration (FDA) and not covered by Medicaid or other federal programs.

A Miami physician was sentenced to 30 years in prison and ordered, along with her codefendant, to pay more than $8.2 million in restitution in connection with an HIV infusion fraud scheme. At the Saint Jude Rehab Center, Inc., HIV-positive Medicare patients were paid cash kickbacks in exchange for allowing her to prescribe unnecessary infusion treatments. The case was brought by the Medicare Fraud Strike Force, a multiagency team of prosecutors and investigators that uses real-time analysis of Medicare billing data to assist in the identification, investigation, and prosecution of individuals and companies that have committed Medicare fraud.

In reviews of Temporary Assistance for Needy Families basic assistance payments for the year that ended March 31, 2007, OIG found that four States—Idaho, Minnesota, Pennsylvania, and Vermont—collectively claimed an estimated $30.5 million in improper payments.
The OIG produced four reports related to "adverse events" and "never events." The reports showed that, as of December 2008, no national adverse event reporting system or federal standards regarding state adverse event reporting existed. Variations in the 26 state systems made the data unsuitable for study, the OIG said.
Read the full report online.
Latest posts by admin aapc
(see all)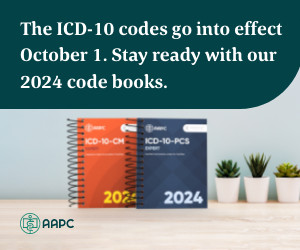 No Responses to "OIG to Recover $2.4B in First Half of FY2009"