AAPC Facebook Social Hour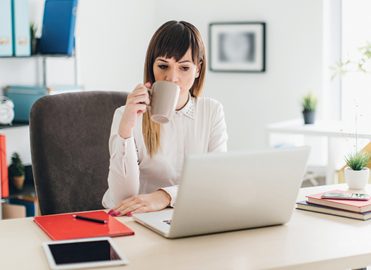 The Jan. 27 social hour focused on the new practice management committee and HEALTHCON 2021.
The bimonthly live sessions in the AAPC Facebook group have grown in popularity since their inception last February. The social hour provides a great way for AAPC staff and National Advisory Board (NAB) members to interact with the membership, answer questions, and provide insight and guidance to healthcare business professionals, both new and old.
HEALTHCON Giveaway
The session's moderator was Alex Mckinley, product marketing manager at AAPC. He was joined by senior vice president of product Raemarie Jimenez, CPC, CIC, CPB, CPMA, CPPM, CPC-I, CCS and NAB member Stephanie Thebarge, CPC, CPMA, CPPM, CEMC, CHONC. Mckinley started the session by pointing out that Jimenez and Thebarge were both wearing their HEALTHCON 2020 T-shirts, then segued into the announcement that AAPC would be giving away a free registration for virtual HEALTHCON 2021 at the end of the live session, plus four additional free registrations the next day. Attending members were told to post a comment about their favorite HEALTHCON experience or what they are looking forward to at HEALTHCON 2021 if they had not attended before along with the hashtag #AAPC200K for a chance to win. The giveaway was to celebrate AAPC's 200,000th member.
The Practice Management Advisory Committee
Next, Marianne Durling, MHA, RHIA, CCS, CDIP, CPCO, CIC, AAPC Approved Instructor, MariaRita Genovese, CPC, and committee chair Judy Wilson, CPC, COC, CPCO, CPC-P, CDEO, CPB, CPPM, CANPC, AAPC Approved Instructor from the new practice management advisory committee joined the Facebook session to talk about their role with AAPC. Jimenez outlined the committee's contributions to AAPC which include providing insight to ensure that AAPC is adequately supporting the topic of practice management, reviewing content from an education perspective, and addressing continuing education, networking opportunities, and tools and resources. Jimenez went on to say that the committee was designed to "get everyone in the trenches doing the work advising us on what's needed out there." The practice management committee also looks at exams and study guides, writes articles, facilitates CEU opportunities, hosts webinars and more. To demonstrate their expertise, the committee members asked attending AAPC members some situational questions to test their knowledge in the area of practice management.
HEALTHCON Discussion
Mckinley then moved the discussion back to the upcoming HEALTHCON in Dallas. He asked all of the practice management advisory committee members to share their favorite HEALTHCON moments. An appreciation for timely topics, excellent speakers, the chance for networking, and learning new things were all cited in addition to seeing in person people you only see virtually throughout the year. Genovese said "It's like you saw the person yesterday when you see them at HEALTHCON. And you just connect right away." She went on to say that "All of us have friends all over the United States. That's something that I treasure the most that I've gotten from AAPC."
Jimenez then addressed questions about HEALTHCON 2021, including the question she gets constantly: "Is HEALTHCON 2021 going to happen in person?" The answer was a resounding "Yes!" The conference will be held in Dallas with a virtual option for those who cannot attend in person.
Jimenez went on to outline the safety measures that have been taken to keep attendees healthy and confirmed that all conference materials will be pre-mailed to in-person attendees to eliminate lines. She encouraged attendees to register for the sessions they want as soon as possible since there will be a limited capacity, but notes that if sessions do fill up, don't worry; all sessions will be recorded for viewing later.
Jimenez, Thebarge, and Mckinley concluded by discussing what they love most about HEALTHCON. Jimenez enjoys the panel sessions for their educational value. She cited the question and answer format which should be popular concerning the new E/M guidelines this year. "Anatomy expo is always a hit," Jimenez also noted. Thebarge loved the fact that "You always have an opportunity to attend so many different things." When Mckinley asked Jimenez what AAPC learned from the all-virtual conference last year, she applauded the engagement from attendees. "We were pleasantly surprised at such an amazing ability to connect people, still, in a virtual capacity."
Until We Meet Again
If you missed the Jan. 27 session, social hours are held twice a month. Keep an eye on AAPC's Facebook page for dates and times.
Latest posts by admin aapc
(see all)