Final '10 ICD-9-CM Codes Released
By admin aapc
In CMS
June 18, 2009
Comments Off

on Final '10 ICD-9-CM Codes Released
New, revised and invalid diagnosis and procedure codes effective Oct. 1, 2009 have been finalized. An updated list of ICD-9-CM codes was posted on the Centers for Medicare & Medicaid Services (CMS) Web site June 10. Several codes included in the update were not listed in the Inpatient Prospective Payment System (IPPS) proposed rule for 2010, but will appear in the final rule.
The following new and revised ICD-9-CM diagnosis and procedure codes were not finalized in time to include in the proposed rule, but will be implemented on Oct. 1.
New diagnosis codes:
209.75 Secondary Merkel cell carcinoma
V10.90 Personal history of unspecified malignant neoplasm
New procedure codes:
17.70 Intravenous infusion of clofarabine
38.24 Intravascular imaging of coronary vessel(s) by optical coherence tomography [OCT]
38.25 Intravascular imaging of non-coronary vessel(s) by optical coherence tomography [OCT]
Revised diagnosis code:
453.2 Other venous embolism and thrombosis of inferior vena cava
Revised procedure codes:
00.57 Implantation or replacement of subcutaneous device for intracardiac or great vessel
              hemodynamic monitoring
39.90 Insertion of non-drug-eluting peripheral (non-coronary) vessel stent(s)
As we reported in the last issue of EdgeBlast, 488 was deleted to put in place new flu codes to better capture H1N1 (Swine) flu cases in response to the recent flu outbreak.
488 Influenza due to identified avian influenza virus
The complete list of new, revised and invalid codes that go into effect Oct. 1 is available on the CMS Web site. The final addendum providing complete information on changes to the diagnosis part of ICD-9-CM is posted on the CDC Web site.
Latest posts by admin aapc
(see all)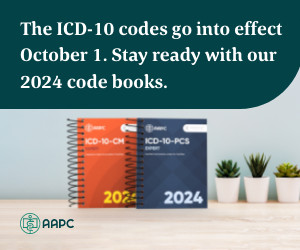 No Responses to "Final '10 ICD-9-CM Codes Released"