Something to Consider Before Billing High-Level E/M Services
By admin aapc
In Audit
April 30, 2010
Comments Off

on Something to Consider Before Billing High-Level E/M Services
Think your physician knows what constitutes a high-level evaluation and management (E/M) service? If he has a record of mainly billing high-level office visits, he may not. One thing you can be sure of is that all those high-level E/M claims will eventually catch your payer's attention.
Rather than hold your breath and hope for the best, Part B Insider suggests ways you can protect yourself in the event of an audit.
Perform an Internal Audit
The first thing you should do is make sure your physician is billing high-level codes correctly. Crystal S. Reeves, CPC, CPC-H, consultant with Coker Group in Alpharetta, Ga., advises coders to use all their resources to determine proper billing.
"The CPT manual outlines the requirements of the E/M codes, there are clinical examples in the back of CPT, and CMS publishes a Table of Risk that can help guide you, so use all of those resources to determine whether you're billing properly," Reeves advises.
To determine the level of medical decision making, "look for how many diagnoses or management options the doctor is treating," Reeves says.
It's time to act if you determine that your physician is improperly billing high-level E/M codes, such as 99215 Office or other outpatient visit for the evaluation and management of an established patient, which requires at least 2 of these 3 key components: A comprehensive history; A comprehensive examination; Medical decision making of high complexity. Counseling and/or coordination of care with other providers or agencies are provided consistent with the nature of the problem(s) and the patient's and/or family's needs. Usually, the presenting problem(s) are of moderate to high severity. Physicians typically spend 40 minutes face-to-face with the patient and/or family.
Just showing the doctor CMS' Table of Risk, "can be an eye opener for physicians," Reeves says, and may be all you need to do to get things back on track.
Cover All Your Bases
Even if you determine that your physician is properly billing high-level E/M codes, you'll still need to be able to prove it in an audit.
If your claim doesn't convey the status or complexity of the condition, an auditor won't be able to infer it, advises Stephanie L. Fiedler, CPC, ACS-EM, director of revenue management with YAI in New York, N.Y. "The best way to do this is to report your diagnosis codes to the highest level of specificity."
This means not settling for the next best ICD-9-CM code on the superbill. If a diagnosis code isn't listed on your superbill, research to find it rather than just using one that you do list on your encounter form, advises Part B Insider editor Torrey Kim, CPC.
"Without the more specific code, the physician isn't conveying the acuity of what he's doing, so the diagnosis may not support the claim," Fiedler says.
Source: Part B Insider, as seen here.
Latest posts by admin aapc
(see all)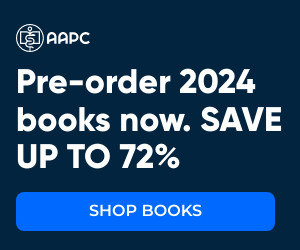 No Responses to "Something to Consider Before Billing High-Level E/M Services"