Medicare A, B, C and D
by Jacqueline J. Stack, AAB, CPC, CPC-I, CEMC, CFPC, CIMC, CPEDC, CCP-P
The Medicare program has really changed over the years since the program first began. Medicare now has an "alphabet soup" of programs available for their recipients. Knowing the rules and regulations of each of the programs can be confusing, but is necessary to assure proper reimbursement for your organizations.
Medicare is the largest single medical benefits program in the United States. Medicare is a federal health insurance programs which provides coverage for people 65 and older, for certain disabled people and for some people with End Stage Renal Disease (ESRD). In 1965, the Medicare Program was created by Congress through the Title XVIII of the Federal Social Security Act. The Medicare program had very little changes to the program until 2003 when their benefit options grew for their recipients.
Medicare Part A, or Medicare Hospital Insurance, reimburses institutional providers for inpatient, hospice and some home health services. Part A is provided to the eligible individuals at no cost. There is an annual deductible and Medicare only pays a portion of the patient's acute care and critical access hospital inpatient hospitalization expenses and the patient is also responsible for out-of-pocket expenses. Part A also covers skilled nursing facility stays when the patient meets qualified diagnosis and comprehensive treatment plan requirements. Home health services are covered when the patient receives physician-prescribed services. Hospice care is covered for the terminally ill patients who qualify. Although all of these services are covered, they each have out-of-pocket expenses or deductibles that the patient is responsible for.
Medicare Part B is Medicare medical insurance that helps cover the cost of services not covered by Part A. The services covered by Part B are physician services, outpatient hospital care, physical and occupational therapy and some home health care. Enrollees who elect Part B coverage are responsible for a monthly premium. The amount of this premium is based on whether they are an aged enrollee or disabled enrollee and also based on adjusted gross income. Part B enrollees have an annual deductible and also are responsible for 20 percent coinsurance of the Medicare approved amount after the deductible has been met. Most outpatient mental health care has a 50 percent coinsurance amount. Many enrollees also choose to purchase a private supplemental plan to cover the amount that Medicare does not cover.
Medicare Part C is Medicare Advantage Plans, which was formally called Medicare+Choice as established by the Balance Budget Act of 1997. Medicare Advantage Plans are health plans that are approved by Medicare but managed by private companies. These plans provide Part A and Part B coverage and must cover medically necessary services. With these plans there is no need to purchase a Medigap policy. The benefits to these plans are lower premiums, copayments and deductibles, and offer extra benefits such as prescription drug coverage. However, plans do require referrals to see specialist and the advantage plans have networks so the patients may have to see doctors or hospitals that belong to the plan. The Medicare enrollees have the option of enrolling in Medicare health maintenance organization (HMO), Medicare medical savings account (MSA), Medicare special needs, Preferred provider organization (PPO) or Private fee-for-service (PFFS) plans.
Medicare Part D is the Medicare Prescription Drug Plans that offer prescription drug coverage. Enrollees who choose to take advantage of this benefit will be responsible to pay a monthly premium and annual deductible. There are two ways to obtain prescription drug coverage: join a prescription plan that adds coverage to the original Medicare plan, or join a Medicare Advantage Plan that includes prescription coverage as part of the plan.
The Medicare programs that are available to the eligible individuals help these Americans receive health care. It is important to remember that Medicare does not cover all services. By knowing the basics information of what is and what it not covered by Medicare will make your organization more informed and will be able to help educate your patients on these services and let them make an informed decision concerning the services that they get.
Latest posts by admin aapc
(see all)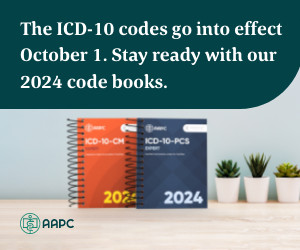 No Responses to "Medicare A, B, C and D"