AAPC Social Hour: Becoming a Licensed Educator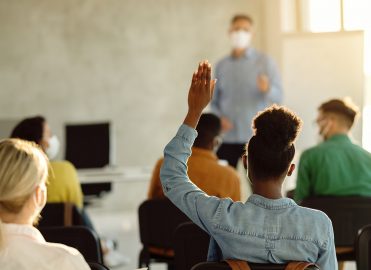 If you're looking for a new career opportunity, we may have something for you.
Have you ever thought about teaching medical coding and billing? Some people teach because they have a passion to help others learn and some people teach because they want to pay forward the same opportunity others provided them. Whatever your reason for wanting to teach, AAPC can help you get started.
Becoming a licensed educator was the topic of the Feb. 10 AAPC Social Hour, which is broadcast on Facebook Live bi-monthly at 4 p.m. MT (6 p.m. ET).
Session moderator and AAPC Product Marketing Manager Alex McKinley (AAPC Alex) was joined by AAPC Education Operations Manager Kris Taylor, speaker and educator Kimberly Jolivette Williams, CPC, CPMA, CPC-I, CANPC, CCC, CEMC, and National Advisory Board (NAB) member and educator Robert (Bobby) A. Kiesecker III, BSHA, CPC, CPC-I, CCC, AAPC Fellow, to discuss the realities and rewards of teaching AAPC curriculum to future healthcare business professionals.
How to Become a Licensed Educator
What is involved in becoming a licensed educator of AAPC-approved curriculum? Taylor explained that if you are an AAPC certified member in good standing and have at least five years of medical coding experience, you're halfway there! You must also complete an AAPC Approved Instructor's course and hold AAPC certification in the area(s) you will be teaching.
Taylor has worked in the education department for more than 20 years and never tires hearing all the positive feedback from instructors about the program. "I've heard of so many stories about how [teaching] has changed their lives," she said.
Williams, who is an AAPC licensed educator, agreed. "I love it. It truly opened up a passion in me that I didn't even know I had," she said.
Kiesecker said he couldn't agree more. "Becoming an instructor and going down that path literally changed my career," he said.
More Than 1,000 AAPC-Approved Instructors Have Your Back
One commentor expressed interest in becoming a licensed instructor, but said she had reservations. "I have thought about being an instructor. Still building up the nerve," she said.
Williams encouraged the commentor, "It's amazing how many people, once you dive in, you think you don't know anything, but you're not alone. You will have so many wonderful instructors to rally around you, to help you and guide you and show you what you need. Even me! I'm willing to do it because someone did it for me."
AAPC also hosts a Teach the Teacher session at HEALTHCON every year. This year's HEALTHCON, March 28-31, is a hybrid event being held in person in Dallas, as well as virtually.
In addition to a very supportive network, you have the option of teaming up with other instructors under a single license. Not only does this take the pressure off one person paying for the license but also enables you to offer students a broader range of education. AAPC allows up to five instructors under one license. Kiesecker said he partners with a couple of other instructors under a single license and it has worked out really well for him.
AAPC Provides (Almost) Everything You Need
AAPC provides all the materials (books, tests, PowerPoint presentations, etc.) on which licensed educators can build their lesson plans. Williams said she loves the lectures included in the package.
AAPC offers licensees a choice of curriculum for the following certifications:
Certified Professional Coder (CPC)®
Certified Professional Biller (CPB™)
Certified Outpatient Coding (COC®)
Certified Inpatient Coder (CIC™)
Certified Risk Adjustment Coder (CRC®)
Certified Professional Medical Auditor (CPMA®)
Certified Documentation Expert Outpatient (CDEO®)
Certified Physician Practice Manager (CPPM®)
Certified Professional Compliance Officer (CPCO®)
Included for each are interactive online courses you can tailor to your needs, a cloud-based learning management portal, exam proctoring and results tracking, and more. All you need to provide is the drive to succeed — and the cost of the license, of course.
Williams said, "The license is an investment," but it's easy to offset the cost through all the additional opportunities the license affords her such as speaking engagements, workshops and webinars, and more. The ability to reach more people on a virtual platform has expanded opportunities for her even more. "I've been speaking all over," Williams said, adding with a laugh, "I'm on my virtual tour."
What have you got to lose? Checking to see if you qualify costs nothing. Request more information or apply today!
Coming Up in Healthcare Business Monthly
At the first Social Hour of each month, one or two editors from AAPC's publishing department join the group at the top of the hour to plug Healthcare Business Monthly. This time, it was AAPC development editors Stacy Chaplain, MD, CPC, and Lee Fifield who joined the group to talk about what members can expect in the March and April issues.
Did you know that most of the articles in Healthcare Business Monthly are written by AAPC members? Writing for the member magazine is another great way you can share knowledge, and earn continuing education units toward your AAPC certifications!
Catch the Next Social Hour
AAPC's Social Hour on Facebook Live has grown in popularity since its inception in February 2020. The venue provides a great way for AAPC staff and NAB members to interact with membership, answer questions, and provide insight and guidance to healthcare business professionals. Be sure to follow AAPC's Social Hour so you can easily find and watch all the recorded sessions.
And don't miss the next AAPC Social Hour on Feb. 24, when AAPC Alex is joined by NAB member Astara N. Crews, MJ, CHC, CPC, director of regulatory affairs, ENT and Allergy Associates, LLP, to talk about AAPC's mentoring program. Hope you can join us!
Latest posts by Renee Dustman
(see all)
AAPC's annual salary survey gives a good understanding of the earning potential within the medical coding profession.
See what actually is going on in the healthcare business job market.