Auditing Services: A Necessity in Your Practice
By admin aapc
In Audit
May 5, 2010
Comments Off

on Auditing Services: A Necessity in Your Practice
By Deborah Grider, CPC, CPC-I, CPC-H, CPC-P, CPMA, CEMC, COBGC, CPDC, CCS-P, Vice President of Strategic Development, AAPC
Health care organizations and physician practices are under increased scrutiny by government regulations to keep medical costs down and improve efficiency. Medical auditing is the key to a compliant and profitable practice or medical facility. Conducting internal or external reviews of coding accuracy, policies, and procedures can provide reassurance that you are running an efficient and potentially liability-free operation.
There are many reasons for conducting a medical audit. Among them are:
To protect against fraudulent claims and billing activity.
To take action against discovered coding and billing errors to prevent governmental investigational auditors, like Recovery Audit Contractors (RACs), from knocking at your door.
To remedy undercoding.
To correct inappropriate billing of services appropriately provided and documented.
To identify reimbursement deficiencies and opportunities for appropriate reimbursement.
To stop the use of outdated or incorrect codes for procedures.
To eliminate bad unbundling habits and overuse of codes, which lead to warranted audits.
Audit Tips
Although conducting an audit may seem overwhelming, particularly in today's busy medical practice, every medical practice should perform chart auditing at least once a year.
According to the BC Advantage article "Conducting an Internal Coding Audit: 10 Must Know Tips for the Auditing Team" by Jeri Leong, CPC®, CPC-H®, CPC-I®, you can make the most of an audit by:
Defining the scope of your audit.
Determining key players.
Assembling reference materials such as current editions of coding manuals, national Correct Coding Initiative (CCI) edits, and the Center for Medicare & Medicaid Services (CMS) policies or other third-party policies.
Verifying the accuracy of billed services by obtaining copies of corresponding CMS claim forms and copies of the charge ticket.
Including in the audit, at minimum, validation of CPT® code use, the level of E/M visit assigned, undocumented or under-documented services, correct modifier usage, accuracy of diagnosis codes, and whether the source document supports medical necessity.
Deciding whether to incorporate the review of a few basic compliance items, such as signatures and authentications of physicians and other providers, patient identifying information, proper use of CMS Advance Beneficiary Notice (ABN) forms, compliance with incident-to requirements, and verification of orders for lab and radiology.
Preparing a summary of findings, including the raw data, after the audit is complete.
Scheduling meetings with the physicians to provide feedback and recommendations.
Getting recommendations in writing after the audit is complete.
Setting up a process to monitor the identified areas after addressing the issues.
Audit with Accuracy and Confidence
Still feeling overwhelmed? To help medical entities with compliant coding and billing, AAPC has an audit services division, which will provide full-service health care compliance and corporate integrity audits for outpatient practices, health plans, health care attorneys, and government regulators to determine key areas of risk and provide detailed recommendations to resolve them.
Auditors will provide services in all specialties and are leveraged from the credentialed AAPC members nationwide. AAPC validates each audit, focusing on the areas of an organization that have the greatest risk potential. Auditors will provide the following services:
Insurance audit appeals
Coding and billing accuracy
Accounts receivable audits
Corporate integrity audits
Compliance audits
Expert witness
ICD-10 readiness
To find out more about AAPC's Audit Services Division, e-mail audits@aapc.com or visit https://www.aapc.com/medical-audit/.
Latest posts by admin aapc
(see all)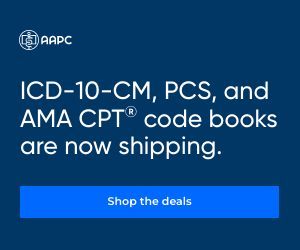 No Responses to "Auditing Services: A Necessity in Your Practice"