Translate CPT® 2020 Tissue Grafting Code Descriptors for Accurate Claims
In Coding
December 5, 2019
Comments Off

on Translate CPT® 2020 Tissue Grafting Code Descriptors for Accurate Claims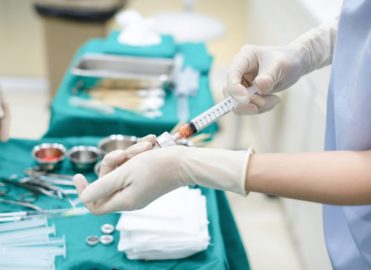 "Other" tissue graft code 20926 turned into a sort of catch-all code over the years, but that will change with the  CPT® 2020 code set. On Jan. 1, 2020, you'll have five new medical codes to use in place of 20926. Be ready with these helpful pointers.
Look at 15769–15774 Instead of 20926
In the CPT® 2019 code set, you look in the musculoskeletal system codes for 20926 Tissue grafts, other (eg, paratenon, fat, dermis). In 2020, 20926 will be deleted, and you will move your search for the replacement codes to the integumentary system section.
Other Soft Tissue
15769 Grafting of autologous soft tissue, other, harvested by direct excision (eg, fat, dermis, fascia)
Fat: Trunk, Breasts, Scalp, Arms, Legs
15771 Grafting of autologous fat harvested by liposuction technique to trunk, breasts, scalp, arms, and/or legs; 50 cc or less injectate
+15772 … each additional 50 cc injectate, or part thereof (list separately in addition to code for primary procedure)
Fat: Face, Eyelids, Mouth, Neck, Ears, Orbits, Genitalia, Hands, Feet
15773 Grafting of autologous fat harvested by liposuction technique to face, eyelids, mouth, neck, ears, orbits, genitalia, hands, and/or feet; 25 cc or less injectate
+15774 … each additional 25 cc injectate, or part thereof (list separately in addition to code for primary procedure)
You should report primary codes 15771 and 15773 only once per session. Code 15771 is the primary code for +15772, and 15773 is the primary code for +15774.
Know When to Assign 'Other' Code 15769
The code descriptor for new "other" code 15769 offers some information for proper use, but not a lot. Fortunately, there are some new guidelines for the code section that give you more to work with.
You know from the descriptor that 15769 represents autologous soft tissue grafts harvested by direct excision. Autologous means the grafts are obtained from the same individual who then receives the grafts. Fat, dermis, and fascia are examples (but not an exhaustive list) of the types of soft tissue grafts involved.
The guidelines state that for 15769 to apply, the grafts are placed into a defect during the same operation as the harvesting of the grafts.
To help prevent overuse of this new code, the guidelines remind you that you should use a more specific code if available, such as the appropriate codes for autologous grafts of skin, bone, nerve, tendon, fascia lata, or vessels.
Pinpoint Proper Procedure for 15771 to +15774
The four remaining new codes, 15771 to +15774, apply to autologous fat grafting harvested using liposuction. You may see the term lipofilling for these procedures.
The CPT® guidelines describe the procedure involved, and the wording proves that knowing medical terminology is a must for coders: "The adipose cells are harvested via a liposuction technique, prepared with minimal manipulation, and then injected via cannula in multiple small aliquots to the defect."
A good  medical dictionary  will explain that adipose cells are fat cells, a cannula is a sort of tube used in medical procedures, and an aliquot is a portion.
The October 2019 CPT® Assistant also helps you translate the guidelines by explaining that preparation for 15771 to +15774 typically involves gently centrifuging the "lipoaspirate" to separate fat from blood and oils.
Check Site and Volume for Accurate Graft Coding
You'll choose from fat grafting codes 15771 to +15774 based on the body part or parts where the grafts are placed and the total injectate.
Site: When you read the descriptors, remember that the body parts listed, such as "trunk, breasts, scalp, arms, and/or legs" in 15771, are the recipient sites. You don't choose the code based on the donor site.
Volume: Each code from 15771 to +15774 includes a number reflecting the volume of the total amount of injectate. The word "total" is important here. "For multiple sites of injection, sum the total volume of injectate to anatomic sites that are grouped together into the same code descriptor," the CPT® guidelines state. Based on this instruction, you will report 50 cc of injectate injected into the face and mouth using both 15773 (25 cc or less) and +15774 (each additional 25 cc or part thereof).
Deborah Marsh, JD, MA, CPC, CHONC, has explored the ins and outs of multiple specialties, particularly radiology, cardiology, and oncology. She also has assisted with developing online medical coding tools designed to get accurate data to coders faster. Deborah received her Certified Professional Coder (CPC) certification from AAPC in 2004 and her Certified Hematology and Oncology Coder (CHONC) credential in 2010.
Latest posts by Deborah Marsh
(see all)
Comments are closed.