ICD-10-CM: 3 Official Tips for More Accurate COPD Coding
In Coding
September 26, 2019
Comments Off

on ICD-10-CM: 3 Official Tips for More Accurate COPD Coding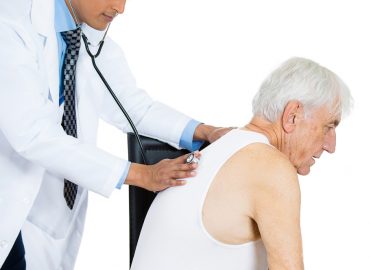 ICD-10-CM 2020 is bringing a small change to chronic obstructive pulmonary disease (COPD) code J44.0, making it a good time to refresh your knowledge of the guidelines that apply to coding for this disease (or group of diseases, if you want to be precise!).
1. Understand the Change to J44.0
To start, let's take a quick look at the code change effective Oct. 1, 2019. Code J44.0 will add parentheses around the word acute, so the descriptor will look like this: Chronic obstructive pulmonary disease with (acute) lower respiratory infection.
The ICD-10-CM Official Guidelines for Coding and Reporting state that parentheses "enclose supplementary words that may be present or absent in the statement of a disease or procedure without affecting the code number to which it is assigned." This is the rule in both the 2019 and the 2020 ICD-10-CM Official Guidelines.
In other words, the change clarifies that you may use J44.0 regardless of whether the documentation specifically states the lower respiratory infection is acute.
2. Check Official Guidelines for J44.- and J45.-
Code J44.0 is far from the only code that may apply to a patient with COPD, which affects roughly 16 million people in the U.S.
As mentioned above, COPD covers a range of airway-obstructing diseases, and pulmonology coders have to be aware of codes for conditions such as emphysema and chronic bronchitis to ensure claims are accurate. Category J45.- Asthma is another area to watch. For instance, J44.- Other chronic obstructive pulmonary disease includes asthma with COPD, chronic asthmatic bronchitis, and chronic obstructive asthma, among other diagnoses. The ICD-10-CM Official Guidelines, I.C.10.a.1, offer authoritative advice to help with COPD and asthma coding terminology:
Chronic Obstructive Pulmonary Disease [COPD] and Asthma
Acute exacerbation of chronic obstructive bronchitis and asthma

The codes in categories J44 and J45 distinguish between uncomplicated cases and those in acute exacerbation. An acute exacerbation is a worsening or a decompensation of a chronic condition. An acute exacerbation is not equivalent to an infection superimposed on a chronic condition, though an exacerbation may be triggered by an infection.
3. Add Accuracy With Excludes1 Knowledge
To avoid COPD coding mistakes, you must apply the notes that accompany the codes in the ICD-10-CM Tabular List. Payers are increasingly paying attention to whether claims follow Excludes1 notes, so your ability to follow the notes may help prevent denials.
Example: Category J44.-, which covers "other" COPD, has an Excludes1 note that prohibits you from reporting codes in that category with J43.9 Emphysema, unspecified. So if documentation shows a patient with emphysema presents due to asthma and COPD, HCPCS Coding Clinic® (vol. 6, no. 1), instructs you to report J43.9 for the emphysema and a code from J45.- for the asthma. The reasoning is that emphysema is a form of COPD, so you don't need an additional code to represent unspecified COPD.
Deborah Marsh, JD, MA, CPC, CHONC, has explored the ins and outs of multiple specialties, particularly radiology, cardiology, and oncology. She also has assisted with developing online medical coding tools designed to get accurate data to coders faster. Deborah received her Certified Professional Coder (CPC) certification from AAPC in 2004 and her Certified Hematology and Oncology Coder (CHONC) credential in 2010.
Latest posts by Deborah Marsh
(see all)
Comments are closed.