Screen Your Colorectal Cancer Coding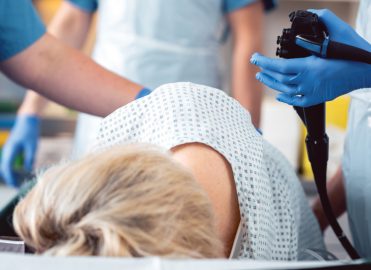 Know the facts about the disease to correctly code preventive and diagnostic services.
According to the American Cancer Society (ACS), colorectal cancer is the third most common cancer diagnosed in the United States. The risk of developing colon cancer is about 1 in 23 in men and 1 in 25 in women. In 2021, an estimated 100,000 new cases of colon cancer and 45,000 new cases of rectal cancer will be diagnosed in the United States. Approximately 53,000 people in this country will die from the disease this year.
For the most part, colon cancer is not only preventable — if detected early enough, it's less likely to cause death. This is where routine screening comes into play. Finding any cancer early allows for more treatment options and more successful outcomes, and colon cancer is no exception.
Authorities recommend screening for individuals who are at average risk for developing colon cancer, but not all agree on when to start. The ACS recommends regular screenings starting at 45; the Centers for Disease Control and Prevention (CDC), and most other authorities, recommend screenings begin at 50.
For proper coding of colorectal cancer screenings, you must be aware of the payer's coding guidelines and whose recommendations they follow. Let's look at the basics for coding these preventive services.
Know Rules for Screening Services
Medicare covers colorectal screening services for beneficiaries age 50 and older. If the patient is at an average risk for colorectal cancer, the interval is every 10 years. If the patient is at high risk for colorectal cancer, the frequency may be more often.
Patients at high risk for colon cancer generally have one or more of the following characteristics:
Close family member (sister, brother, parent, child) who has had colorectal cancer or an adenomatous polyp.
Family history of:

Adenomatous polyposis or
Hereditary nonpolyposis colorectal cancer.

Personal history of:

Adenomatous polyps,
colorectal cancer, or
inflammatory bowel disease (Crohn's disease or ulcerative colitis).
Most often, you will use HCPCS Level II codes G0121, G0105, and G0104 to report colon cancer screening services for Medicare patients.
G0121 Colorectal cancer screening; colonoscopy on individual not meeting criteria for high risk
This code is billed for patients who are receiving a routine colon cancer screening and are not at high risk for developing colorectal cancer. Medicare covers this service once every 10 years. At least 47 months must have passed following the month in which the patient received a covered screening flexible sigmoidoscopy (G0104, defined below). Code G0121 and diagnosis code Z12.11 Encounter for screening for malignant neoplasm of colon are appropriate for a routine screening colonoscopy with no abnormal findings.
G0105 Colorectal cancer screening; colonoscopy on individual at high risk
This service may be covered once every two years for patients identified as high risk for developing colon cancer. These high-risk individuals may receive their first screening at a younger age, to be determined by their doctor. The most common diagnoses that support G0105 are Z86.010 Personal history of colonic polyps, Z85.038 Personal history of other malignant neoplasm of large intestine, and Z80.0 Family history of malignant neoplasm of digestive organs.
G0104 Colorectal cancer screening; flexible sigmoidoscopy
This screening service may be covered once every 48 months unless the beneficiary does not meet the criteria for high risk of developing colorectal cancer and the patient has had a screening colonoscopy within the preceding 10 years. Code G0104 may be covered only after at least 120 months have passed since the last screening colonoscopy (G0121). Diagnosis codes Z86.010 Personal history of colonic polyps, Z85.038 Personal history of other malignant neoplasm of large intestine, and Z80.0 Family history of malignant neoplasm of digestive organs are commonly billed with this screening code.
Remember Screening-Turned-Diagnostic Rules
In the process of a screening colonoscopy service, if the provider finds something, such as a polyp, bill the appropriate diagnostic CPT® code rather than the screening code. Payers may vary in diagnosis coding requirements in this scenario. In most cases, you should report the screening diagnosis code followed by the diagnostic code. Be sure to check the payer's policy before billing. Medicare (and most payers) requires you to append modifier PT A colorectal cancer screening test which led to a diagnostic procedure to the procedure code. This allows them to charge the appropriate coinsurance and deductible amounts.
For example, let's say the patient was found to have diverticulosis during a screening colonoscopy. Proper coding is 45378 Colonoscopy, flexible; diagnostic, including collection of specimen(s) by brushing or washing, when performed (separate procedure) -PT, with ICD-10-CM codes Z12.11 and K57.30 Diverticulosis of large intestine without perforation or abscess without bleeding.
Tip: If your provider sends specimens to a pathologist for review, check the pathology report for a final diagnosis. Sometimes a provider will document simply that a polyp was removed, but when the pathology report returns, it's identified as a cancerous polyp. You should code the diagnosis as accurately as possible, even if that means querying the physician before sending the claim to the payer.
Keep in mind: ICD-10-CM codes are specific to the location of the cancer (see Table 1).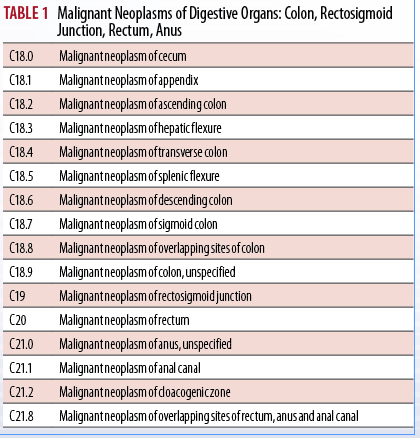 Popular Alternative Screening Method
Cologuard™ is an at-home screening test that detects certain DNA markers and blood in the test-taker's stool. What most people like about this test is that it is noninvasive and can be performed at home. This test has been found to detect 92 percent of colon cancers and 42 percent of high-risk pre-cancers. Most payers cover Cologuard™ under a preventive care benefit. Patients should discuss results with their healthcare provider to determine when they should be re-screened or if further testing is necessary. Cologuard™ is billed with CPT® code 81528 Oncology (colorectal) screening, quantitative real-time target and signal amplification of 10 DNA markers (KRAS mutations, promoter methylation of NDRG4 and BMP3) and fecal hemoglobin, utilizing stool, algorithm reported as a positive or negative result and diagnosis code Z12.11 or Z12.12 depending on the reason for the test. Check with your payer policies to determine if they will cover this test.
Code With Confidence
Pay close attention to coding guidelines and payer policies when billing any procedure or service. This will give you the knowledge and confidence to code your cases with accuracy. Query a provider when there is doubt or if you identify insufficient documentation.
---
Resources:
Medicare Claims Processing Manual, Chapter 18, Section 60,
www.cms.gov/Regulations-and-Guidance/Guidance/Manuals/Downloads/clm104c18pdf.pdf
American Cancer Society, www.cancer.org/cancer/colon-rectal-cancer/about/key-statistics.html, retrieved Jan. 15, 2021
www.cdc.gov/cancer/colorectal/
Latest posts by Nikki Taylor, MBA, COC, CPC, CPMA, CRC
(see all)