Simplify the Revenue Cycle Management Process: Part 2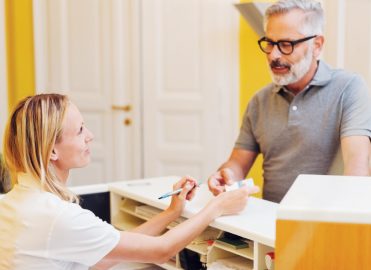 Part two: Master the next steps in the revenue cycle by understanding the impact of patient treatment on claims.
Implementing frequent changes and navigating unforeseen challenges in healthcare can feel like a daunting task. One of the greatest tools a practice administrator has at their fingertips is a comprehensive understanding of the revenue cycle. It is imperative to understand how frequent changes and challenges affect the overall process day by day, month by month. Last month we introduced part one of a comprehensive three-part series on the healthcare revenue cycle. We began by breaking down the process into various components and exploring the impact each has on the overall success of the management process.
In part one of the series, we took a deep dive into the first three components of the healthcare revenue cycle: patient scheduling and registration, insurance eligibility and benefit verification, and copay/deductible collection. In part two, we will focus on the next two steps in the revenue cycle process: patient service and treatment and claims submission.
Step 4: Patient Service and Treatment
We cannot analyze the healthcare revenue cycle without addressing the critical contribution that doctors, nurses, medical assistants (MAs), and other clinical staff make to the most important part of the revenue cycle process — medical record documentation. David Thompson, MD, CHC, FACEP, chief medical information officer at SCP Health, Lafayette, La., contends that "Medical reimbursement is reflective of what you document, not what you do."
So, how does medical record documentation affect the healthcare revenue cycle? The medical record establishes medical necessity for billed services. Any medical auditor will confirm it is common to find insufficient documentation that does not substantiate the billed service(s) or documentation that warrants billing for additional services not previously captured.
Both providers and ancillary staff contribute to the medical record; therefore, it is imperative that they understand the role documentation plays in the revenue cycle process. For example, if a nurse or MA neglects to record an immunization provided to a patient, the billing department cannot capture the charges for the service. Likewise, if the provider performs a joint injection and neglects to document the dosage of medication administered to the patient, the billing department either cannot bill for the services or has to query the provider and an amendment must be made to the medical record.
The American Medical Association (AMA) has substantially altered the CPT® coding guidelines for outpatient evaluation and management (E/M) services in 2021. Without adherence to the new guidelines that impact medical record documentation, I fear that many practices will see a decline in reimbursement.
Additionally, health insurance companies frequently request medical records to determine allowable payment for services. Insufficient documentation in the medical record could result in either a denial or reduced payment for services. We also rely on the medical record to support our argument for payment when filing claim appeals.
Internal auditing and routine education on the importance of a well-documented medical record can promote effective revenue cycle processes, expedite appropriate reimbursement, reduce hassles associated with claims processing, and avoid sticky compliance issues.
Step 5: Claims Submission
Claims submission is the culmination of several crucial steps in the healthcare revenue cycle process. Before a claim can be submitted to health insurance, the services provided to the patient must first be translated into CPT®, HCPCS Level II, and ICD-10 codes. The landscape of coding medical services varies drastically depending upon the processes established by your practice.
In some circumstances, the medical coder reviews the medical record documentation and enters applicable codes along with appropriate modifiers. In other circumstances, the provider or electronic health record (EHR) assigns the codes believed to represent the services provided to the patient and the role of the coder is to validate the code(s) and make any necessary adjustments or corrections. The third alternative employed by many practices is to outsource coding and charge entry to a third-party vendor. This is an enticing option for practices that, based on location or specialty, lack the resources to acquire a qualified coder.
Whichever process your practice utilizes, the importance of obtaining and maintaining well-trained, knowledgeable medical coders is paramount to the revenue cycle process. Not only must medical coders be well versed in coding guidelines, they also must be knowledgeable in specific payer requirements, the impact of service location, incident-to, teaching physician and medical scribe guidelines, and attestation requirements.
Due to the complex nature of medical coding, medical practices that have an established continuing education program will be that much ahead. It is commonplace to reimburse providers and other clinical staff for continuing education but not as common to extend that benefit to medical coders. This benefit is a long-term investment in your revenue cycle process and will ultimately pay for itself.
Managing Claims Submission
Effective management of claim submission is a crucial step in the revenue cycle. Below are a few key tips to keep the claims submission process running efficiently:
Enter charges daily.
Submit claims to the clearinghouse daily.
Work claim edits daily.
Maintain dedicated staff who work claim edits.
Claim Edits Prevent Denials
When discussing claims submission, we must address claim edits. The base function of a claim edit is to prevent a claim denial. There can be several different levels of claim edits, but generally, they are broken into two categories: 1.) edits performed on the claim prior to the claim leaving your billing system and clearinghouse, and/or 2.) payer edits performed once the claim has left your billing system. Regardless of where an edit stops the claim, it allows someone to manually intervene and correct an issue, thereby preventing a claim denial.
Internal billing edits that check Medicare local or national coverage determinations, national correct coding initiative edits, medically unlikely edits, and MAIs are important, but integrated software that can also edit for top denial reasons is optimal. These edits may include mismatched CPT® or ICD-10 codes, upcoding and unbundling, and/or missing or incorrect modifiers. The most cost-effective way to implement internal claim edits is at charge entry since the claim is already being touched by someone at this point. Bottom line: Claim edits are less expensive to work than claim denials.
The delivery and documentation of the treatment a patient receives and how efficiently that service is translated into a claim have a critical impact on the overall health and success of the revenue cycle. In part three of this series, we will explore deeper into the revenue cycle after the claim has been submitted to health insurance by addressing remittance processing, denial management, and back-end patient collections.
---
Resources:
https://blog.pmmconline.com/blog/revenue-cycle-management-explained
https://revcycleintelligence.com/features/exploring-the-fundamentals-of-medical-billing-and-coding
https://www.scp-health.com/providers/blog/think-with-your-ink-4-reasons-why-proper-medical-record-documentation-is-vital#:~:text=Clear%20and%20concise%20medical%20record,maintain%20the%20continuum%20of%20care
https://revenuecycleadvisor.com/news-analysis/qa-creating-effective-claims-edit-team
https://www.physicianspractice.com/view/why-getting-claims-right-first-time-cheaper-reworking-them
Latest posts by Jessica Whitney
(see all)