Cerumen Removal Coding Depends on Impaction, Method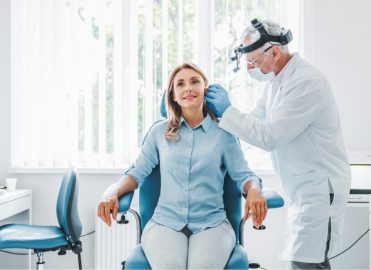 Know when to separately report impacted ear wax removal and how.
Impacted cerumen (ear wax) in the human ear typically is extremely hard and dry, usually is accompanied by pain and itching, and can have an unpleasant odor. It can also cause an ear infection, dermatitis, and hearing loss. The healthcare practitioner will use irrigation/lavage or instrumentation to remove impacted ear wax. The method for extracting the impacted cerumen determines whether you should bill either CPT® code 69209 or 69210.
Reporting 69210
Report 69210 Removal impacted cerumen requiring instrumentation, unilateral if the physician or other qualified healthcare professional uses instrumentation to remove impacted cerumen from the patient's ear(s). CPT® code 69210 captures the direct method of impacted ear wax removal using curettes, hooks, forceps, and suction. Documentation should indicate the equipment used to provide the service.
CPT® considers this procedure unilateral and states, "For bilateral procedure, report 69210 with modifier 50." Contradictory to CPT®, Medicare considers this a bilateral procedure and prices it as such. Do not append modifier 50 Bilateral procedure to this code for Medicare claims; instead, report 69210 with one unit regardless of whether one ear or two ears are attended to.
Commercial payers may have different rules for billing unilateral procedures performed bilaterally on non-Medicare patients. UnitedHealthcare, for example, says in its commercial reimbursement policy (2021R0023A), "The use of modifiers LT or RT will be recognized as informational only when the procedure with 'unilateral or bilateral' in the description is performed on only one side." Other commercial payers, such as Stanford Health Care, specify for you to follow CPT® guidelines and append modifier 50 for non-Medicare patients.
Reporting 69209
CPT® code 69209 Removal impacted cerumen using irrigation/lavage, unilateral reports removal of impacted cerumen by irrigation and/or lavage. This method is less invasive than 69210: A continuous, low-pressure flow of liquid (e.g., saline solution) is used to gently loosen impacted cerumen and flush it out, with or without the use of a cerumen softening agent (e.g., cerumenolytic), which may be administered days prior to, or at the time of, the procedure.
As with 69210, although CPT® considers this code to be unilateral, Medicare instructs not to append modifier 50 to 69209, and to instead report the number of units. Again, check non-Medicare patients' payer policies for billing guidelines on modifier use with this code.
Either 69209 or 69210, but Not Both
Only one method of removal of impacted cerumen (i.e., either 69209 or 69210) may be reported when both are performed on the same day on the same ear. CPT® 69210 has higher relative value units than 69209 to capture the added complexity of the procedure.
When to Report an E/M Code
When the sole reason for the encounter is the cerumen removal, do not report a separate evaluation and management (E/M) service. You may only report an E/M code with 69209 or 69210 if the following criteria are met:
The initial reason for the patient's visit was separate from the cerumen removal;
Otoscopic examination of the tympanic membrane is not possible due to the impaction;
Removal of the impacted cerumen requires the expertise of a physician or other qualified healthcare professional; and
The procedure requires a significant amount of time and effort.
When all of the above criteria are clearly documented in the patient's medical record, append modifier 25 Significant, separately identifiable evaluation and management service by the same physician or other qualified health care professional on the same day of the procedure or other service to the E/M code.
Per CPT® Assistant (March 2016), "For the removal of cerumen that is not impacted, report the appropriate evaluation and management (E/M) service code (eg, 9920[2]-99215, 99221-99223)."
When to Report G0268
For Medicare claims, HCPCS Level II code G0268 Removal of impacted cerumen (one or both ears) by physician on same date of service as audiologic function testing is appropriate to report (instead of 69209 or 69210) when the physician or other qualified healthcare practitioner removes impacted cerumen from a patient's ear(s) on the same date as a contracted or employed audiologist performs audiologic function testing on the patient.
---
Resource:
CGS Medicare, June 4, 2014:
https://cgsmedicare.com/partb/pubs/news/2014/0614/cope25861.html
Latest posts by Renee Dustman
(see all)
2 Responses to "Cerumen Removal Coding Depends on Impaction, Method"