Refine Provider Coding Practices with CBRs
In Billing
March 1, 2021
Comments Off

on Refine Provider Coding Practices with CBRs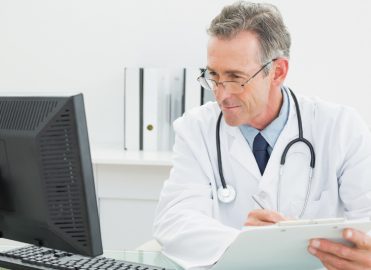 Avoid compliance issues and erroneous billing by utilizing comparative billing reports to educate providers.
How do your billing submissions and code selection compare to those of your peers? Even the most compliant billing and coding processes can benefit from comparisons and analyses of other claims and billing data. To evaluate this data, develop provider education, and raise awareness of peer claim submission patterns, the Centers for Medicare & Medicaid Services (CMS) initiated the Comparative Billing Report (CBR) program in 2010.
CBRs are designed to protect the Medicare Trust Fund by focusing on areas that may be vulnerable to compliance, billing, and/or coding issues. To this end, a "CBR team" works to identify clinical areas with the potential to significantly affect the Medicare Trust Fund, analyzes claims data associated with those areas, and generates individualized CBRs for providers.
What Is a Comparative Billing Report?
CMS defines a CBR as a free comparative data report that providers can use as an educational resource and a tool to improve their current practices. A CBR compares providers by specialty, as well as on a state and nationwide level and summarizes a provider's Medicare claims data statistics for areas that may be at risk for improper Medicare payment. These possible improper payments may result from incorrect coding/billing of a claim or when the treatment provided to the patient wasn't medically necessary and in line with Medicare payment policies. While a CBR cannot identify improper payments, it can alert providers if their billing statistics look unusual compared to those of their peers.
Note: In 2018, CMS combined the CBR program with the Program for Evaluating Payment Pattern Electronic Reports (PEPPER) to put both programs under one contract.
Why Does CMS Issue CBRs?
CMS is required by law to protect the Trust Fund from improper payments. To meet this goal, CMS employs a number of strategies including provider education, medical reviews for early detection, and data analysis. CMS considers the CBR process to be an educational tool that supports their efforts to protect the Trust Fund. CBRs serve several purposes on the provider side, as well.
The feedback gained from CBRs facilitates accurate medical billing and adherence to coding guidelines, which in turn, enhances the integrity of claims submission. Early detection of any outliers in your billing and/or prescribing processes can help guide a compliance program that will help to support compliant operations in your own organization. Looking at specific coding guidelines and billing procedures can increase education and improve future billing and/or prescribing practices.
What Triggers a CBR?
Providers may receive a CBR when an analysis of their billing and/or prescribing patterns differ from their peers. Analysis of provider practices is performed for each CBR topic, and specified metrics within the CBR determines whether a report will be sent to a provider based on their individual results. The metrics for every CBR are created according to the CBR topic and the potential risk to the Trust Fund.
Receiving a CBR is not in any way an indication of, or a precursor to, an audit. On the contrary, it is a free report that allows for internal review and assessment of coding and billing processes to confirm compliant practices and suggest which processes may need adjustment.
Not all providers receive a CBR, but it is important to pay attention to the CBR program and the distributed reports to stay abreast of areas for which your providers may be at risk.
How Are CBR Topics Selected?
To identify relevant topics for CBRs, the CBR team researches the vulnerability of claims for errors and the potential educational value to providers. CBR topic selection is a detailed process involving resource research and data analytics, beginning with an analysis of nationwide claims submissions, and followed by an examination of the results as they relate to coding guidelines and Medicare payment policies. These analyses confirm that a topic will provide useful information and education.
The CBR team uses data and statistics from published coding guidelines, as well as documents sourced from government organizations, to clarify areas of claims submission that are vulnerable to improper payments. For example, CMS' National Correct Coding Initiative Policy Manual, the CPT® code book, and reports released by CMS, the Office of Inspector General, and the Comprehensive Error Rate Testing contractor may contribute to topic selection and CBR creation.
Note that the CBR team does not set policies or interpret CMS or Medicare Administrative Contractor guidelines. Their role is to coordinate with CMS for discussion and interpretation of the necessary information for each CBR topic.
How Are CBRs Created?
The creation of the CBR and its metrics is at the heart of the CBR process. The results generated during the topic selection phase are used to create unique criteria to identify outliers in the data analysis comparisons. The outliers are then used to generate valuable comparative data for providers. The criteria for each CBR vary according to data analytics, results, and statistical inquiries, and they are the basis for identifying the providers that will receive a CBR.
After the CBR team selects a topic and analyzes the data to identify outliers, the process of creating the CBR content begins. CBRs include the following five detailed sections that explain all facets of the CBR topic:
Introduction: Identifies the specific clinical area addressed in the CBR and the criteria that must be met for a provider to receive a CBR.
Coverage and Documentation Overview: Identifies the CPT®, ICD-10-CM, and/or HCPCS Level II codes used in the report analyses. This section also summarizes the provider's utilization related to charges, units, and beneficiary count for the topic.
Metrics: Describes the metrics included in the report, as well as the peer group definitions (usually the nation and the provider's state), which are used to identify outliers who will receive a CBR based on metric comparisons.
Methods and Results: Presents a national-level summary of the number of providers and the overall claims submission volume for the topic. Also included in this section is the individual provider's results for each of the metrics.
References and Resources: Lists the references and resources used to create the CBR.
How Can I Access My Report?
CBRs are distributed to providers through email, fax, and letter communication, using the contact information listed in the Provider Enrollment, Chain, and Ownership System (PECOS). Providers should check their PECOS information periodically and update it, as needed, to ensure they can be contacted and receive CBR information.
CBRs are electronic files stored in a secure portal (Figure 1) for online access through the CBR website. Due to the confidential information contained within CBRs, only the provider that has been issued the CBR, including any authorized personnel, may access the report. The portal provides a secure way to access CBRs, and authorized users can download them as PDF files for future reference and review.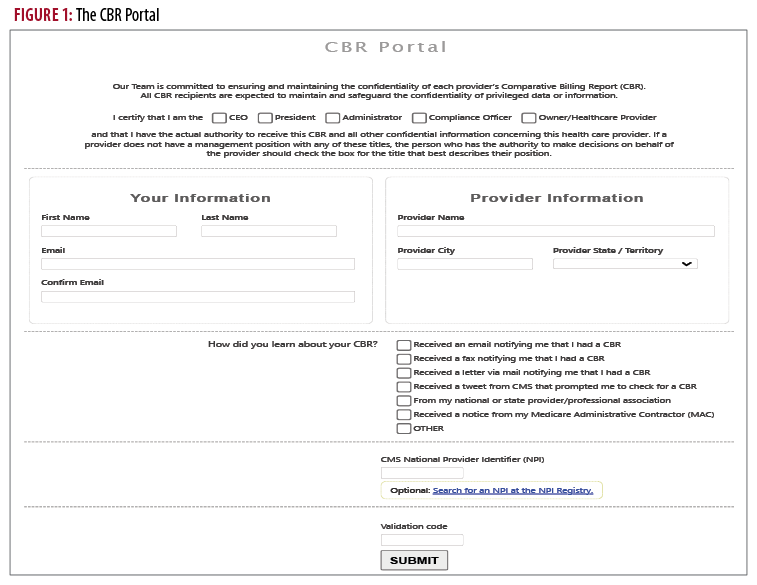 CBR Example: Office Visits by Nurse Practitioners
In June of 2020, the CBR team released a CBR focused on nurse practitioners who bill for new and established evaluation and management (E/M) services reported with CPT® codes 99201–99205 (new patients) and 99211–99215 (established patients). The report provided data related to the charges for the codes, units, and patients who received the new or established visits from nurse practitioners.
Data found in the 2019 Medicare Fee-for-Service Supplemental Improper Payment Data report reflects projected improper payment rates for high-level E/M services. For example, possible improper payment rates for CPT® code 99214 represent over $423 million in projected improper payments, and code 99215 carries an improper payment rate that represents over $108 million in projected improper payments. This data supports the CBR topic selection and the creation of metrics within the CBR.
The CBR metrics are then created to provide a snapshot of Part B claims submissions of E/M levels 4 and 5 care as compared to the provider's peers. The metrics for this CBR were created to take a more detailed look at the higher-level CPT® codes for E/M services for nurse practitioners:
Metric 1 – Percentage of allowed units for new and established patient E/M levels 4 and 5 (99204, 99205, 99214, 99215). This metric tells us what percentage of all the E/M services performed throughout the analysis year were reported with these high-level service codes.
Metric 2 – Percentage allowed amounts for levels 4 and 5 new and established patient services codes. This metric looks at the dollar amount attached to the high-level E/M CPT® codes that were submitted throughout the year; it is a calculation of the allowed amount for these codes.
Metric 3 – Percentage of beneficiaries that received those high-level E/M services. This metric examines the percentage of beneficiaries who received high-level services from a nurse practitioner.
CBR recipients were selected based on specific criteria unique to the CBR topic:
1. Significantly higher compared to either state or national averages in any of the three metrics (i.e., greater than or equal to the 90th percentile);
2. Has at least 10 total beneficiaries with claims submitted for new patient CPT® codes or at least 120 total beneficiaries with claims submitted for established patient CPT® codes; and
3. Has at least $1,200 in total allowed charges for new patient CPT® codes or $18,000 in total allowed charges for established patient CPT® codes.
In addition to the metric outcomes and comparisons, the CBR includes a graph (Figure 2) that represents the provider's billing trend over three years (2017–2019) for the total number of beneficiaries at service levels 4 and 5.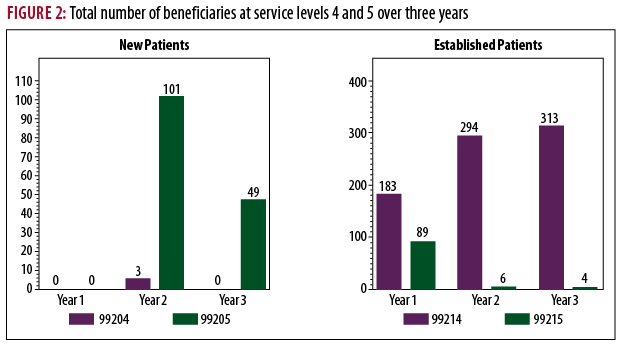 Compliance is constantly evolving and expanding to every area of patient care administration. More than ever, correct coding, billing, and prescribing play key roles in claim submission and protection of the Medicare Trust Fund. CBRs support compliance and encourage education by raising awareness and offering tailored knowledge for recipients. All providers, coders, administrators, and managers can take advantage of the wealth of education, analyses, and resources that accompany each CBR topic to support compliance in their organization.
Where to Find Additional Resources
The CBR team provides various resources about the process. Visit the CBR website at
https://cbr.cbrpepper.org/Home to see sections for the most recently released CBRs and information regarding upcoming CBR releases. For each CBR topic and release, you'll find links to a sample CBR, training materials, a recorded webinar, the data set for the CBR analysis, and a link to access your CBR through the portal. This page also contains links to join the mailing list to stay up to date on any announcements, to provide feedback on CBRs, and to submit a CBR success story.
The helpful resources page https://cbr.cbrpepper.org/Help-Contact-Us houses a frequently asked questions link and a link to submit a question to the CBR Help Desk. Be sure to review the frequently asked questions before submitting a Help Desk ticket.
---
Resource:
https://www.cms.gov/files/document/2019-medicare-fee-service-supplemental-improper-payment-data.pdf
Latest posts by Annie Barnaby
(see all)