Develop Effective Work Relationships
By Lee Fifield
April 1, 2021
Comments Off

on Develop Effective Work Relationships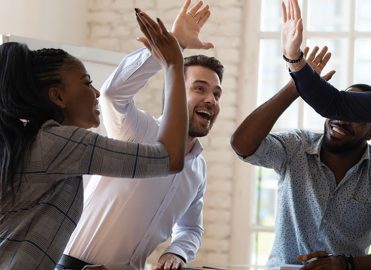 Learn how to make working well with others work for you with courses from the AAPC Member Development Library.
Having the right technical skills to do a good job is paramount to pleasing your boss and finding satisfaction in your work. But no one works in a bubble — you must also have the emotional skills that enable you to get along and cooperate with your colleagues. Human beings are not, however, born with interpersonal skills. They must be studied and practiced until they become second nature.
To help members develop and improve their interpersonal skills, AAPC offers third-party online courses in our Member Development Library.
Let's Get Personal
There are several courses on interpersonal skills in the online library, including:
Humor, Sarcasm, and Conflict: This lesson focuses on how fun and humor in the workplace can help employees be more creative, make better decisions, and get along with coworkers. You will learn the fine line between appropriate humor and rudeness, as well as the harm of sarcasm and teasing. Knowing how to incorporate a level of playfulness into everyday tasks will minimize boredom and fatigue, reduce stress, and boost morale.
How to Effectively Handle a Difficult Employee Attitude Problem: Anyone who has worked in an office for any length of time has run into one: That coworker who frustrates you and your colleagues with their nasty behavior. In this course, you will learn how to deal with the effects of negative coworkers to improve your work environment.
Developing Empathy: This video lesson is the first of two in the two-part "Empathy as a Soft Skill" series. The lesson will show you how to become more empathetic at work and in life. You will learn what empathy is and how to differentiate it from sympathy. By the end of the lesson, you will be familiar with a specific process for treating others with empathy at work.
Bridging the Empathy Disconnect: This video lesson is the second of two in the two-part "Empathy as a Soft Skill" series. It continues building your empathy skills by highlighting what NOT to do in your efforts to be empathetic at work. As an illustration, you will consider two basic categories of non-empathetic people and learn how they miss the mark when it comes to empathizing with others. When you understand where people go wrong in showing empathy, you will be able to truly identify with the thoughts, feelings, and attitudes of others.
How to Be Liked and Respected: If you want to learn how to cultivate a positive reputation and develop positive relationships at work, then this course is for you. Six video lessons discuss how to be likable by getting to know others and define the relationship between likability and respect. The cost of being disliked and how to transform negative relationships into positive ones are also covered.
How to Be a Considerate Coworker: Good workplace etiquette is essential when showing consideration for those you work with. This video lesson provides general tips on having good workplace etiquette, including thinking before you speak, showing up on time, and avoiding offensive language and images.
Confident or Arrogant: Confidence is highly desired in the workplace. It is grounded in experience and self-worth and is inspirational to others. But what happens when you are faced with arrogance? Arrogance is destructive and stems from insecurity. In this course, you will learn how confidence creates and arrogance destroys, as well as how to interact with arrogant employees.
Who Exactly Needs Emotional Intelligence? The Dark Side of EI: Emotional intelligence (EI) refers to the ability to perceive, control, and evaluate emotions. It has been touted that EI is the hidden quality that makes people successful. In this lesson, you will learn how to recognize and respond to the emotions of others.
5 Traits of a Great Workplace: This video lesson is designed to outline the key traits of an outstanding workplace: meaningful mission, fulfilling work, positive culture, people focus, and transparent communication. You will learn how each of these traits should be implemented in the workplace and why they contribute to a desirable environment.
Tip: These courses are great for AAPC local chapter meetings, too!
Check Out Your Courses
AAPC offers courses on a range of subjects in addition to interpersonal skills, including time management, productivity, leadership, cybersecurity, and harassment.
To browse the course list, log in to your AAPC member account at www.aapc.com and click on the Resources tab. Select Member Development Library from the list of resources on the left. At the top-right of the Member Learning Library page, you'll see the number of vouchers you can use toward the courses. Members receive 25 FREE vouchers annually, which can be used to purchase these courses (a $49.95 value per course). Each course requires one voucher.
Review the courses and select the ones you want to watch. Follow the directions at the top of the webpage for accessing the courses. After you select a course and redeem your voucher, you will receive an email from AAPC with the rest of the information you will need to access the course you selected. All courses expire on the date of your membership renewal. (Your vouchers also reset, rather than carry over, so be sure to use them!)
Reach Out
In this fast-paced world, it can be easy to overlook our work relationships as we strive to do more, better, faster. Interpersonal relationships can fall by the wayside in our quest to do more in less time. But our work relationships can make the difference between a great place to work and a bad or even toxic one. Learning how best to interact with your colleagues will not only make it easier to work with them, but it may also lead to better productivity and efficiency all around. So, take the time to add this soft skill set to your work goals. You won't regret it.
Latest posts by Lee Fifield
(see all)