Pain Management: What Does Medicare Cover?
April 1, 2021
Comments Off

on Pain Management: What Does Medicare Cover?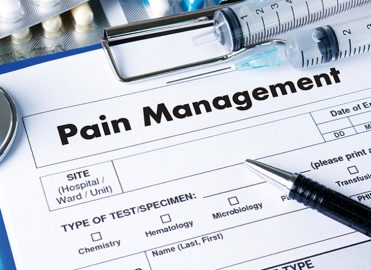 Alternatives to opioids bring conventional and complementary approaches together to manage chronic pain.
Despite recent advances in our understanding, diagnosis, and pain management, a pain crisis exists, particularly in the case of chronic pain, which remains a significant national public health problem. In the face of an escalating opioid crisis, at least 100 million people with chronic pain aren't getting the relief they need and are seeking alternatives. Those suffering from pain should talk with their doctor, before making any decisions, to learn about the various pain management options and weigh risks against benefits.
Pain management can be expensive, and patients may not know what Medicare covers. Read on to learn more about the many ways pain can be managed and which parts of Medicare cover different treatments and services. We'll start by discussing the impact of chronic pain and the U.S. opioid epidemic, which will shed some light on why alternative management options demand attention.
Pain and the U.S. Opioid Crisis
Pain is a component of many conditions, and chronic pain is emerging as a health concern on its own. More than one in five Americans is living with some form of chronic or severe pain. Of those 50 million people, 8 percent, or about 19.6 million, experience pain that limits their activities and interferes with their daily lives. In fact, more people live with chronic pain than cancer, diabetes, and heart disease combined. Given the scope and gravity of this problem, governmental agencies and the healthcare community have stepped up efforts to improve the care of those suffering from pain.
At the same time, our nation is facing an opioid epidemic that, over the past two decades, has resulted in an unprecedented rise in the number of deaths from overdose associated with prescription opioids, heroin, and synthetic opioids. The facts speak for themselves. According to the Centers for Disease Control and Prevention (CDC):
Roughly 25 percent of patients receiving long-term opioid therapy in a primary care setting struggle with opioid use disorder.
The number of opioid prescriptions dispensed has quadrupled since 1999, even though the amount of pain that Americans report remains unchanged.
Of the estimated 10.3 million people age 12 or older who misused opioids (in 2018), 96 percent of them abused prescription pain relievers.
More than 128 people die every day from overdoses involving opioids, with approximately one-third of those deaths involving prescription opioids.
Pain is the most common reason for seeking medical care. And in the wake of the U.S. opioid epidemic, physicians have been urged to significantly curb their opioid prescriptions to prevent patients from becoming addicted. CDC researchers recommend a multidisciplinary approach and development of integrative multimodal pain treatment plans that focus on optimizing function, quality of life, and productivity while minimizing risks for opioid misuse and harm.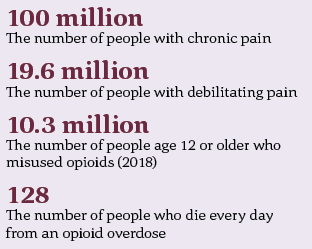 What Does Medicare Cover for Pain Management?
While individuals may be open to trying alternative therapies to control their pain, which ones they ultimately choose is largely influenced by their insurance coverage. Original Medicare, Medicare Advantage, and prescription drug plans cover many treatments and services used in pain management, but which benefit the coverage falls under will depend on how the treatment is given or administered. Here is an overview of the parts of Medicare that help pay for pain management and what therapies are included.
Medicare Part A
Part A provides hospital insurance. It pays for eligible hospital inpatient, home health, hospice, and skilled nursing facility care. Patients may receive pain management if they're an inpatient at a hospital or long-term care facility for reasons such as trauma or major injury, surgery, or treatment of a serious illness (e.g., cancer). While they're admitted to the hospital, their pain may need to be managed by several different therapies or services such as medications (both narcotic and non-narcotic), occupational therapy (OT), physical therapy (PT), or spinal injections.
To be eligible for coverage, the individual must be enrolled in either an Original Medicare plan or a Medicare Part C (Medicare Advantage) plan. A doctor must deem their hospital stay medically necessary and the hospital must participate in Medicare.
Medicare Part B
Part B provides medical insurance, which helps pay for outpatient services, such as those to diagnose and treat medical conditions, as well as preventive care. Physicians may recommend several different therapies to help manage pain. Outpatient services covered under Part B for pain management include:
Medication: Doctors may order prescription medications or over-the-counter (OTC) drugs to help control pain. In some instances, prescribed drugs may be covered under Part B, for example, when a doctor is required to administer the medication in their office. Most prescription coverage is provided by Medicare Part D, which pays for many types of pain-relieving prescription drugs, as well as a Medication Therapy Management (MTM) program.
Acupuncture: Research suggests that this form of traditional Chinese medicine, which involves the stimulation of specific points on the body, usually through the insertion of thin needles into the skin, may help low back pain. Part B covers up to 12 visits in 90 days for chronic low back pain and an additional eight sessions if the patient is improving.
Physical therapy: Used for both acute and chronic pain issues to improve strength or correct how a person uses their body, PT is a rehabilitative process that may include techniques, such as heat and cold, exercise, massage, and electrical stimulation, to improve functioning and manage pain.
Occupational therapy: With OT, a therapist evaluates how pain limits a person's activities and assists them with durable medical equipment and pain management strategies. OT helps patients get back to their normal daily activities; ones that they may not be able to do while in pain. It must be medically necessary and certified as such by the provider.
Chiropractic spinal manipulation: Data suggest chiropractic care, which involves manipulation or adjustment of the spine and other parts of the body, is as effective at treating lower back pain as PT. Part B covers manual manipulation of the spine to correct subluxation only. No other tests or services are covered.
Behavioral health integration services: Sometimes, people with chronic pain also have problems with anxiety and depression. Cognitive behavioral therapy is a form of psychotherapy that focuses on helping patients change their thinking patterns to change unhealthy behavior or moods. Medicare covers behavioral health services, as well as individual and group therapy, if certain conditions are met.
Alcohol use disorder screening and counseling: Chronic pain can lead to substance abuse. Alcohol use can increase in those suffering from chronic pain and may lead to various health problems. Part B covers one alcohol misuse screening and up to four brief counseling sessions a year.
Depression screening: Chronic pain can trigger depression and depression can make pain worse. Detection and intervention are key. Part B covers one screening per year with doctors who can order treatment or give a referral.
Other forms of outpatient pain management also covered under Part B include outpatient injections (i.e., steroid injections, epidural injections), transcutaneous electrical nerve stimulation (TENS) for pain after a surgical procedure, and autogenous epidural blood graft (blood patch) for headaches after an epidural or spinal tap. Note that before these services and procedures are covered, a Medicare-enrolled doctor must certify that they are medically necessary to treat the patient's condition.
Medicare Part C
Medicare Advantage Plans, also known as Part C or MA plans, are an "all in one" alternative to Original Medicare. They are offered by Medicare-approved private insurance companies. These bundled plans include Part A and Part B and usually Part D. Some Part C plans offer additional benefits, which may include additional pain management services.
Most MA plans offer coverage for things Original Medicare doesn't pay for, such as vision, hearing, dental, and fitness programs (gym memberships or discounts). Plans can be tailored for individuals who would like to choose to cover even more benefits. For example, some plans may offer coverage for services like transportation to doctor visits, OTC drugs, and services that promote health and wellness. Check with plan providers to explore available coverage options.
Medicare Part D
Part D provides prescription drug coverage that will help pay for medications and programs to manage them. MTM programs are covered and can offer help navigating complex health needs. Through MTM, patients will get a comprehensive review of their medications, explanations of why they are taking them and potential side effects, and analysis of whether their costs can be lowered.
Medicare Part D plans have a list of the drugs they cover; this is called a formulary. Each plan can have a different formulary that may limit the type of pain medication a person's doctor can order. Costs will vary from plan to plan, as will the coverage amount for different drugs. Both Part D and some MA plans cover many of the medicines commonly prescribed for pain management, which include but are not limited to:
Narcotic medications, such as hydrocodone (Vicodin®), oxycodone (OxyContin), morphine, codeine, and fentanyl
Neuroleptic medications, such as gabapentin, that depress nerve function and relieve nerve pain
Anti-inflammatory medications, such as celecoxib (Celebrex®)
There are several OTC medications that may help manage pain, such as acetaminophen, ibuprofen, naproxen, and lidocaine patches, but Part D does not cover OTC medications; only prescription drugs. Some Part C plans may include an allowance for these medications. Check with each plan to verify coverage.
For more information on effective and responsible chronic pain management, see the CDC Guideline for Prescribing Opioids for Chronic Pain (https://bit.ly/3knmVEk).
The Takeaway
Millions suffer from pain, a pervasive condition that has been recognized as a national public health problem. The practice of pain management is further complicated by the opioid crisis, and they have influenced one another as each has evolved in response to various pressures and influences. To improve the quality of pain care and evade opioid-related risks, experts recommend a multidisciplinary approach that includes a comprehensive, multimodal plan for pain management.
Although prescription pain medications can be effective at treating some types of pain in the short term, there are serious risks of opioid use disorder and overdose — especially with high doses and long-term use. To minimize the risk of negative effects and ensure the best possible treatment of your patient's pain, advise them to learn about alternative therapeutic options and discuss all treatments, including complementary and nonpharmacologic practices, with the doctor. Whether one approach is safer and more effective than another will depend on their unique situation. Together, they can devise a tailored plan to combat the devastating effects of pain.
Pain management therapies and services are generally covered by most Medicare plans if they are certified as medically necessary by a healthcare provider.
---
Resources:
https://www.medicare.gov/coverage/pain-management
https://www.hhs.gov/sites/default/files/pmtf-final-report-2019-05-23.pdf
https://www.cdc.gov/drugoverdose/data/index.html
Latest posts by Stacy Chaplain
(see all)