Is It an Audio-Only Phone Call or a Virtual Check-In?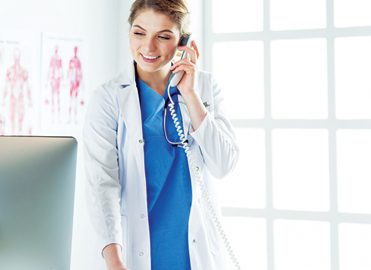 Make sure your practice's billing for communication technology-based services is compliant before the OIG comes calling.
For providers billing communication technology-based services (CTBS) with no video capabilities — that is, an audio-only phone call — the coding options are either virtual check-ins or telephone e-visits.
Many practices have misinterpreted the guidelines and have been billing audio-only services incorrectly as office visits. These practices may now be under scrutiny by the Office of Inspector General (OIG); audio-only CTBS is now on the OIG's 2021 Work Plan. Physician practices need to self-audit their telehealth services to make sure they can withstand a formal audit if ever questioned.
Get the Facts on Audio-Only Calls
In response to the COVID-19 pandemic, the Centers for Medicare & Medicaid Services (CMS) made many policy changes that allowed Medicare beneficiaries to access a wider range of telehealth services without having to travel to a healthcare facility. This coverage began March 6, 2020, and remains in effect throughout the public health emergency (PHE) for COVID-19. The PHE was extended for another 90 days on Jan. 7, taking it through April 21.
The following question was posted on the CMS FAQ Sheet in April 2020 and again in September 2020, with the same response:
QUESTION: What are the requirements to use regular office visit codes (i.e., new patient codes 99201–99205 and established patient codes 99212–99215) with telehealth? Can regular office visit codes be used for just a phone call between the provider and the patient, that does not include video capability?
ANSWER: No. The provider must use a telecommunication application, which mandates audio AND video, under Waiver 1135. They can use their smartphone or cell phone for doctor-to-patient phone calls, and most cell phones have a video chat option (e.g., Facetime, Skype, Google Duo, Facebook Video Chat). The CPT® codes for these services are 99441–99443. Again, these codes are for temporary use during the PHE as CMS does not (and will not continue to) reimburse for phone calls when there is no PHE.
CMS also added audio-only phone calls to the telehealth list. Append modifier 95 Synchronous telemedicine service rendered via a real-time interactive audio and video telecommunications system for any approved telehealth services, but only for the duration of the PHE. This may change once the PHE has ended.
In the CMS table below, there is a clear difference between office visits, phone call visits, and e-visits (patient portal visits). Keep these guidelines in mind when coding remote visits.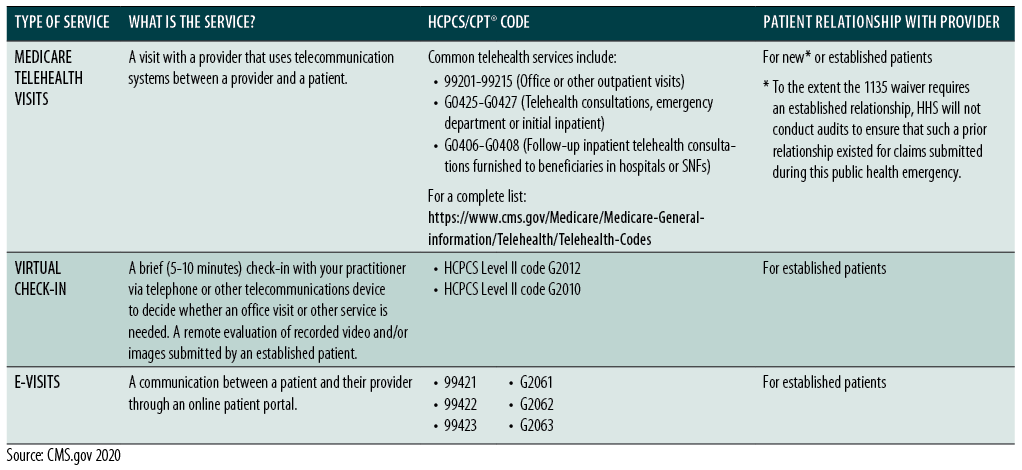 UPDATE: HCPCS Level II codes G2061-G2063 were deleted Jan. 1, 2021. Report e-visits on or after Jan. 1, 2021, for Medicare patients with CPT codes 98970-98972.
99441–99443 vs. G2010–G2252
Phone call codes during the PHE range from 99441–99443, all based on time. These codes, referred to as non-face-to-face evaluation and management (E/M) services, are only to be reported by a physician or qualified healthcare professional (e.g., nurse practitioner (NP) or physician's assistant (PA)) who may also report E/M services.
During the PHE, the phone call is an alternative for a patient who does not have the ability or access to connect to an audio and video platform for their encounter. A phone call code must have total time documented, be initiated by the patient, and is for established patients; although, during the PHE, this last rule has been relaxed and new patients are temporarily allowed.
Do not use these codes if the telephone service ended with a decision to see the patient within the next 24 hours or next available urgent visit appointment. The work of this service is considered "pre-service" work of the subsequent scheduled office visit. These codes also have a seven-day global, so you cannot report a phone call if the same provider has seen the patient for the same problem within the past seven days.
In the 2021 Medicare Physician Fee Schedule (MPFS) final rule, CMS created a post PHE HCPCS Level II code for crosswalk phone call encounters. Once the PHE ends, you will use G2252 for a patient who does not have access to audio and video technology and for "medical discussion … when the acuity of the patient's problem is not necessarily likely to warrant a visit, but when the needs of the particular patient require more assessment time from the practitioner than the G2012," per CMS in the 2021 MPFS final rule. Again, this is not valid until after the PHE ends.
The virtual check-in codes (G2010 and G2012), in contrast, are for brief audio-only or a picture-only encounters to determine the need for an office visit. Report these codes if the physician or other qualified healthcare professional has a medical discussion with the patient and gives treatment advice with no follow-up visit. Do not report these codes if the patient is scheduled for the soonest available appointment or comes to the clinic for an appointment within 24 hours, or was seen in the past seven days.
An example of a virtual check-in: A patient who has frequent urinary tract infections and feels one coming on, calls the practice and speaks to the NP, who subsequently phones in a prescription for an antibiotic. The patient has not been seen by the practice for two months and is not scheduled for an appointment. The NP tells the patient to let them know if there are any further problems, but that an in-person appointment is not necessary at this time. Eight minutes of clinical discussion is charted, along with the prescription call-in. This is reported as G2012.
Check with commercial payers on virtual check-in coverages as many will reimburse for them, but HCPCS Level II codes are usually for Medicare patients only.
The expansion of telehealth and the rules governing coverage for remote services during the PHE has been considerable, but for the majority of it, temporary. Keep looking for CMS alerts and updated articles in AAPC's Healthcare Business Monthly.
Latest posts by Terry Fletcher
(see all)
13 Responses to "Is It an Audio-Only Phone Call or a Virtual Check-In?"