AAPC Introduces Practice Management Initiative
By admin aapc
In AAPC News
June 7, 2010
Comments Off

on AAPC Introduces Practice Management Initiative
New initiatives help build practice managers' skills and proficiency
SALT LAKE CITY — June 7, 2010 — AAPC, (www.aapc.com), the nation's largest training and credentialing association for medical coders, introduced its new practice management initiative. This effort will help physician practices operate more efficiently with improved business practices, increased accuracy with claim submissions, and less risk, enabling physicians to receive appropriate compensation even with reduced reimbursements.
"Today's health care system is changing so quickly, and so must the roles of physician practice employees, making it crucial to have the best processes, knowledge, training and skills necessary to manage a medical practice," said Reed Pew, CEO and president of the AAPC. "Over the next year we will begin providing practice managers, coders, billers and others with a set of tools and initiatives to continuously improve the business side of the practice."
Physicians are faced with rapid changes to the health care system and shrinking reimbursements. In order to maintain or increase compensation, it will be critical for them to create far more efficient processes that will require highly qualified personnel. ICD-10 implementation, constant changes to billing rules, shrinking profit margins, mandated EMRs and more attention to compliance are just a few of the stresses every practice faces. Therefore, AAPC is developing a set of virtual practices (by specialty) to train multiple positions within a practice, while providing valuable experience outside the pressures of the practice. Participants will literally assume a job and do the work virtually, with accuracy and efficiency measured. In addition, AAPC will develop curriculum, testing and credentials for non-clinical positions in the practice.
About AAPC
AAPC (www.aapc.com) is the nation's largest training and credentialing association for medical coders. It provides credentials to coders in physician offices, outpatient facilities and payer environments. The credentials AAPC offers are Certified Professional Coder (CPC®), Certified Professional Coder – Hospital (CPC-H®), Certified Professional Coder – Payer (CPC-P®) and Certified Professional Medical Auditor (CPMA®), as well as 19 specialty-specific credentials and the Certified Interventional Radiology Cardiovascular Coder® (CIRCC®) credential. These credentials represent the industry standard for medical coding. The AAPC provides a wide variety of benefits to its more than 95,000 members worldwide.
Latest posts by admin aapc
(see all)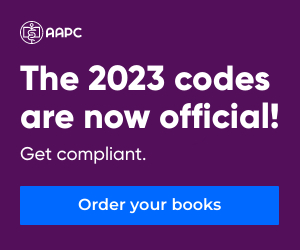 No Responses to "AAPC Introduces Practice Management Initiative"