Providers Say EHR Criteria Are Unattainable
By admin aapc
In Billing
June 11, 2010
Comments Off

on Providers Say EHR Criteria Are Unattainable
The opportunity to comment on the Medicare and Medicaid electronic health record (EHR) program proposed rule, which defines "meaningful use" of EHR technology and outlines provisions governing EHR incentives, ended March 15. Industry stakeholders, however, continue to voice their concerns about the criteria providers must meet to receive incentive payments, saying they are unrealistic and impossible for even the most sophisticated facilities to obtain.
No one is arguing that widespread EHR adoption would not be advantageous.
"Effective use of electronic health records will greatly improve patient safety, quality and efficiency," Dr. Thomas H. Lee, president of the physician network at Partners HealthCare, tells The New York Times. The question is: Can providers realistically adopt meaningful use as outlined in the proposed rule in the given five-year timeframe? In Dr. Lee's opinion, the approach taken by the Obama administration is based on "unrealistic expectations" and "unachievable timelines."
The American Recovery and Reinvestment Act of 2009 (Recovery Act) authorizes the Centers for Medicare & Medicaid Services (CMS) to provide reimbursement incentives for eligible professionals (EPs) and hospitals who are successful in becoming "meaningful users" of certified EHR technology within a given timeframe.
On Dec. 30, 2009, CMS announced a notice of proposed rulemaking (NPRM) to implement these provisions of the Recovery Act. The proposed rule would phase in more robust criteria for demonstrating meaningful use in three stages.
Stage 1
The proposed Stage 1 criteria for meaningful use focus on electronically capturing health information in a coded format, using that information to track key clinical conditions, communicating that information for care coordination purposes, and initiating the reporting of clinical quality measures and public health information.
The proposed criteria for meaningful use are based on a series of specific objectives, each of which is tied to a proposed measure that all EPs and hospitals must meet to demonstrate that they are meaningful users of certified EHR technology.
For Stage 1, which begins in 2011, CMS proposes 25 objectives/measures for EPs and 23 objectives/measures for eligible hospitals that must be met to be deemed a meaningful EHR user.
In 2011, all of the results for all objectives/measures, including clinical quality measures, would be reported by EPs and hospitals to CMS, or for Medicaid EPs and hospitals to the states, through attestation.
In 2012, CMS proposes requiring the direct submission of clinical quality measures to CMS (or to the states for Medicaid EPs and hospitals) through certified EHR technology.
CMS says it will propose through future rulemaking two additional stages of the criteria for meaningful use.
Stage 2
Stage 2 would expand upon the Stage 1 criteria in the areas of disease management, clinical decision support, medication management, support for patient access to their health information, transitions in care, quality measurement and research, and bi-directional communication with public health agencies.
Stage 3
Consistent with other provisions of Medicare and Medicaid, Stage 3 would focus on achieving improvements in quality, safety and efficiency, focusing on decision support for national high-priority conditions, patient access to self-management tools, access to comprehensive patient data, and improving population health outcomes.
Earned Income
For EPs, the incentive payment is equal to 75 percent of Medicare allowable charges for covered services furnished by the EP in a year, subject to a maximum payment in the first, second, third, fourth, and fifth years of $15,000; $12,000; $8,000; $4000; and $2,000, respectively. For early adopters whose first payment year is 2011 or 2012, the maximum payment is $18,000 in the first year. The Medicare incentive payment formula for hospitals is a bit more complicated.
According to the Times, even leaders in health information technology (HIT) like Kaiser, Intermountain, the Mayo Clinic and Partners HealthCare System have their doubts that these goals are obtainable.
"The criteria for achieving meaningful use of electronic health records are too aggressive," Dr. John R. Maese, a leader of the New York chapter of the American College of Physicians, tells the Times. "The time frame to adopt the technology is unrealistic."
Congress also has been pressing the Obama administration to ease off on the all-or-nothing approach to offering incentives for meaningful use of an EHR system, according to the Times, but no assurances have been given.
"We want to strike a balance," said Jonathan D. Blum, CMS deputy administrator. "We will provide flexibility for doctors and hospitals, but push them to elevate their performance. Final rules will be out in early summer."
The New York Times has more on this story.
Latest posts by admin aapc
(see all)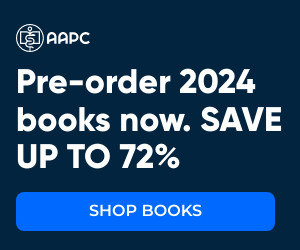 No Responses to "Providers Say EHR Criteria Are Unattainable"