HEALTHCON 2021: Day 1 Wrap-Up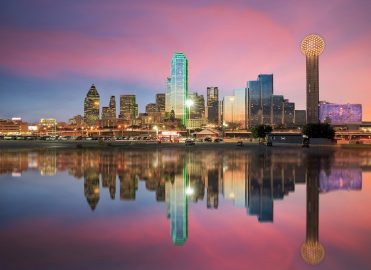 AAPC sets the tone for what's to come for healthcare business professionals.
AAPC's HEALTHCON 2021 commenced March 28 with CEO Bevan Erickson welcoming in-person and remote attendees from the Gaylord Texan hotel in Dallas. After what all the world has been through this past year, it was a pivotal moment for so many members to be able to gather again, albeit socially distanced. "It felt great," Erickson said. "Always better to interact with people (in this case our members/customers) in person." Adding to the excitement, Erickson inspired attendees with his optimistic outlook for the business of healthcare.
Attendance Is Very Rewarding
Erickson got everyone's attention when he started giving away prizes. As custom, he selected an in-person attendee who he would hand over the keys to the presidential suite. He followed this up by giving out five tickets to the AAPC Throwdown Hoedown event on Tuesday night. He then selected two remote attendees to receive free registrations to HEALTHCON 2022 in Washington D.C.
State of AAPC Address
Erickson went on to talk about what AAPC accomplished in 2020, not the least being AAPC membership reaching an all-time high of 200,000 last fall. AAPC also administered and proctored 20 percent of nearly 50,000 exams online. "With more students realizing improved training through AAPC or our licensed and certified instructors, pass rates moved up to 45 percent," Erickson said. Why only 45 percent? Because average exam pass rates are 84 percent for students who train with AAPC and only 27 percent for students who train through other third parties that don't use AAPC's curriculum. "Partly because of this, and seeing students pay two to three times as much for less successful training elsewhere, we began offering financing, and for 2020 we did it with zero percent interest rates," Erickson said.
According to Erickson, AAPC also trained 50,000 students last year and gave away 20,000 free training courses. As if that wasn't enough, the credentialing association tasked with "Advancing the Business of Healthcare" launched a virtual instructor-led training program with synchronous learning. "The outcomes have been fantastic," Erickson said, "with course completion doubling and pass exam rates at 93 percent."
AAPC also launched seven advanced training courses last year; began publishing medical reference guides and specialty newsletters; and merged AAPC Coder and SuperCoder to create the new and improved Codify®.
AAPC continues to ship hundreds of thousands of code books each year, as well. "But with each annual edition, they get a little better," Erickson said, hinting to a big upgrade for next year's books. An announcement that AAPC will donate to the Hardship Fund $1 for every code book sold in 2022 got a round of applause from the audience. "If you do the math, that's a sizeable hardship fund," Erickson said. The money is used to help members who have fallen on hard times pay to maintain their membership and credentials.
AAPC also kicked off its first boutique conference in 2021 and there are plans to expand these niche conferences, as well as global conferences. Meanwhile, the company continues to hold weekly webinars. "Next to local chapter meetings and other free CEU offers we have, webinars remain probably the least expensive …." Erickson said.
That's good to know because it's times like these that everyone is looking for low-cost options. For the first time in more than a decade, salaries dropped 3.5 percent, keeping pace with the gross domestic product. "Yet, we've seen recovery and will continue to see improvements," Erickson said. As such, AAPC will continue its expansion into a global market. You can read about this in the article "AAPC Is Advancing the Business of Healthcare Worldwide" in the May issue of Healthcare Business Monthly.
Industry Trends To Watch
Although making predictions may be an act in futility, Erickson said, "some clear trends have emerged." Referring to the Pestel analysis macro factors political, legal, environmental, technological, social, and economical, Erickson says that we have all been affected by the pandemic either directly or indirectly.
A pre-pandemic trend that was accelerated by the pandemic is the disruption of healthcare delivery. Several industry sub-trends include:
An inpatient to outpatient shift
Hospital clinic to home (home health)
In-person to online (telehealth)
Physician to non-physician practitioners
Regulation/Deregulation
Processes/procedures
Segregation of infectious from non-infectious
Separation of high-risk patients from low-risk patients
Other trends persist, despite the pandemic. "There continues to be pressure on cost containment," Erickson said. Subtrends in this area include:
Fee-for-service shifting to value-based payment models
A shift from prescriptive to preventive medicine
A move to bundled and episoidic payments
Priority for quality over quantity
Accountable care organization expansion
Hospital pricing transparancy
Another trend accelerated by the pandemic is the shift from the analog world to digital across all industries. Because of the pandemic, everything has shifted virtual "and it may never go back," Erickson said. This creates new problems, though. A Stanford University study on the psychological effects of spending hours per day in video conferences found that excessive amounts of closeup eye contact were highly intense. They also found that constantly seeing yourself during video chats was fatiguing, "at least for those of us who aren't good-looking, like me," Erickson joked. Video chats also reduce our mobility and are more exhausting, according to the study.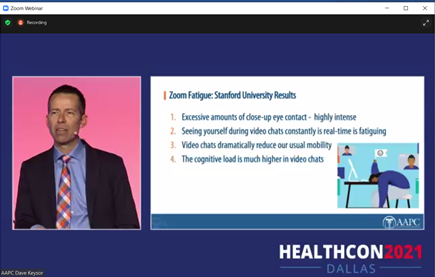 The shift to online and virtual is part of a much larger macro trend. The proliferation of technology enablement includes the quest for big data. Sub-trends include telemedicine, block chain technology, and artificial intelligence (AI).
The healthcare industry has been slow to adopt these technologies, however, because they are complicated to adopt, regulation approval is difficult, and there is a lot of complacency and misguided values. There are also many misconceptions about automation and AI.
You can't stop technology, however. Today, 8 percent of claims are coded and processed with full automation. "Within the next decade, we can expect more than half to be handeled by some form of computer-assisted coding," Erickson said, starting with simple outpatient claims because they're easiest to code. As the use of automation increases, so too will the volume of claims (see below slide). Erickson contends that volume and complexity will increase the need for highly-trained coders.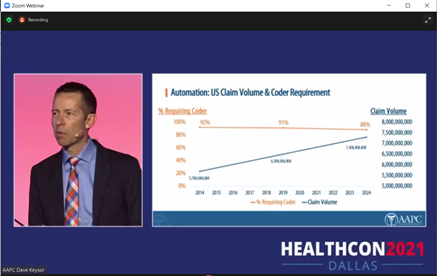 Erickson went on to quell fears many medical coders have about computer assisted coding (CAC) replacing them. According to Erickson:
We've a long way to go before we fully replace humans.
Asserted productivity gains don't equate to the value of a full-time employee.
Level of assistance varies from code lookup to auto coding.
CAC penetration is over-stated.
Coding is contextual, utilizing non-text inputs.
Additional complexity more than offsets CAC productivity gains.
New roles are emerging faster than existing roles can be displaced.
"Our membership is evolving, too," Erickson said. "Today, only 38 percent of our members state that they are primarily a coder" as they have moved into doing other things. "I believe the adoption of technology will create new roles more than it displaces," Erickson said. Rather, automation can relieve us of mundane aspects of our work and allow us to move on to more interesting and challenging opportunities. "It's actually a path to career growth and advancement and better pay," Erickson said about the future of AI.
Erickson wrapped up his presentation with is usual campaigning for personal and professional growth. Fix your weaknesses (Top Grading), develop many skills (Competency Taxonomy), and determine your reason for being (IKIGAI). Look for future articles on these methods in Healthcare Business Monthly.
Chapter of the Year Award
Next up, AAPC National Advisory Board President Michael D. Miscoe, JD, CPC, CPCO, CPMA, CASCC, CCPC, CUC, CEMA, AAPC Fellow, announced the recipient of the 2020 Chapter of the Year award: Jefferson City, Missouri. You can read all about the chapter in the May issue of Healthcare Business Monthly.
AAPC Chapter Association Vice Chair Heather Allen, LPN, COC, CPMA, also announced Emily Schmidt, CPC, CPC-P, CDEO, COMA, CRC, CPC-I, as the the 2020 Officer of the Year.
2021 E/M Lessons Learned
Senior Vice President of Products Raemarie Jimenez, CPC, CIC, CPB, CPMA, CPPM, CPC-I, CDEO, CANPC, CRHC, CCS, followed with a question-and-answer session regarding all the evaluation and management (E/M) documentation guideline changes that went into effect this year. She also announced imminent changes expected to other areas of E/M in 2023. Look for a new column in Healthcare Business Monthly in which Jimenez answers all your E/M questions, beginning with the May issue.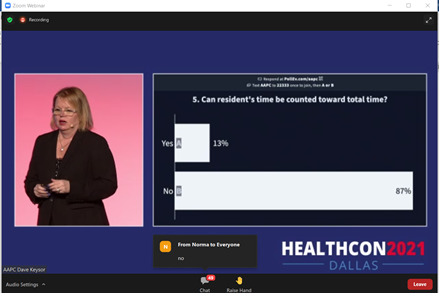 Lots More Tomorrow
The conference continues through Wednesday, the 31st. Come back to the Knowledge Center for daily wrap-ups of HEALTHCON 2021 as it unfolds in Dallas and virtually.
Latest posts by Renee Dustman
(see all)