HEALTHCON 2021: Day 2 Wrap-Up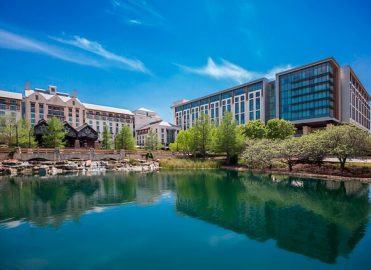 Day two of HEALTHCON 2021 began with attendees getting fired up for the day in the HCON Chat. One member wrote, "This is my first ever HEALTHCON conference, I am so excited for today!!!" There were lots of pictures of four-legged "helpers" and work areas for those attending virtually, as well as pictures, questions, and comments from Sunday's panels. National Advisory Board (NAB) officer Colleen Gianatasio, CPC, CPC-P, CPMA, CRC, CPC-I, commented "There are so many great topics on the agenda for today." She was certainly right about that, starting with a fantastic keynote speech.
A Great Way to Start the Day
The morning keynote session delved into shifts in healthcare delivery. Robin Farmanfarmaian, professional speaker, entrepreneur, and author delivered an informative, energetic presentation on trends, technologies, and influences that are changing the standard healthcare delivery model — in other words, where patients receive their care. Farmanfarmaian, who has had a lifelong struggle with her health and uses many of the technologies and services she spoke about, was clearly passionate about the subject of healthcare, stating "I believe in paying back by paying it forward."
The number of ways currently available (and on the horizon) to deliver healthcare beyond the typical clinic or hospital visit became apparent quickly. Telemedicine is part of the move toward patient point-of-care changes, but it is just the tip of the iceberg.
At-home diagnostic services and products were touted as a major part of the new trends in technologies. No longer does a patient have to go to the doctor's office for every test and treatment. Direct-to-consumer test kits can obtain a blood sample at home with a simple finger prick; telemedicine kits that include four diagnostic devices and a camera can help patients achieve more in-depth telemedicine visits with their doctors; and even blood draws, IV hydration, at-home hospitalizations, and more can be ordered through a doctor and carried out by a nurse in the home. These services and products will be increasingly important to help patients with chronic conditions and to help older patients "age in place."
It may seem like a cliché, but Farmanfarmaian proved that there really is an app for everything now (or there very soon will be). Data collected at home through a smartphone, smart speaker, or remote patient monitoring device can be automatically sent to a patient's care team through an app, reporting on everything from oxygen level to heart rate.
Farmanfarmaian also spoke about the push to do more dialysis at home, the emergency triage treatment and transport model, the increase in the use of virtual reality and artificial intelligence (AI) in all areas of healthcare, and much more. She posits that "AI will not replace doctors — doctors who use AI will replace doctors who don't."
You can imagine there were a lot of questions to wrap up the keynote speech!
A Wealth of Knowledge
One of the first general sessions of the day saw Jaci J. Kipreos, COC, CPC, CDEO, CPMA, CPC-I, CEMC, and Amy Lee Smith, COC, CPC, CPMA, instruct attendees on how to create chart audits and communicate their findings, and why it is so important. Kipreos began the session by discussing pre-audit meetings and how it sets the foundation for what is to come. Concerning this planning phase Kipreos said, "If you plan correctly, the rest comes easy." She then talked about following guidelines, audit steps, and creating grids for the new E/M guidelines. Smith concluded the session with guidance on presenting audit findings and results. The presentation was full of tips, example scenarios, and example spreadsheets, and each presenter allowed plenty of time for questions.
Many chose to join Sharon Oliver, CPC, CDEO, CPMA, CRC, AAPC Approved Instructor, for her presentation on hypertension. Oliver began by defining what hypertension is, stating that it's a "silent killer" because by the time it's caught, damage may have already occurred. She provided a thorough overview that included discussion of risk factors, causes, preventative measures, and the various stages of the disease and associated signs and symptoms. Attendees got an in-depth look at the pathophysiology of hypertension and the changes that may occur over time when high blood pressure remains uncontrolled.
Oliver then focused on diseases that result from chronic uncontrolled hypertension and how to code for these and other cardiac conditions. The discussion included an explanation of how high blood pressure contributes to conditions, such as congestive heart failure and chronic kidney disease, the impact of these diseases, and diagnosis codes for these comorbidities. Attendees walked away from the session with a clear picture of the gravity of hypertension, how to recognize common comorbid conditions, key coding considerations, and the documentation requirements for selection of the accurate level of MDM and to meet medical necessity.
Michele M. Stevens, CPC, CPMA, led a session which broke down infusion, hydration, and injection coding for coders of all experience levels to understand. Beginning with underlying definitions and expanding into a series of detailed clinical scenarios, Stevens highlight all the most important components of accurate and compliant infusion, hydration, and injection coding.
Sharon J. Oliver, CPC, CDEO, CRC, CPMA, AAPC Approved Instructor, offered an in-depth look at the coding mechanics surrounding cardiac catheterizations and percutaneous coronary intervention (PCI). Throughout her session, she navigated her way across the coding spectrum to drive home the point by applying helpful examples to each code range. Oliver did a masterful job of breaking down each procedure from an anatomical perspective in order to make complicated concepts more decipherable.
A Topic for Everyone
MariaRita Genovese, CPC, led session attendees through a topic that continues to demand our attention — cultural sensitivity and diversity. She covered the various types of diversity that an organization may have within its ranks and how various lived experiences and perspectives can truly strengthen teams and boost performance. Diversity can encompass race, gender, religion, and age, and all of these aspects of identity can affect medical decisions for patients, as well as day-to-day experiences — and career trajectories — for staff. Genovese noted, "As diversity in the workforce grows at an amazing rate, more and more organizations are now focusing on diversity in the workplace by emphasizing recruitment, selection, retention, and training."
Kathleen Michele Rowland, BSN, RN, CPC, CEMC, CHC, CPC-I, presented a session on medical necessity. She explained that it is a critical concept in coding that must be well understood, as medical necessity of services has gradually risen to the top as a focus for reimbursement. In addition to defining medical necessity and what to consider when determining it, Rowland provided insight into how medical necessity is viewed/supported from the perspective of a payer, coder, and auditor.
Rowland stressed the importance of accurate ICD-10 coding and appropriate supporting documentation. She suggested that you encourage your providers to detail their thought processes in the medical record and to include information that supports severity level and patient status. The focus then turned to medical decision making and differentiating it from medical necessity. Rowland rounded out the session by reviewing the different areas of medical decision making, focusing on how medical necessity is supported by the services provided. Attendees came away from the session with a thorough understanding of how payers make a medical necessity determination and the documentation needed to support the codes reported.
Don't expect to see Medicare extend public health emergency (PHE) telehealth rules beyond the end of 2021, when the PHE is set to expire, said AAPC NAB officer Stephanie Sjogren, CPC, CDEO, CPMA, CPC-I, in her presentation "Telemedicine: Achieving Documentation and Coding Success." The presentation, which provided a comprehensive review of pre- and current PHE telehealth documentation, concluded with Sjogren cautioning that we will return to Medicare's originating site (the patient's location) requirements, which will only allow telehealth to be conducted from Health Professional Shortage Areas (HPSAs) and Metropolitan Statistical Areas (MSAs). Also, Sjogren believes, Medicare will no longer allow telehealth to originate from a patient's home, nor will Medicare allow you to provide telehealth using non-HIPAA-compliant software such as Skype and or Facetime beginning in 2022.
"Hospital Compliance During a Public Health Emergency" presented by Marianne Durling, MHA, RHIA, CCS, CDIP, CPC, CPCO, CIC, AAPC Approved Instructor, touched on the future of telehealth as well. Durling reminded attendees how compliance was approached before COVID and the rules for pre-pandemic telehealth before moving on to discuss the many issues associated with compliance under a PHE. Exceptions allowed by The Centers for Medicare & Medicaid Services (CMS) vs. exceptions allowed by individual states, the many different types of waivers put in place under the PHE, and telehealth expansion were all covered. Durling finished by challenging attendees to think about what compliance will look like after the PHE. After so much effort invested in getting healthcare running smoothly under altered circumstances in the last year, Durling wonders "How do we continue to make it work?"
Lots More Tomorrow
The conference continues through Wednesday, the 31st. Come back to the Knowledge Center for daily wrap-ups of HEALTHCON 2021 as it unfolds in Dallas and virtually.
Latest posts by Lee Fifield
(see all)