HEALTHCON 2021 Ends on a High Note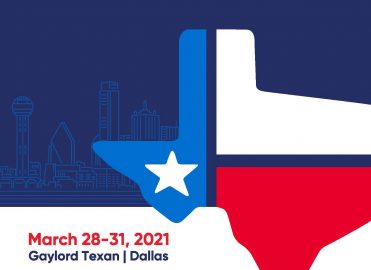 AAPC's posse pulls off a hootin' good time for all!
AAPC HEALTHCON 2021 attendees finished up day four of conference, heads whirling with essential information they will take back to their workplaces; hearts full after connecting with their peers; and bodies destressed after an inspiring talk from motivational speaker Denise Ryan.
Whether remote or in person, attendees of this hybrid event had the opportunity to chat up friends and colleagues, visit with exhibitors, such as the American Medical Association, Elsevier, NAMAS, HCPro, ZHealth Publishing, and many others, and participate in prize-winning challenges.
In-person attendees also had the privilege of being pampered at the spectacular Gaylord Texan Hotel and attending the Throwdown Hoedown event on Tuesday night. Yeeha!
Here's a sample of what attendees were saying about the HEALTHCON experience in the HCON Chat room: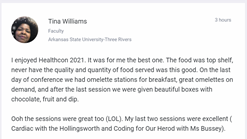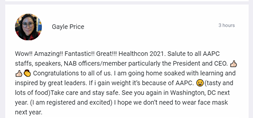 The Meat and Potatoes
The educational sessions are the main course of HEALTHCON and this year didn't disappoint. A huge shoutout is deserved to all the amazing presenters and support staff. Session topics on Wednesday morning covered the gamut, including presentations on performing internal billing audits, common urology denials, and hospital/post-acute strategies for continuum of care.
In the session "Sepsis 2, 3 What?" Heather Greene, CPC, CIC, CPMA, showed attendees how to evaluate documentation and identify the clinical indicators that support a diagnosis of Sepsis-2 or Sepsis-3. After sharing personal stories to demonstrate the severity of sepsis, she broke down the various goals of documentation. Attendees left this session with a better understanding of how to differentiate Sepsis-2 from Sepsis-3 and the clinical indicators that support each diagnosis, as well as the intricacies of querying clinicians when additional information or clarification is needed.
Victoria Hollingsworth, RCIS, BS, and Aisha Hollingsworth Thomas, CPC, CPMA, CEMA, AAPC Approved Instructor, combined forces in "Cardiac Anatomy, Pacers, Defibrillators, Stents, and Leads," to discuss some key details and analysis surrounding cardiac pacemaker, defibrillator, and stent coding. They explored the anatomy involved with each procedure, the diagnoses that accompany them, and the most up-to-date guidance on CPT® code reporting. To boot, they included some fascinating historical facts highlighting the history behind these cardiovascular services.
In "Medical Necessity – Defining, Documenting, and Defending," presenters Kimberly Garner Huey, COC, CPC, CPCO, and Sandra Kay Giangreco Brown, RHIT, COC, CPC, CPC-I, CPBGC, explained the importance of pulling out the physician's thought process from the note. Why did the patient need to be seen today? What was the reason for the service? What is the patient's history? Regardless of the latest changes to evaluation and management (E/M) guidelines, the documentation needs to tell the whole story. In many cases, ICD-10-CM codes are not specific enough and they need supporting documentation to back them up.
In "Create a High Accountability and Engagement Culture with a Workload System," Adrienne Lloyd, MHA, FACHE, discussed how practices and organizations can best appeal to patients while also keeping resources in check by making sure all employees are maximally engaged and accountable. Knowing how to make workflow as smooth as possible while defining and distributing workload can make a big difference. Invest the time and energy into collecting and analyzing data to best understand where your practice or organization can improve, without overstretching highest-performing workers any more than necessary, and also helping to boost lower-performing workers' productivity.
In "Correct Coding and Billing for Outpatient Mental Health Providers 2021," Laurie Bouzarelos, MHA, CPC, led a session on coding for behavioral health practices. She began her presentation by saying "There are only a few codes. This should be easy. Why is this a big deal?" The next hour was spent answering that question by providing in-depth explanations of each of the code sets for outpatient mental health because, according to Bouzarelos, while there are a small number of codes used in this subsection of healthcare, "there are a lot of opportunities for error."
In "Using Regulatory Guidance to Support Audit Findings," speaker Pam Brooks, MHA, COC, PCS, CPC, AAPC Fellow, warned of the use of medical organizations' data, forums, non-current coding resources, and internal policies on regulations. They are often out of date or too specific and cannot always be applied effectively to your organization and audit policies. Brooks recommends looking at federal standards and resources. For extra help, review the relative value unit files for the year you are auditing in the Medicare Physician Fee Schedule. And stay on top of your state's medical board guidance to cross reference state regulations versus federal requirements.
The final HEALTHCON sessions of the day included equally relevant topics such as ICD-10-CM coding for diabetes, coding common primary care setting procedures, and clinical documentation improvement and inpatient coding.
In "Hot Topics and Changes in Otolaryngology Coding," Lawrence M. Simon, MD, MBA, walked attendees through a variety of ear, nose, and throat (ENT) procedures that are most commonly performed in otolaryngology practices. In addition to the coding fundamentals, Simon discussed recent procedural changes impacting day-to-day coding. From otology to functional endoscopic sinus surgery (FESS) to E/M coding, Simon covered on all the ENT essentials.
AAPC National Advisory Board Secretary Leonta Williams, CPC, CPCO, CRC, CEMC, CHONC, broke down the complex topic of cancer coding in her presentation "The Ins and Outs of Neoplasm Coding With Comorbidities." Accurate coding hinges on being able to identify key words in the documentation. "It's important to define the cancer," Williams explained as she reviewed the different types of benign and malignant neoplasms, their developmental stages, how they are classified, and the effects of cancer treatments. She then delved into what provider documentation should include, emphasizing the importance of identifying the reason for the encounter or admission to ensure accurate coding. Williams used several coding scenarios to illustrate how what's documented impacts code selection and sequencing, pointing out several documentation pitfalls to avoid.
Linda Duckworth, CPC, CHC, gave a riveting presentation in "Behind the Audit 8 Ball," making everyone rethink the way they handle claim denials in their office or facility. She stressed the importance to shadow clinicians to see if they are truly capturing the patient's story from beginning to end. And she used personal, relatable stories to illustrate where to find the documentation payers are looking for to support claims.
Chavaun Adrienne Bussey, CPC, Health Information Management Auditor with the U.S. Army Medical Command Headquarters, offered up her extensive knowledge of coding for the Department of Defense (DoD) and the Veterans Health Administration in her presentation "Coding for Our Heroes: Exploring the Uniqueness of DoD and VA Services."
Until Next Time, Ya'll!
No question, HEALTHCON 2021 was a complete success! We can't wait for next year. See you in Washington, D.C. in 2022!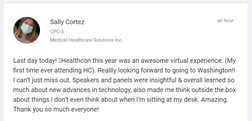 Latest posts by Renee Dustman
(see all)