AAPC Chapter of the Year 2020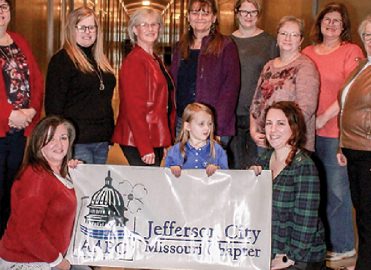 Join us in celebrating with Jefferson City, Missouri on their success!
The purpose of the annual Chapter of the Year Award is to recognize and honor one local chapter that has not only faithfully followed the guidelines for AAPC local chapters, but also has gone above and beyond what is expected of them. Working around the limitations caused by the pandemic in 2020 was no easy feat, but this special chapter overcame the obstacles and met the challenges. Please join us in congratulating Jefferson City, Missouri — your 2020 Chapter of the Year.
Small but Mighty
Upon receiving the news that her local chapter was chosen for the 2020 Chapter of the Year Award, President Linda Martien, COC, CPC, CPMA, CRC, was honestly surprised because of their size. At 180 members, the chapter likes to call themselves "small but mighty." Once she got over the shock, however, Martien reflected that receiving the award is one of the most memorable events in her long association with AAPC. "Professionally, I feel it recognizes the time and commitment our officers have made to the chapter," Martien said. She went on to say, "I don't see this as a personal achievement — all of our officers and members make our chapter what it is – which is great!" Martien would know all about the teamwork involved in growing a local chapter. As a charter member, she served as vice president, and since then, has served in many other positions, including president several times over.
These are the officers who led the way to success in 2020:
President Linda Martien, CPC, COC, CPMA, CRC
Vice President Pam Beck, CPC, CRC
Education Officer Lauri Elston, CPC, COC, CPMA
Secretary Debbie Ford, CPC-A
Treasurer Tammy Inman, CPC-A
Member Development Officer Lindsey Roush, CPC
Doing More With Less
Regardless of their size (or maybe because of it), the Jefferson City chapter makes sure they go above and beyond for their members each year. Marti Johnson, AAPC's director of local chapters, said that one of the things that really spoke to AAPC when considering the chapter's application was that Jefferson City hosted extra exams during this year of COVID, when many chapters weren't hosting any.
In addition to helping their members in need and giving back to the community, here are more ways Jefferson City went above and beyond to encourage learning and member development:
Held 12 meetings, which is double the required six educational events where continuing education units (CEUs) are offered.
Participated in the 2020 Fall Back event in conjunction with their annual seminar in October, held two special seminar events, and held an additional longer meeting.
Scheduled and proctored eight certification exams, which is double the number required, with review classes the week before.
Sponsored a mentoring program and mentored 12 students.
The chapter's biggest event, the annual seminar, is the primary fundraiser for the chapter. Changing from year to year, it is sometimes organized around a theme and sometimes with more variety, but what never changes is the involvement of the chapter's members. Members are asked to tell officers what they want to hear about and from whom to meet the interests of the group as a whole. Martien says, "We've not found it difficult to plan the seminar. I think we've learned over the years." Martien also enthuses that the chapter is very fortunate to have officers and members who are very willing to pitch in and manage all the moving parts, making each year a success.
Finding the Silver Lining
It goes without saying that COVID-19 changed everything last year. Because of the pandemic, officers had to scramble to provide the required education and exam sites. Meeting and exam space that was once readily available was not an option in 2020, and officers had to get creative in finding other venues. But the Jefferson City chapter was not only up to the challenge, they also found the benefits hidden behind the roadblocks.
While they were forced to meet virtually, the chapter still continued to hold monthly meetings without pause via Zoom. They were able to expand their choice of speakers, too, since each speaker did not have to be physically present. The chapter continued to hold monthly officer meetings to discuss chapter business and set meeting agendas, as well as email members at least once a month. Martien said, "When I think about it, we really haven't done a lot different from previous years, other than not meeting in person. We have perhaps had to be a bit more creative in our efforts to stay connected, but everyone has done an outstanding job of making it happen."
How to Become the Next Chapter of the Year
The purpose of the Chapter of the Year Award is to recognize and honor a local chapter that has complied with the Local Chapter Handbook and gone above and beyond what is expected. The honoree is then announced at AAPC's national HEALTHCON event in the spring.
To be eligible for this award, chapter officers must complete the following during their term of service:
Host at least six local chapter education events where certified education units (CEUs) are offered. A minimum of four in-person meetings is usually required, but chapters can opt instead to sponsor four approved chapter meetings, two seminars, or two live virtual chapter meetings.
Schedule and proctor at least four certification exams each year.
Submit all required documentation to AAPC (e.g., profit and loss statement, meeting attendance, etc.).
Participate in officer training.
Uphold AAPC's Code of Ethics.
Special consideration may be made for 2021 nominees due to the public health emergency, but chapters who show the most ingenuity will shine the brightest.
Think your chapter is doing extraordinary things this year? Check www.aapc.com at the beginning of next year for the application (or contact your AAPC Chapter Association representative) and submit it by Feb. 1, 2022, to get in the running for the 2021 Chapter of the Year Award!
Moving Forward
If you haven't noticed by now, the Jefferson City chapter is laser focused on constant growth and member involvement to continually breathe fresh life into the chapter, and 2020 was not going to slow them down. "Our officers worked tirelessly to obtain quality speakers for our meetings, wanting to keep them relevant and interesting. We each reach out to our chapter members and personal networks to find speakers," said Martien.
Showing new members from the beginning that they are welcome and encouraging their involvement is a priority for Member Development Officer Lindsey Roush, CPC, who is at the forefront of growing the membership and making all new members feel welcome. Roush makes it a point to greet everyone as they arrive at in-person meetings. She also contacts all new members with a personal welcome message and Welcome Packet with information about AAPC and the Jefferson City chapter. Newly certified members and those who have been successful at transitioning from a Certified Professional Coder-Apprentice (CPC-A®) to a CPC® also receive a congratulatory message and are "pinned" at an upcoming meeting to recognize their achievements.
Giving Back
Community outreach is a big part of the chapter's mission. Jefferson City involves themselves in a local service project each year. Members choose which charity they wish to support. In 2020, the chapter chose the HALO Project in Jefferson City. The HALO Project provides services for homeless children and those in high-risk situations. It also maintains a home for girls ages 16 to 21 who are non-parenting, pregnant, or parenting. Vice President Pam Beck, CPC, CRC, said, "Our involvement wasn't what we wanted it to be due to the pandemic, so we are carrying it over to this year with hopes of a more active relationship. We will plan to collect either monetary donations or items that they would need to help with the children in need."
"The Hardship Fund is another cause close to our hearts," said Martien. "In fact, it's a line item on our annual budget," she went on to say. This year, the chapter donated $250 to the fund.
A Few Parting Words
When asked to sum up her time as local chapter president, Martien said, "Serving our chapter has made me a better leader, a better listener, and a better person, overall. I have received far more than I have given, in the people I have met, the knowledge gained throughout my career, and the support and friendship of my AAPC family."
Martien also wished to recognize those who have helped along the way, including AAPC's Johnson, and Local Chapter Coordinator Carolyn Hambleton, CPC-A, CIMC. "When they aren't answering our questions or talking us off a ledge, they let us know they are always there for us," said Martien. In addition, she wished to mention Mickie Kummer, the chapter's founding member, current and past officers, and those who are always ready to step up when they see a need, such as Karen Bond, Angela Beard, Beverly Connor, Timmy Colvin, Yvonne Garrard Marsch, Sherla Hagerman, Kristin Heckman, and Patricia Higgins, to name just a few. The chapter is truly tended by all.
Jefferson City has proven that when every officer and member takes pride of ownership in their chapter, great things happen. So, congratulations to all of the chapter officers for leading their members through the murky waters of 2020 and continuing to thrive. And congratulations to the Jefferson City members for coming together to make their chapter a shining success!
Latest posts by Lee Fifield
(see all)