Secrets Revealed for Passing an AAPC Exam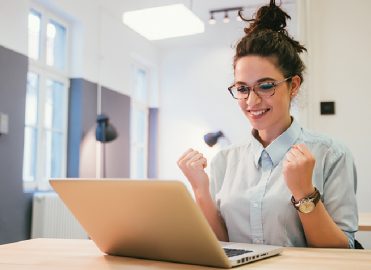 There is more to passing your credentialing exam than studying.
There aren't really any secrets to passing an AAPC credentialing exam. We advertise what you'll need to know on our website. For the Certified Professional Coder (CPC®) exam, for example, we recommend the following steps:
Step 1: Take the online medical terminology and anatomy courses.
Step 2: Take the pathophysiology course.
Step 3: Take the preparation course for the applicable credential.
Step 4: Review the study guide for the applicable credential.
Step 5: Take the online practice exams.
Each step is designed to provide you with the knowledge and understanding you must have to pass the exam. At the very least, you should take the practice exams, so you know what to expect. AAPC also offers online exam reviews.
Time Management Tips
Even after taking these recommended steps for exam prep, many voice their fears of failure and seek out advice from experienced test-takers.
Most examinees agree that the biggest challenge they face when taking an AAPC certification exam is time management. Although you have five hours and 40 minutes to take the written exam (which is taken in two parts if taken online), that time goes quickly.
Here are 8 test-taking techniques that some members have used to overcome their time management hurdles and pass their exam:
1. Leave the hard questions for later. Come back to them after you've completed all the easier questions.
Warning: If you skip a question in the exam book, be sure you skip it on the grid and mark it (using highlighter or blank tabs) in the test book to go back. Otherwise, your answers won't line up correctly and they'll all be wrong.
2. Read the question first. Find out what is being asked before you read the whole scenario. You may not need to read the entire documentation to find the answer.
3. Keep in mind that all answers carry the same weight. The short anatomy questions carry the same weight as the long operative report questions, so don't spend too much time reading operative reports when you can answer a lot of short questions quickly.
4. Don't let noise distractions slow you down. If you are easily distracted by feet tapping, wrappers crumpling, or gum-chewing, bring earplugs to stay focused.
5. Keep an eye on the clock. Bring a wristwatch or an inexpensive stopwatch to pace yourself. If you give yourself two minutes per question and set the watch in two-minute increments to vibrate, it will force you to move on when you are taking too long. Highlight the questions you skip and go back to them at the end with the 40 minutes you'll have to spare.
6. Don't second-guess yourself. Go through the exam as quickly as you can and always go with your first educated answer. If there's a question that is too hard, take your best guess and move on. Never leave a question unanswered.
7. Use the rule-out method. Don't read all the cases; just glance through for keywords to quickly eliminate options. If necessary, use the process of elimination.
8. Set yourself up with props for super-fast code lookup. You can tab, write in, and highlight your books. Bring pencils, pens, and markers. Because you won't have time to read the guidelines during the exam, write abridged versions next to codes that give you trouble. You can also bring and use a ruler, which may help you turn the pages faster or line up the answer sheet to be certain you choose the right row. There are seven reasons why you should use AAPC code books at your exam.
Advice for Test-Takers
Still nervous about taking the AAPC exam? Here are some more tips:
Listen carefully while the proctor reads the instructions. Ask questions before the examination begins if you do not understand the instructions given.
Read the questions carefully. Note such words in the question as not, except, most, least, and greatest. These words are often crucial in determining the correct answer. However, there are no "trick" questions on the exam, so don't waste time worrying about alternate meanings.
If you finish with some additional time, review any questions you are not sure you answered correctly.
Some people find it helpful to look at the possible multiple-choice answers first. This allows you to flip to the right section in your code book before you read the question.
Be sure to read the Exam Certification FAQ on the AAPC website to answer your technical questions and relieve your exam jitters, such as:
Can I bring my cell phone to the exam?
What year's books should I use?
How early should I arrive at the exam location?
In the event you fail your exam on the first try, don't despair. Think of it as practice and take it again at no extra cost. Before you do, though, be sure to read AAPC member Geanetta Johnson Agbona's, CPC, CRC, CPC-I, CBCS, words of wisdom.
---
Resources:
https://www.aapc.com/training/prepare-for-exam.aspx
https://www.aapc.com/blog/45916-7-reasons-you-should-use-aapc-code-books-for-your-examination
https://www.aapc.com/certification/faq.aspx
https://www.aapc.com/blog/25672-failed-the-coding-exam-dont-give-up.
Latest posts by Renee Dustman
(see all)