AAPC Is Advancing the Business of Healthcare Worldwide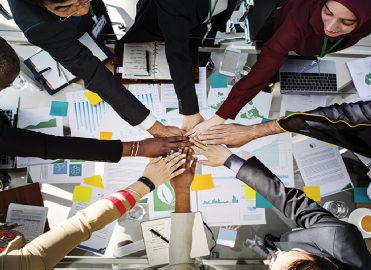 Learn about AAPC's global expansion and the changes underway to support the needs of its growing international community.
Seeing just how far AAPC has come in the last 20 years is exciting. When it was formed in 1988, AAPC had only a handful of members and one credential focused on outpatient medical coding. By the early 2000s, membership had expanded to 40,000 and AAPC started to have its first glimpse of international members in India and the Philippines. In a matter of years, the organization reached 100,000 members, including its first members in the United Arab Emirates (UAE), and added several credentials. Today, AAPC has more than 200,000 members worldwide, offers more than 30 credentials, and provides numerous services and resources to its members including training, books, and tools such as Codify.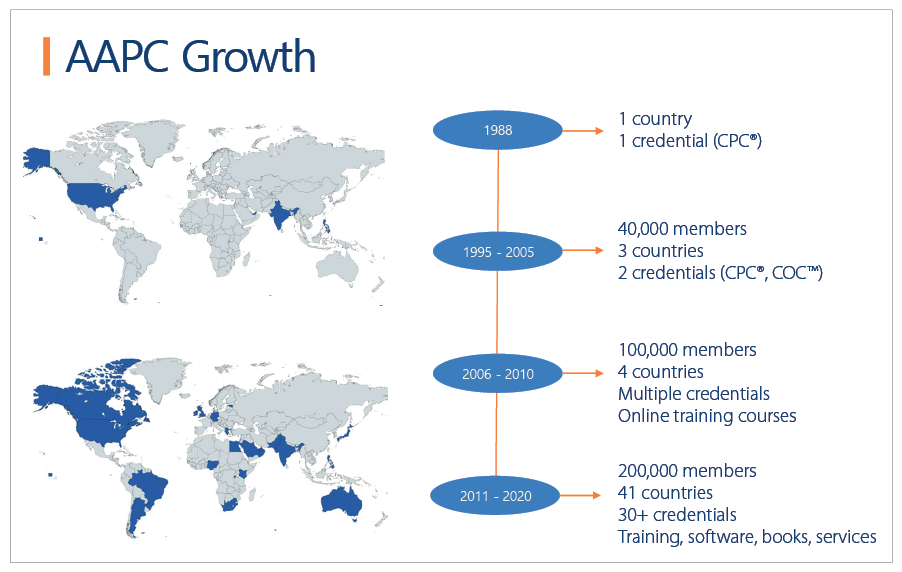 Over the last several years, there has been a growing expansion of AAPC's international membership, which currently spans roughly 41 countries, including Canada, Saudi Arabia, Qatar, Egypt, Kuwait, Pakistan, Brazil, Japan, Ireland, and South Africa. In fact, there are now approximately 35,000 international members, accounting for almost 20 percent of AAPC membership. Thanks to this steady growth, AAPC is now the largest healthcare trade association on the business side of medicine in the world!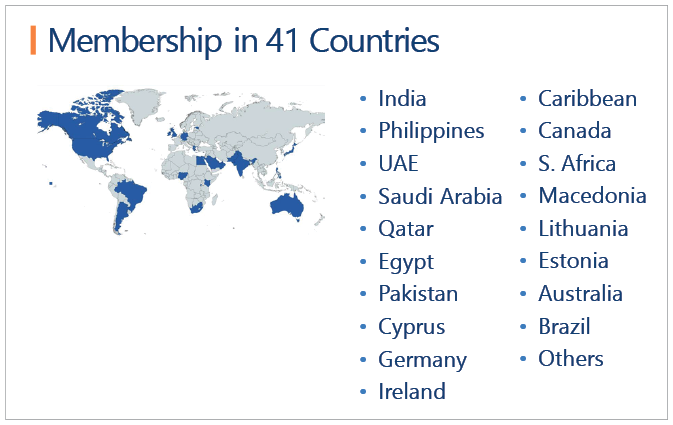 Factors Driving International Growth
This industry boom is largely fueled by a growing number of countries worldwide working to modernize their healthcare systems and adopt various payment models such as insurance-based payments, diagnosis-related groups (DRGs), and other value-based payment systems. To do this, countries that have historically not utilized medical coding for reimbursement purposes are beginning to embrace the need for more sophisticated medical coding, which provides standardization and the utility to package healthcare data into a consumable format for purposes ranging from billing and research to tracking data and improving quality to monitoring and preventing fraud.
This shift toward enhanced medical coding in these countries has, in turn, underscored the need for having qualified, well-trained, knowledgeable medical coders. As a result, more and more countries are accepting medical coding as an acknowledged procession and realizing the value of providing credentialing and certification of those professionals.
Mission Driven
AAPC has worked hard to create an ecosystem that will support its members from the beginning and throughout their careers. This support network is based on AAPC's global focus, which is to
Collaborate with regulators, providers, and payers from around the world to help establish and promote standards related to the fields of medical coding, billing, auditing, and health information management.
Validate working professionals' knowledge, skills, and competencies through industry certifications and credentials.
Support the professional development of industry workers through training, networking, and job growth.
Provide comprehensive solutions and resources to individuals and organizations.
These objectives are what's driving a lot of what AAPC is trying to do: make changes to better support the needs of its growing international community and ensure it continues to provide the ecosystem of support necessary to help members thrive as professionals.
Ecosystem to Support Members
The secret to success for AAPC members is taking advantage of this carefully crafted ecosystem, which provides support through training and certification offerings; professional development opportunities including events, networking, and continuing education; and tools and resources that enable them to do their job effectively and with high quality.
A big part of what supports this ecosystem is AAPC's local chapters, which help provide members with ongoing education, networking, and events at a local level. Currently, AAPC has international local chapters throughout India, UAE, Philippines, Bahamas, Puerto Rico, Guam, and Pakistan, and this list will continue to expand. Upcoming chapters include Saudi Arabia, Egypt, Macedonia, Oman, South Africa, Australia, and Cyprus.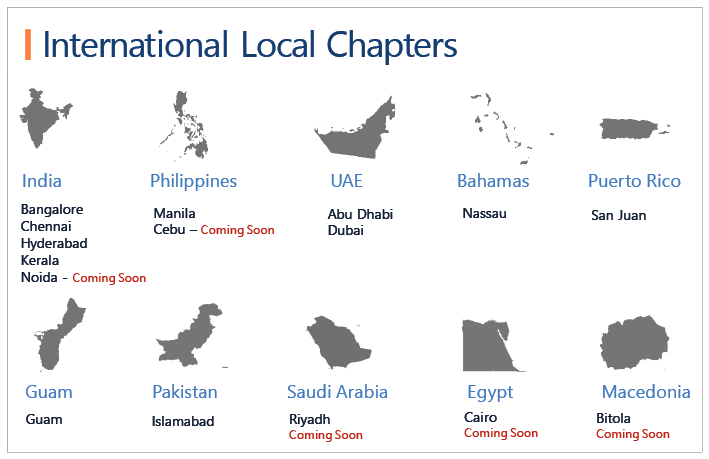 New and Emerging Certifications
AAPC's focus has transformed over time. AAPC — initially known as the American Academy of Professional Coders — went from focusing primarily on the U.S. healthcare marketplace to moving in a more global direction. Several years back, the organization changed its name to just AAPC to better reflect the expansion of global efforts and growth of its international community.
To help support the many countries enacting changes to their healthcare system, AAPC has been working closely with their health ministries, payers, and providers to implement localized standards and guidelines, as well as promote the value of credentialing.
Brazil, which has one of the world's largest public healthcare systems, has been undergoing a digital transformation and adoption of medical coding. At the end of 2020, AAPC launched its first credential in a foreign language in Brazil. The Certified Hospital Coder – Brazil (CHC-B) training is in Portuguese and embraces Brazil's coding classification system. This was done in partnership with the Brazilian Society of Health Information Analysts and one of the country's leading academic institutions, the Lucas Machado Education Foundation. The initial batch of students is currently going through the training program and will soon be ready to sit for the very first certification exam to be held in Brazil.
AAPC is also excited about the upcoming release of its certification for the Kingdom of Saudi Arabia, which provides training and certification for the Australian Classification of ICD-10-AM. Courses provide training for both inpatient and outpatient coding and are designed for those new to medical coding as well as individuals who are experienced in CPT® and ICD-10-CM but would like to do cross-training in the Australian Classification. AAPC has formed an advisory group composed of leading experts to support the Australian certifications and training programs.
Check Out the New AAPC Global Website
As part of its global expansion efforts, AAPC recently launched the AAPC Global website, which will allow AAPC to improve its ability to provide specific information, products, and services, localized to the unique needs and interests of each of the international markets AAPC serves.
AAPC is focused on putting in more infrastructure and improving its ability to effectively serve the growing needs of its international community. As part of this effort, the organization has expanded its training centers and customer service and sales support to international office locations in India and the Middle East. Members in other countries can now more easily interact with AAPC in their local time zones, and those looking to prepare for certification now have access to more robust training support.
The Future Is Bright
AAPC is in the process of formalizing an international advisory board, which will have members that provide broad representation from the provider, payer, and government sectors. This advisory board will help represent the needs and interests of international members, as well as help AAPC monitor global trends and provide guidance on the types of activities it should be involved in worldwide. Some of the things the organization may consider in the future include localizing resources, such as AAPC Forums, and expanding continuing education offerings, the job portal for country-specific locations, and international conferences. Stay tuned!
Latest posts by Stacy Chaplain
(see all)