J&J Vaccinations Remain Paused After Rare Clotting Cases Emerge
In COVID-19
April 19, 2021
Comments Off

on J&J Vaccinations Remain Paused After Rare Clotting Cases Emerge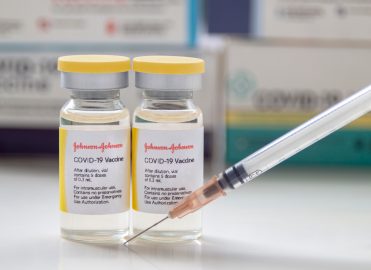 U.S. halt on the use of J&J's coronavirus vaccine continues while federal health officials study rare adverse events.
An independent advisory panel for the Centers for Disease Control and Prevention (CDC) will meet again this week to resume deliberations about the use of Johnson & Johnson's coronavirus vaccine, CDC Director Dr. Rochelle Walensky said during a Friday news conference. The meeting on April 23 will mark 10 days since federal regulators recommended a nationwide pause on the use of the vaccine due to an extremely rare type of blood clot in a small number of people who had received the J&J single-dose shot.
UPDATE: The CDC and FDA lifted the recommended pause on the J&J vaccine on April 23, 2021.
UPDATE: The FDA released new guidelines on May 5, 2022, for this COVID-19 vaccine.
Health Alert Released
Injections of Johnson & Johnson's coronavirus vaccine came to a sudden halt across the country on April 13 after federal health agencies, out of an abundance of caution, recommended a temporary pause in administering the vaccine as they examine the adverse events that have emerged in a small number of recipients.
According to a joint statement released by the CDC and FDA last week, to date, out of the more than 7.2 million doses of J&J's COVID-19 vaccine administered in the United States, six women in recent weeks have developed thrombotic thrombocytopenia. These cases involve a combination of a rare and severe type of blood clot called cerebral venous sinus thrombosis (CVST), which is basically a clot in the veins that drain blood from the brain, alongside a low platelet count, known as thrombocytopenia, within two weeks of receiving the J&J vaccine. Two patients were also diagnosed with splanchnic and portal vein thrombosis. According to reports, all who were tested also had an unusual antibody to platelets in their blood.
All six of the recent cases occurred in women between the ages of 18 and 48, and symptoms occurred six to 13 days after vaccination. One 25-year-old man in an earlier clinical trial also developed blood clots. An eighth case with similar symptoms is under investigation. According to reports, one woman has died, and three remain hospitalized, one in critical condition.
Experts have emphasized that the side effect seen in these cases is very specific and exceedingly rare. Interestingly, this specific combination of blood clots and low platelets — thrombotic thrombocytopenia — has also been observed after receipt of the AstraZeneca vaccine in Europe. Both vaccines are made using the same technique and contain adenoviral vectors that encode the spike glycoprotein of SARS-CoV-2, the virus that causes COVID-19.
Standard Treatment Deemed Dangerous
Importantly, treatment for traditional blood clots, such as the drug heparin, should not be used for the specific clots noted in these cases. "The issue here with these types of blood clots is that if one administers the standard treatment we give for blood clots, one can cause tremendous harm or it can be fatal," said Peter Marks, MD, director of the FDA Center for Biologics Evaluation and Research. Since in this setting administration of heparin may be dangerous, alternative therapies must be given.
Although the agencies said the adverse events appear to be extremely rare, the pause is important so that healthcare providers can be made aware of the reactions and properly recognize and manage the cases, given the unique treatment required.
Federal Response
The CDC and FDA recommend pausing the use of the J&J COVID-19 vaccine, and released a health alert April 13 to provide information and guidance. The following day, the Advisory Committee on Immunization Practices (ACIP) held an emergency meeting and decided to continue pausing the use of the Johnson & Johnson COVID-19 vaccine until more is known about the rare but serious side effects. When the experts met last Wednesday, roughly half of the J&J vaccine recipients had not yet passed the two-week mark after their shot, which meant that more cases may arise over the next week or two.
The continued pause "will allow additional time to review any additional cases that might come in, and for (the panel) to conduct a complete risk assessment and to evaluate the emerging science," said Walensky.
In a webinar held by the Clinician Outreach and Communication Activity (COCA) on April 15, speakers presented the latest evidence on CVST with thrombocytopenia associated with the administration of the Johnson & Johnson COVID-19 vaccine. Experts discussed what is known about CVST, the importance of early detection, and updated vaccine recommendations. Here is a summary of the latest guidance.
What You Should Know
If you are scheduled to receive the J&J vaccine, work with your vaccine provider to reschedule your appointment to receive another authorized and recommended COVID-19 vaccine (i.e., Pfizer-BioNTech, Moderna).
Anyone who received the vaccine more than three weeks ago is at very low risk of developing a blood clot. Individuals who recently got the vaccine within the last three weeks also have a very low risk of developing blood clots and the risk will decrease over time; however, they should monitor for symptoms. If any of the following signs or symptoms develop, people should contact their healthcare provider and seek medical treatment urgently:
Severe headache
Backache
New neurologic symptoms

Blurred vision
Fainting
Seizures

Severe abdominal pain
Leg pain or swelling
Shortness of breath
Petechiae – tiny red spots on the skin
New or easy brusing
Report all serious and life-threatening adverse events following receipt of any COVID-19 vaccine to v-safe and the Vaccine Adverse Event Reporting System (VAERS).
Recommendations for Healthcare Providers
CDC and FDA recommended this pause to communicate with and prepare the healthcare system to recognize and treat patients appropriately. An official health alert released by the CDC suggests that clinicians:
Pause the use of the J&J COVID-19 vaccine until the ACIP is able to further review these CVST cases in the context of thrombocytopenia and assess their potential significance.
Maintain a high index of suspicion for symptoms listed above that might represent serious thrombotic events or thrombocytopenia in patients who have recently received the J&J COVID-19 vaccine. Obtain platelet counts and screen for evidence of immune thrombotic thrombocytopenia.
In patients with a thrombotic event and thrombocytopenia after the J&J COVID-19 vaccine, evaluate initially with a screening PF4 enzyme-linked immunosorbent (ELISA) assay as would be performed for autoimmune HIT. Consultation with a hematologist is strongly recommended.
Do not treat patients with thrombotic events and thrombocytopenia following receipt of the J&J COVID-19 vaccine with heparin, unless HIT testing is negative.
If HIT testing is positive or unable to be performed in a patient with thrombotic events and thrombocytopenia following receipt of the J&J COVID-19 vaccine, non-heparin anticoagulants and high-dose intravenous immune globulin should be strongly considered.
Report adverse events to VAERS, including serious and life-threatening adverse events and deaths in patients following receipt of COVID-19 vaccines as required under the Emergency Use Authorizations for COVID-19 vaccines.
---
Health experts have emphasized that there have been no reports of such problems among the more than 182 million people who received the Pfizer-BioNTech and Moderna vaccines, which utilize a different technology from the AstraZeneca and J&J vaccines, and Americans should follow through with those vaccinations.
Latest posts by Stacy Chaplain
(see all)