AAPC Social Hour: HEALTHCON 2021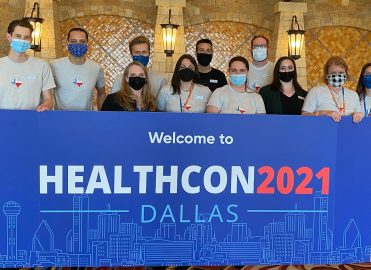 Looking back at conference in anticipation of what's to come.
AAPC's national conference, HEALTHCON, was the topic of the AAPC Social Hour on Facebook Live, April 14, at 11 a.m. MT (1 p.m. ET).
Joining moderator and AAPC Social Media Manager Alex McKinley at this biweekly event was AAPC National Advisory Board (NAB) member Rhonda Buckholtz, CPC, CPMA, CRC, CDEO, CMPE, CHC, COPC, CGSC, CPEDC, and AAPC Events Coordinator Sophia Grzeskiewicz.
Buckholtz is a former AAPC employee who led the company's efforts in transitioning members from ICD-9-CM to ICD-10-CM. She is now owner of Coding and Reimbursement Experts, and remains an active member, contributor, advisor, and speaker for AAPC.
Grzeskiewicz is relatively new to AAPC and cut her teeth on the virtual Collaborative Compliance Conference in February before taking on HEALTHCON 2021, March 28-31, in Dallas, Texas. She credits her mentor AAPC Events Manager Lindsay Bianco for the success of the conference. Sadly, Bianco succumbed to breast cancer before seeing the fruits of her labor.
Challenges Were Faced Head On
There was a lot of uncertainty about holding a hybrid event during a public health emergency (PHE) for that dirty word nobody would say at the conference. Texas rescinded its mask requirement just prior to HEALTHCON, but AAPC proceeded as planned and ran the in-person part of the event according to Centers for Disease Control and Prevention (CDC) guidelines.
Grzeskiewicz said they put a lot of care and thought into how to make the conference safe for everyone. At the onset, Grzeskiewicz knew, "If we're going to invite this many people to come into one space, we need to make sure we can keep it safe." It helped that the Gaylord Texan Resort and Convention Center was "ginormous," which allowed everyone to socially distance. "Everyone onsite was very receptive to that," she said. And 14 days later, there were no reports of you-know-what traced to the conference, according to Grzeskiewicz.
PHE or no PHE, pulling off a hybrid event is challenging. McKinley asked Buckholtz what was most challenging for her presenting to both remote and live audiences. She admitted that seeing herself on the monitor is very distracting but once she gets going then it's business as usual. The hardest thing about the conference for her had more to do with the size of the venue. "My feet were killing me for like a week after," she said.
This Year Was Special
They all agreed that this year's conference was alive with positive energy. "You forget how energizing networking and being with everybody at the conference is," Buckholtz said.
Grzeskiewicz agreed, saying, "I think this year had an added bonus of positivity of people just being excited to see each other, even on the virtual side of it; being so eager to engage added a little extra specialness to this event for sure."
Kathy Parkhurst, CPC, CPMA, CRC, CPC-I, of Lancaster, N.Y., said in the chat, "I'm so glad I went. I almost cried when walking into the conference space for the first in two years."
Can't Wait to Do It Again!
Grzeskiewicz is already hard at work planning this year's HEALTHCON regional 2021 in Charleston, S.C., Oct. 4-6, at the Charleston Marriott. This will also be a hybrid event, so if you can't make it to this beautiful, historic city, you can at least take advantage of the education and networking as a remote attendee.
And plans are already in the works for HEALTHCON 2022 in Washington, D.C. at the newly renovated Gaylord National, March 27-30, 2022. Keep checking AAPC's website for details!
After this last conference, Grzeskiewicz can't wait to dig in. "AAPC events have always been such a staple within this membership community. After attending my first HEALTHCON, I was so energized and reinvigorated, I want to make this event better and better. Now that I have seen it and I have my hands in this pot, I can see this rising; and I'm excited for membership to come with us," she said.
Buckholtz wouldn't miss it. She's been to every conference since 2002, except for one year when she had a broken ankle. "To me, it's like coming home. It's family. It's reenergizing. It's great education. And it's just a fun way to continue to grow," she said, attesting to still learning something new every time she goes. "For us to be able to do something great and bring relief to everybody … walking into conference after not being able to be together in person last year and throughout this whole pandemic, and starting to feel normal again, and to be able to see everybody, it was truly a blessing. Kudos to AAPC for pulling off such an amazing event."
---
Latest posts by Renee Dustman
(see all)