AAPC Launches Latest Billing Course
AAPC is releasing its 10th edition of its Medical Billing and Reimbursement online course. "This course is a great way to enhance your coding education by delving into specifics about the health insurance industry and different reimbursement methodologies for correct claim submissions," said Shelly Cronin, CPC, CANPC, CGIC, CGSC, AAPC Business and Member Development.
The study program is aimed at providing the most up-to-date information relating to Medicare and third-party billing. This latest edition offers textbook, workbook, and audio lectures to add to your learning experience. More information is available at on the AAPC Medical Billing and Reimbursement Course webpage.
Latest posts by admin aapc
(see all)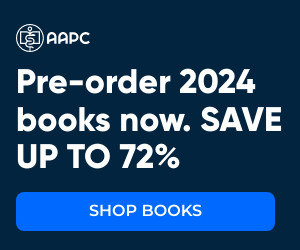 No Responses to "AAPC Launches Latest Billing Course"