E/M 2021: Learn by Example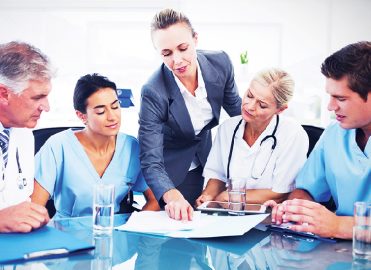 Proactive provider education has enabled Franciscan Alliance to implement the new guidelines successfully.
Implementation of the 2021 evaluation and management (E/M) guidelines has been incredibly successful at Franciscan Alliance with the use of training venues. Our organization's implementation goals were to always be one step ahead to educate providers regarding the E/M changes. To date, greater than 60 percent of our providers have participated in training and found it practicable to incorporate it into their documentation. It is our hope that what we have learned will help other organizations successfully implement the 2021 E/M guidelines, as well.
Stay One Step Ahead
Our success has been being well prepared for the changes to come. We began preparing for the E/M changes in 2019 when they were first announced. We have been engaged with many venues of training and began preparation for the changes brought on by the pandemic in June 2020. To be honest, the pandemic helped in our preparation to some degree, as some of the federal leniencies mimicked the 2021 changes for E/M leveling.
Take the Right Approach (Time vs. MDM)
Although it's easier to bill by time, most providers would like their medical decision making (MDM) to be the factor. Our electronic medical record (EMR) gives the option to factor in both, and what we are finding is that allowing providers to use both options is beneficial. In line with best practices recommended by the Centers for Medicare & Medicaid Services (CMS), our providers document both time and MDM, as one will trump the other in some instances. CMS has indicated that, in their chart reviews, they will consider the best option, so including both MDM and time is advantageous.
One drawback to this is when a provider performs additional services on the same day, and they want to account for time to determine their E/M levels. If a provider performs more than one service on the same day, it is better to consider the MDM, as total time for the E/M must be separate and identifiable. It is not easy to carve out both time for additional services and the time for the E/M service, and know which is more accurate or whose time they are considering, the clinical staff who implemented the order or the personal time spent by the physician when selecting their E/M level of service.
Use This Smart Text Tip
When offering smart texts in your EMR, it's best to give the provider the option to use smart texts/phrases that identify which process they are using to level their service.
Example: I have spent 10 minutes performing this service, but my MDM is moderate.
Consider Educational Methods
It's best to have a variety of educational opportunities/venues, as providers do not all have the same study habits.
Provide feedback via documentation reviews and keep them engaged by means of some type of interaction via a blog or something they consistently have access to on their own time.
Have resources and means of interactive venues of training via live webinars, on-demand, and various reference materials.
Create a means for providers to submit questions and review frequently asked questions with answers.
Be Engaged
It is essential to be well engaged with provider feedback and to accommodate their documentation process, of which they have ideas for improvement.
It's also recommended for everyone involved with releasing charges and/or reviewing documentation that supports levels of service to have a means of reference via crosswalks, tip sheets, and a point of contact to ask questions. Our organization has found it most beneficial to have all stakeholders engaged with training, so the same information is shared via the same venues.
Watch for Denials
Commercial payers (UnitedHealthcare, Anthem, and Cigna) are beginning to do their own benchmarking via prepayment and asking for medical records to support the level of service billed. It's been incredibly advantageous to know our providers are well trained.
When records are requested prepayment, prior to releasing the records, our team reviews the documentation to make sure the level of service billed is supported and there are no blatant issues of concern. In turn, we have had very few denials based on the samples requested.
Oddly, compared to the ICD-10 conversion, not all healthcare entities have done training. This is very interesting, considering so much revenue is at stake.
Latest posts by Maya Turner
(see all)