Documentation Crux of I-10 Success: Prepare Now
By admin aapc
In ICD-10
July 21, 2010
Comments Off

on Documentation Crux of I-10 Success: Prepare Now
By: Rhonda Buckholtz, CPC, CPMA, CPC-I, CGSC, COBGC, CPEDC, CENTC
Successfully embracing ICD-10 in your practice boils down to one thing –  meticulous documentation. The specificity of accurate ICD-10 coding demands  recording all the details of what the provider sees and does, and it is time to start.
Medical necessity from today on depends on being fastidious and complete.  Even physicians utilizing electronic medical records (EMRs) must have a full understanding of the code set and the requirements found within ICD-10 to select the codes in the program.
Not sure why?  Take a look at this example for acute otitis media:
In ICD-9-CM we would have used 381.00
In ICD-10-CM we now need to know which side and if it is recurrent such as:

Patient has an acute onset of otitis media of the right ear, which is recurrent.

In ICD-10-CM this is report with H65.114 (Acute and subacute otitis media recurrent, right ear).
Here's another example from a physician's note:
IMPRESSION: Cellulitis and superficial abscess index finger.
PLAN: I am recommending debridement and irrigation of the digit today. I think the skin is dead and that she will tolerate it without anesthesia; I would like her to stay on the clindamycin and I will check her back in 3 days to see how she is doing.
Note that left or right is not documented. In ICD-10 it should not be coded without further documentation. In ICD-9-CM this was coded as 681.00 but in ICD-10-CM it will take two codes, but look at the choices when 681.00 is compared to the ICD-10-CM GEM file:
| | |
| --- | --- |
| CODE | DESCRIPTOR |
| LØ2.511 | Cutaneous abscess of right hand |
| LØ2.512 | Cutaneous abscess of left hand |
| LØ2.519 | Cutaneous abscess of unspecified hand |
| LØ3.Ø11 | Cellulitis of right finger |
| LØ3.Ø12 | Cellulitis of left finger |
| LØ3.Ø19 | Cellulitis of unspecified finger |
| LØ3.Ø21 | Acute lymphangitis of right finger |
| LØ3.Ø22 | Acute lymphangitis of left finger |
| LØ3.Ø29 | Acute lymphangitis of unspecified finger |
ICD-10-CM takes code assignment to new levels of specificity requiring us to take a long look at our current documentation habits to determine how we need to make improvements. A documentation audit is a good place to start. The following simple steps can help get you started:
Run a practice management report that pulls your most frequently used diagnosis codes
Run a separate report that can pull patients with those diagnosis codes
Use this list to randomly pull charts to begin your documentation audit
Utilize the GEMS files to begin mapping your current ICD-9-CM code to an ICD-10-CM code selection. The AAPC has a Code Translator tool available for free.
Compare your documentation with the code to see if you have documented enough to assign a potential code; if not, begin to work on the documentation aspects moving forward
Over the next couple of years, revisit this process to make sure you continue to document with the specificity required.
Following these simple steps early on will help you reduce the overall burden of ICD-10 implementation as the compliance date of October 1, 2013 draws closer. It is only with careful planning now that you will be able to implement ICD-10 successfully.
Latest posts by admin aapc
(see all)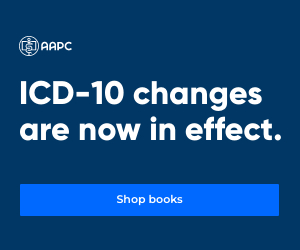 No Responses to "Documentation Crux of I-10 Success: Prepare Now"