CMS Announces PPS for ESRD Facilities
By admin aapc
In CMS
July 30, 2010
Comments Off

on CMS Announces PPS for ESRD Facilities
The Centers for Medicare & Medicaid Services (CMS) issued a final rule that changes how physicians are paid for furnishing dialysis services for patients with end stage renal disease (ESRD) from partial bundled composite rates to a new partial payment system (PPS). The rule also establishes a quality incentive program (QIP) linking a facility's payments to performance standards. This is the first time a QIP is part of a PPS.
Facilities failing to meet or exceed specified total performance scores will receive reduced reimbursement for dialysis services furnished on or after Jan. 1, 2012.

Both the new prospective payment system and the proposed QIP were required by the Medicare Improvements for Patients and Providers Act of 2008 (MIPPA). The law requires the ESRD PPS to pay dialysis facilities a single bundled rate for renal dialysis services and home dialysis, while the proposed QIP promotes quality of service furnished by these facilities by creating payment incentives for them to take steps towards improve patient outcomes.
A CMS press release said the final rule establishing the new PPS provides for a payment adjustment for home dialysis training when clinically appropriate. This adjustment, which CMS adopted in response to public comments on the ESRD PPS proposed rule that strongly supported home dialysis, will help ensure ESRD patients learn the skills and techniques they need to properly receive their dialysis treatment at home.
Medicare currently pays for certain dialysis services under a partial bundled rate, referred to as the composite rate. Payments for these composite rate services represent about 60 percent of total Medicare payments to ESRD facilities. The remainder of Medicare spending for dialysis services is for separately billable items such as drugs, supplies and non-routine laboratory testing. In 2007, there were about 600 hospital-based and 4,330 freestanding ESRD facilities furnishing outpatient maintenance dialysis services to nearly 330,000 Medicare patients. Total Medicare payments for these services were $9.2 billion including the dialysis treatments and other ESRD-related items such as drugs, CMS said.
ESRD Payments for 2011
The new ESRD PPS provides a single bundled case-mix adjusted payment to dialysis facilities for renal dialysis services such as dialysis treatments and supplies, certain ESRD-related drugs, and ESRD-related clinical laboratory tests beginning on Jan. 1, 2011. Although CMS has determined the definition of renal dialysis services includes ESRD-related oral drugs without injectable equivalents (or other forms of administration), CMS is delaying paying for those drugs under the ESRD PPS until Jan. 1, 2014.
The final rule sets a base payment rate of $229.63 for each dialysis treatment. This payment rate includes payment for the services in the current composite rate, as well as most items and services that currently are paid separately. The base rate was derived from 2007 claims data for both composite rate and separately billable services and updated to reflect projected 2011 prices.
The base payment rate would be adjusted for case-mix factors including patient's age, body size, and time on dialysis. By accounting for more characteristics of patients, the new PPS will target payments more appropriately, paying higher rates to those facilities with the most costly dialysis patients. Separate case-mix adjustments will apply to pediatric patients. In the final rule, CMS also adopts facility level adjustments including a geographic wage index and an adjustment for low-volume facilities that furnish fewer than 4,000 dialysis treatments and meet certain other criteria.  The final rule also includes an outlier payment policy that will pay facilities more for patients whose care is significantly more costly than the Medicare payment amount.
In the ESRD PPS final rule, CMS also has reduced the number of case-mix co-morbidity adjustments. CMS is not finalizing a case-mix payment adjustment based on the patient's sex, race, or ethnicity. CMS has been reviewing and updating its processes for collecting and validating patient-level race and ethnicity data from dialysis facilities, which will ensure CMS has the most accurate information possible for the races and ethnicities of all patients with ESRD. As this work continues, CMS will assess whether this effort will position the agency to incorporate such an adjuster for payment in the future. CMS plans to continue studying the issue to ensure all beneficiaries with ESRD have access to quality care, and in the meantime, plans to implement an active monitoring program to respond to concerns about disparities in access to care.
QIP Measures
In addition to finalizing the ESRD PPS payment policies and rates for 2011, CMS issued a proposed rule that would establish performance standards and a scoring methodology for the QIP required by MIPPA to ensure ESRD patient care quality.
In the ESRD PPS final rule, CMS adopted three quality measures that will be used in the initial implementation of the QIP. Two of these measures reflect whether patients are receiving appropriate treatment for anemia—that is, whether the amount of iron in the blood is neither too low, nor too high. The third measure captures patients' urea reduction ratio, which indicates how well dialysis treatments are removing wastes from patients' bodies. The law requires CMS to reduce the payment rates to a dialysis facility by up to 2.0 percent if that facility fails to meet or exceed the established performance scores with regard to performance standards established for each quality measure.
Latest posts by admin aapc
(see all)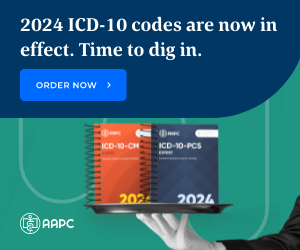 No Responses to "CMS Announces PPS for ESRD Facilities"