New VBAC Guidelines Less Restrictive
By admin aapc
In Coding
July 30, 2010
Comments Off

on New VBAC Guidelines Less Restrictive
Attempting a vaginal birth after cesarean (VBAC) is a safe and appropriate choice for most women, including some women who have had two previous cesareans, according to American College of Obstetricions and Gynecologists (The College) guidelines, released July 21.
According to The College, the declining rate for VBAC (just 8.5 percent in 2006) reflects the restrictions some hospitals and insurers place on trial of labor after cesarean (TOLAC) as well as decisions by patients when presented with the risks and benefits.
"The current cesarean rate is undeniably high and absolutely concerns us as ob-gyns," said Richard N. Waldman, MD, president of The College. "These VBAC guidelines emphasize the need for thorough counseling of benefits and risks, shared patient-doctor decision making, and the importance of patient autonomy."
"The College guidelines now clearly say that women with two previous low-transverse cesarean incisions, women carrying twins, and women with an unknown type of uterine scar are considered appropriate candidates for a TOLAC," said Jeffrey L. Ecker, MD, from Massachusetts General Hospital in Boston, who co-wrote the guidelines document with William A. Grobman, MD, from Northwestern University in Chicago.
Approximately 60-80 percent of appropriate candidates who attempt VBAC will be successful, The College says, and a successful VBAC has fewer complications than an elective repeat cesarean.
A failed TOLAC, however, has more complications than an elective repeat cesarean. The risk of uterine rupture during a TOLAC is low—between 0.5 and 0.9 percent—but if it occurs, it is an emergency situation. The College maintains that a TOLAC is most safely undertaken where staff can immediately provide an emergency cesarean, but recognizes that such resources may not be universally available.
Hospitals that lack "immediately available" staff should develop a clear process for gathering them quickly and all hospitals should have a plan in place for managing emergency uterine ruptures, however rarely they may occur, Dr. Grobman added.
If, during prenatal care, a physician is uncomfortable with a patient's desire to undergo VBAC, it is appropriate to refer her to another physician or center, The College advises.
Practice Bulletin No. 115, "Vaginal Birth after Previous Cesarean Delivery," is published in the August 2010 issue of Obstetrics & Gynecology.
Latest posts by admin aapc
(see all)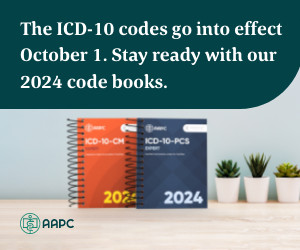 No Responses to "New VBAC Guidelines Less Restrictive"